Dec 12, 2015
Will I know if my profile and details were properly completed?
I've filled out "My profile" and "Your details" on my personal user area, but it still shows a prompt to fill them out on the left hand side. Is that due to a time lag, or is it because it isn't recognising them as filled out.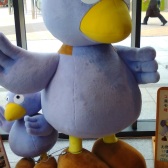 Level 8 LocalGuide with Google. Blogging about life in Japan as an Irish WAHM to 4 kids on insaitama.com.
1 Answer
---
---
Best Answer
Dear Saitama. Thank you for your questions. The details required in your 'My profile' are indicated by the red marks. The remaining details, including those in the 'Your details' form, need only be filled in if you wish to earn the extra 50 points (indicated above those two fields on your user area). Once you have filled these fields in full, the 50 points should no longer be displayed. However, those forms remain open, should you wish to make any changes. You can check the total number of points you have acquired on the top right corner of your user area. As long as you have filled out those details as indicated by the red mark, you should be receiving points as normal for the actions listed on your user area (blog posts e.t.c). If this is not happening or you have any further questions regarding administration of the site, please don't hesitate to contact us using the contact form at the link below (you can also find it at the bottom of the homepage). https://www.city-cost.com/forms/contact Thanks again, Saitama. City-Cost