Nov 30, 2017
coffee makers
So, I really want to invest in a good quality coffee maker. Until now I've used a french press, but my husband does instant coffee because it is the quickest thing to a cup of coffee. All of the coffee makers I've seen at K's denki and such are flimsy plasticy and feel like they will fall apart in 5 mins, but still cost ichi man. I'm afraid to purchase one online and have the same feeling. Anyone have a brand recommendation on amazon? I'm looking for one with a programmable timer for my mendokusagari husband.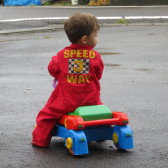 American step mom with beautiful Brazilian babies. Raising them in Japan. I'm a crafter too
2 Answers
---
---
Best Answer
I love a cup good coffee, but my laziness force me to drink instant coffee. :( I use this instance coffee maker that have a timer. https://www.amazon.co.jp/dp/B074W6LNGJ/ref=cm_sw_r_cp_awdb_c_GHjjAbTBE4D0J I know your probably want a real drip coffee maker, here is a list of good coffee makers I know. 1. ZOJIRUSHI https://www.amazon.co.jp/gp/product/B0001CQFRE/ref=as_li_tf_tl?ie=UTF8&camp=247&creative=1211&creativeASIN=B0001CQFRE&linkCode=as2&tag=outdoorcoff0a-22# 2. Russell Hobbs http://www.amazon.co.jp/gp/product/B008M4B0DM/ref=as_li_tf_tl?ie=UTF8&camp=247&creative=1211&creativeASIN=B008M4B0DM&linkCode=as2&tag=outdoorcoff0a-22 3. For espresso https://www.amazon.co.jp/dp/B01E6TVM70/ref=cm_sw_r_cp_awdb_c_zTjjAbSQ416ZD
This time of year it's not as fun, but during summer I make 'mizu dashi' coffee using a one liter glass jar fitted with a special filter. I got it at Nitori for around 1000 yen, but it's Iwaki brand, which is sold everywhere. I love it because I just set it up at night and put it in the fridge, then in the morning, cold coffee is ready. I stick with the pour over hot coffee the rest of the year. I think the quality is better with those and French press, but it is tempting to get a coffee maker with a timer sometimes. Sorry I don't have a coffee maker or suggestions for a good one in Japan. Maybe a simple Keurig is a good solution? That's your optimal lazy coffee maker, although it's gotta be more expensive per cup, especially compared with instant.