Mar 13, 2017
Where can I get a shrine stamping book?
I saw it in a commercial that popped up on my youtube. Two women basically were going shrine hopping and collecting signatures in their books. They were sorta fold out books, not bound. While going hiking yesterday, we went to a shrine and found a stamp. Are these books a thing that can be bought? Does anyone know what I'm talking about?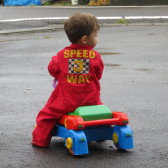 American step mom with beautiful Brazilian babies. Raising them in Japan. I'm a crafter too
5 Answers
---
---
Best Answer
Depending on the location, but if an area is famous for their bunch of shrines, the shrines participating in the rally will likely have them so you can technique start the rally race at any shrine in no particular order. The tourist center of the area (probably in the train station) would likely carry it too.

Sometimes the train lines organise these type of "stamp rallies". Tobu Tojo line had one recently for the Kawagoe area. And also in Kawagoe on the 1st of the month participating temples give out stamp rally pamphlets for those participating in the Seven Lucky God pilgrimage. If you are in tourist area, you can also ask at the tourist information bureau if they have any shrine and temple stamp rally brochures. We have picked them up in all of the above, plus libraries, cafes, town halls and tourist attractions. I've grown quite fond of a good old stamp rally!!