Feb 6, 2017
Instant film camera with purikura capabilities?
I am in the market for an instant film (/Polaroid) camera that has an option to modify your photos, something like what purikura does, before you print them... does such a camera exist? I've heard a lot of good things about Instax, but can't find details online about whether it has modifying capabilities. Any ideas? Thank you very much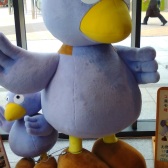 Level 8 LocalGuide with Google. Blogging about life in Japan as an Irish WAHM to 4 kids on insaitama.com.
4 Answers
---
---
Best Answer
You may want to check out this article that gives 3 mobile printing options. https://www.cnet.com/how-to/instant-printers-from-smartphone-polaroid-fujifilm-canon/ Nothing is currently available that offers both purikura editing and printing, so you will have to edit your photos via a separate app before printing.
Yes, I think you are in the right direction. Fujifilm's Instax mobile photo printer is the most reliable in the market. It does have modifying capabilities but it is limited and according to the App Store reviews many people say they cannot open the app. http://instax.jp/share/features/ https://itunes.apple.com/jp/app/sumaho-de-cheki/id716505912 According to this article, Instax SP-2 is the best. http://tectogizmo.com/top-5-portable-printers-for-smartphones/ Your alternative option is Polaroid ZIP, but the App Store review ratings are almost the same as Instax.

As far as I am aware, as an owner of the Instax, you can purchase special film that has desgins already printed on them, or special markers designed for writing on the Polaroid style photo. I, for purikura type photos, tend to use the Line Camera app on my cellphone. I've attached some before and after photos so you can have a better idea of what the app is capable of.