Aug 5, 2016
Pikachu Parade hours?
I want to take my son to the pikachu parade on Saturday the 6th, but i don't know where to be and at what time to be there so i don't miss it. Can anyone help? This is the event in Yokohama, but sadly the website for the event is all in Japanese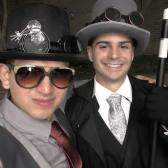 A 20 something year old sailor with a penchant for deep and silly thoughts. I try to be as honest as possible when writing, and am currently living in Zushi, Japan!
2 Answers
---