Nov 23, 2017
stray power cords
Is it possible to buy just a power cord for a kotatsu? We can't find ours anywhere, and I'm not sure where to look.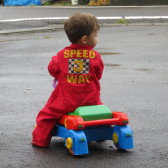 American step mom with beautiful Brazilian babies. Raising them in Japan. I'm a crafter too
4 Answers
---
---
Best Answer
Oh no! Try checking the manufacturers website to see if they sell individual parts. Or possibly recycle shops like House Off? But I'm not sure if they're standard - all the same plug type, which would make it easier to replace the cord alone. If they are, the store where you bought it might sell cords individually for the same brand as your kotatsu. I'm guessing these things are lost or damaged from time to time so others must have the same problem and not need a whole new kotatsu.
@helloalissa @Saitama So under on the heater part, under the table top I found info about the kotatsu if you dont happen to know where yours came from like us. Ours was Cainz home and they dont sell the cord to our model anymore. But if you are lucky you can get one for only 700 yen on the cainz website.