Feb 22, 2017
Are gyms in Japan accomodating to parents?
Are there gyms outside of the Tokyo area that have childcare services? Has anyone been able to take their children with them to the gym? Its already difficult for me to even just go and enquire at the local gyms if it would be possible for me to join. Im wondering if going would be a waste of time.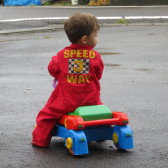 American step mom with beautiful Brazilian babies. Raising them in Japan. I'm a crafter too
3 Answers
---
---
Best Answer
I have heard of gyms with childcare facilities. Supposedly, there are some here in Saitama, but I have never been. I do go to Mama Yoga; yoga for Moms where you can take your baby along (or a child up to 4 years old). I just bring some stuff for my youngest to play with... she still climbs on me sometimes though! Also, my bouldering gym used to let me bring her along and leave her sleeping in the pram while I climbed, but I don't go as often anymore and if I were to go, I'd go at night and leave her with her Dad. Not sure how they'd feel about her now that she is 2, but maybe it would be ok. I had to pay a once off membership fee for the bouldering gym, but it was only like 2000 yen, and the yoga didn't have a membership fee. There is no monthly fee either; I just pay when I go. Maybe you can find somewhere with some sort of class that you don't have to pay a membership fee and just pay when you go? Good luck!
I'm sure this depends on the gym, but I know that at my local Gold's Gym in the Shonan Area of Kanagawa they offer classes for children. These classes include dance/martial arts and often last for about an hour. I know during this time I'll often see the mom either waiting or working out at the lower level of the gym. I've never actually seen a gym with child care services but depending on the age of your kids this may be an option? In general... Gyms in Japan are pretty crappy :(