Mar 5, 2016
My brother and his family just moved to Okinawa. Know anything cool to do?
Looking for cool stuff to do for my brother and his family. He's got an infant who will be walking soon. Maybe some castle ruins or boat tours?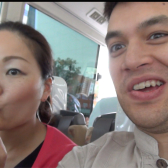 Be sure to check me out on YouTube: Janglish Jerry

I go around and find the weirdest, coolest, strangest, most interesting things in my area. I frequent Tokyo, Yokohama, and Yokosuka.
7 Answers
---
---
Best Answer
Where in Okinawa? Naha, I hope! :D I'm working on a post for my blog, Trekking with Becky - www.trekkingwithbecky.com - about the top 5 things to do in Naha, so in a nutshell, here they are. :D 1) Go to Shuri Castle. :D It's nothing like any other Japanese castle I've seen. 2) Stroll down Kokusai Dori (International Street). You can easily spend a whole afternoon and/or evening there. There's every kind of shop you can think of - souvenirs, high end brand names like Prada, restaurants and snacks - you name it. 3) Take in a Mini Dinner Show. While you're on Kokusai Dori, you'll see quite a few restaurants that advertise a mini show to enjoy while you eat at specific times. The one I went to was only 500 yen, and they sang Okinawan songs. :D 4) Go to Ryukyumura. It's a GREAT outdoor museum that features Okinawan village life. There are great performances and activities, and it was one of the top highlights of my trip. 5) Go to BIOS no Oka. It's a little further down from Ryukyumura, and you'll have to call a taxi from the bus stop if you don't have your own vehicle, but it's definitely worth going to see. It's family/kid friendly with lots of interactive things to do/try. If you're a flower fan, you'll be in heaven with all the orchids...I've never seen so many orchids in my life. There's also a boat tour that you can take there. Anyway, I hope your brother's in or near Naha. :D You can also take a bus to the famous Churaumi Aquarium from Naha. Give me a shout if you have any questions, and I hope this helps. :D
Awesome, I love Okinawa. In a few months they'll be able to play with a bucket and spade on the beach, but in the meantime they might find some ideas on Okinawa's Stars and Stripes magazine: http://okinawa.stripes.com/ I got the idea from an article on this community blog I'm involved in; http://kajapan.org/places/okinawa-fun-in-the-sun-and-so-much-more/ Written more for people planning to holiday in Okinawa, but maybe they'd find it useful too.