Sep 19, 2016
How can foreigners donate blood in Japan?
I would like to donate blood (for the first time) while I'm living here in Japan. I can't speak Japanese and I suck at writing and reading characters, too. If you know how, it would be awesome if you could help me out. Thanks!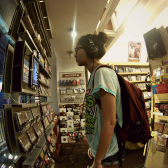 Thrill-seeker. Normally crazy. Mediocrity bores me. Headset Killer. Thoughtless Discoverer. Never Ending Talker. Serious Joker. Jilai born in July.
7 Answers
---
---
I know that there are 'donation' buses that park up outside of train stations. I think they're run by the Japanese Red Cross. Their donation programs require a certain understanding of Japanese however. If you wanted to do it through them, looks like you'd need to bring along someone to help with translation and understanding. Japanese Red Cross http://www.jrc.or.jp/english/activity/blood/

If it is the Red Cross you were hoping to donate through, they absolute insist that you can understand Japanese as you have to fill out a questionnaire and have a medical on site the first time you visit. They won't take blood from me because I lived in Ireland when there was Mad Cow Disease, like 30 years ago! They will require you look at the list of flagged countries in certain time periods; basically if you lived in or visited Ireland and England at any time before 2005 or lived in / visited Europe between 1990 and 2005 they probably won't take your blood. I have heard Americans say they had similar problems, but I can't speak to that.

I've asked two different Red Cross stations here if Americans can donate. Both times I got a pretty quick "Dame!" and X-crossed forearms from the volunteer. Maybe if I had someone with me who speaks more confident Japanese AND visibly looks Japanese there could have been more of a conversation on the why and how? If you find a friend to accompany you and have any successes in this, I'd love to know.

I have a friend (obviously Caucasian, 0% Japanese ancestry) who donates all the time in Sendai, but she passed the N1 level Japanese proficiency test, so the language situation might be a bigger part of the problem. Find a friend in your area who is more adept at nihongo and give it a try. Good luck!

I tried once. It was pretty easy set up. You have to have been living in Japan for a minimum of 1 year. But after all the interview process they refused me because they won't take blood from people in the UK born between a certain time period. Something to do with mad cows disease ! Which made me feel like a ticking time bomb - could I have it ?! Lol ! Hmmmm