Jun 1, 2017
Greek coffee (maybe turkish)
Does anyone know where I can find greek coffee in the kanto area? Turkish coffee is also the same thing i think. I've found Turkish once, but I stumbled on it and can't recall where in Tokyo I had it.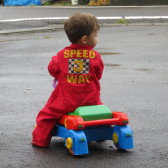 American step mom with beautiful Brazilian babies. Raising them in Japan. I'm a crafter too
2 Answers
---
---
Best Answer
Isn't it a method of making coffee rather than a coffee in itself iykwim? Also called Arabic or Cypriot or Bosnian. Supposedly its original name is Turkish and only started being called Greek in 1974! If you can't find the coffee, maybe you could try the method, from a coffee website: "It is made by boiling finely ground coffee in copper cezve, typically sweetened, and served in a demitasse"