Oct 28, 2016
(Where/) are you celebrating Halloween this weekend?
Surprisingly there is a huge amount of Halloween events in Saitama this weekend. Its hard to choose which one to go to. The one I would love to go to is a little bit far away and a little bit too late for my young kids. It looks really awesome if anyone is in the Tokorozawa area: http://insaitama.com/event/exotic-halloween-seibuen-yuenchi-tokorozawa/ So its a toss up between a parade with trick or treat in Higashimatsuyama or a spooky night in Shinrin Park... Do you celebrate Halloween in Japan? How / Where?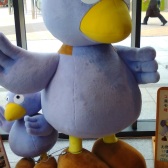 Level 8 LocalGuide with Google. Blogging about life in Japan as an Irish WAHM to 4 kids on insaitama.com.
5 Answers
---
---
Best Answer
Some drinks tonight at a friend's place where we're going to revisit 'The Blair Witch Project' to see if it was as scary as everyone thought at the time of its initial release (which seems like ages ago now, and I haven't seen since). Then I think someone's bringing a copy of The Evil Dead, which we all love. Sorry, I realise this isn't an 'event' suggestion which you might have been after.

Our family is going to be staying in and watching some of the scary movies that have recently been released on Amazon and Hulu for Halloween. The weekend events tend to be quite busy for us so movies and pizza are perfect. If they did a have an actual spooky event going on locally, I would definitely want to check it out though! I haven't found the trick or treat parades to be that special, just my opinion though!