Mar 2, 2017
What are some fun ways to practice kanji?
My daughters are in 2nd and 3rd grade, and one of them really struggles with learning to read and write kanji. She isn't the best at schoolwork in general, and tries to get by with the least amount of work, but unfortunately also doesn't have the best memory, so HAS to practice. Does anyone have any ideas for ways to get her to practice? (sidenote: her native language is Portuguese and she doesn't have any English skills aside from what she has been taught at school)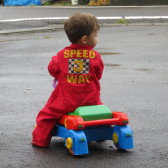 American step mom with beautiful Brazilian babies. Raising them in Japan. I'm a crafter too
10 Answers
---
---
Best Answer
I'd recommend an app for kids - I've used one for writing and remembering the elementary school level kanji called 'Kanji Ninja' which is totally in Japanese, although I'm sure there are others. I also like the 'Kanji Drill' workbooks you can find in any bookstore - some are made with cute characters like Rilakuma and come with stickers, which cost more but make it way more fun. Other than that, writing kanji labels on things around the house might be helpful as well. I haven't tried this but have heard about it in several places. It sounds like kids learn a set number of kanji and vocabulary each year, but most kids don't remember all of them until a few years later, after a lot of practice. Reading anything fun is probably the best way to see a lot of kanji, and therefore remember it. It depends on what your daughter is interested in, for example comics or news (maybe try this kids news website with furigana? http://www3.nhk.or.jp/news/easy/index.html).
I used to like 'Kanji Box' on Facebook where they would pop up some kanji and see if you could recognise it. I don't know if they still do it, but it was kind of fast, easy (in an operational sense) and quite fun. If they don't do it, I'm sure there are other things like that around. I really started to get bogged down when it came to large passages of reading, and also the writing. That sort of thing really slowed me down and got boring. Doing something like quick-fire recognition where they can push buttons or swipe a screen might make it more fun? I'm sure there must be kids versions of this sort of thing.

Teaching them the meanings behind different parts of kanji really helps them make sense of it, For example: tree + tree = woods 木 + 木 = 林, add one more tree and it becomes a forest 森 or the shape of the kanji 川 is like that because it resembles a river helping them understand that kanji is not just lines composed randomly, but each one has a deeper history will help them acquire their kanji skills a lot better, and turning kanji learning more interesting in general