USER BLOG
Join the best expat community of Japan. Now!
Share your Japan experience

Create blogs/Join the Q&A

Earn points and get rewards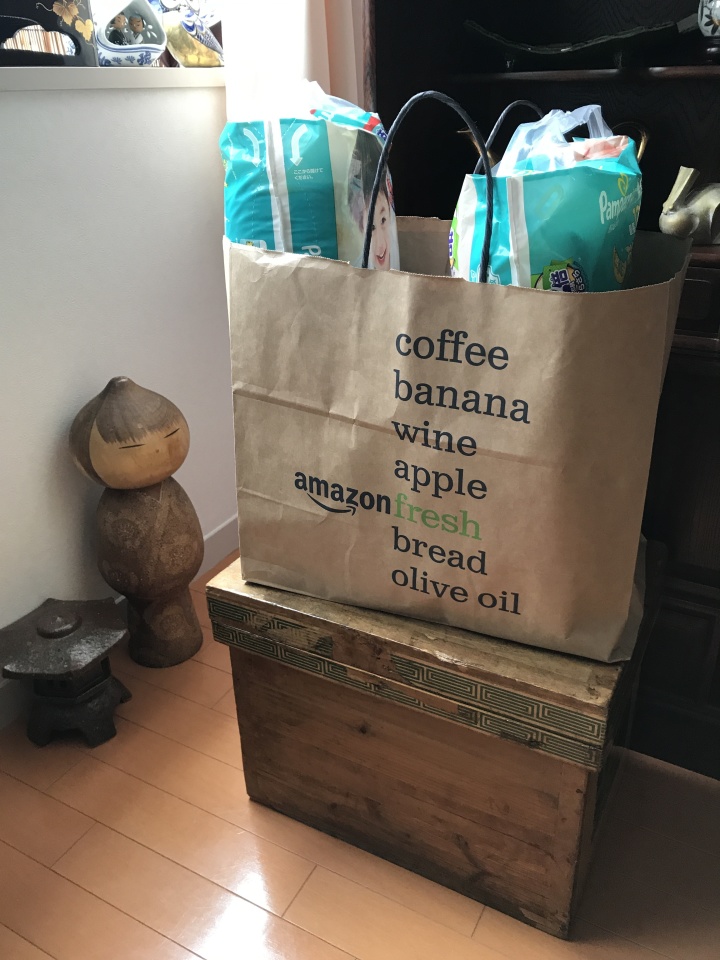 Testing out Amazon Fresh in Tokyo
We have officially moved out of our old place and right now we are staying with my in laws in Tokyo until we head to Niigata in a couple of weeks. It was the perfect chance for us to test out Amazon Japan's relatively new offering, Amazon Fresh. Right now it is only available in certain wards of Tokyo - but they are looking at expanding that further. We ordered diapers and wipes for our little ones, fruit and veggies, some salmon, yakisoba noodles, as well as shampoo and conditioner.Here's a picture of one of the bags (the fruit and veggies already were packed away in their rightful places!)The presentation was really nice. It felt like an upscale supermarket that we were purchasing from, with everything in large Amazon Fresh bags with modern branding. The quality of all the fruit and veggies was excellent too, which was something I was initially a bit skeptical about.To use Amazon Fresh you will need to be an Amazon Prime member (3900 yen annually) and there is a 500 yen charge per month for having the Fresh service active on your Amazon account. They do have a free 30 day trial for both of those things if you want to give it a whirl. They also had a coupon code for 2000 yen off your first Fresh delivery - not a bad deal!Another thing to bear in mind is that any deliveries under 6000 yen will incur a delivery fee - we specifically ensured to go over that to avoid paying a fee!Would you use Amazon Fresh if it was available in your area?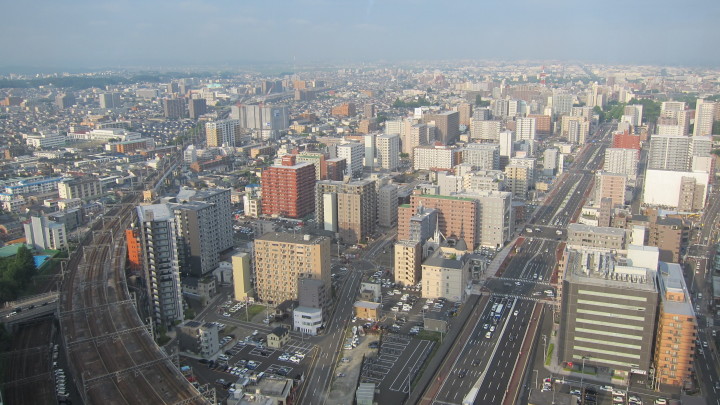 Great view to the Sendai downtown
After stoppting at Sendai just for one night, I´ve wanted to use the chance to see a little bit of the city. Sendai is the biggest city in Tohoku and the best place to see that is from the observation deck of the AER Building.The AER building is a small shopping center just next to Sendai Station. You have to go to the 31 floor of the building to the observation deck. But watch out there is no way to go there at the shopping center. You have to use the elevator at the office area in the same building to go up. From the 31 Floor you will have a great round view over the city. Also many couples using that spot for a date.After visiting the observation deck I would recommend to walk around the big shopping streets around that area!
Crazydeath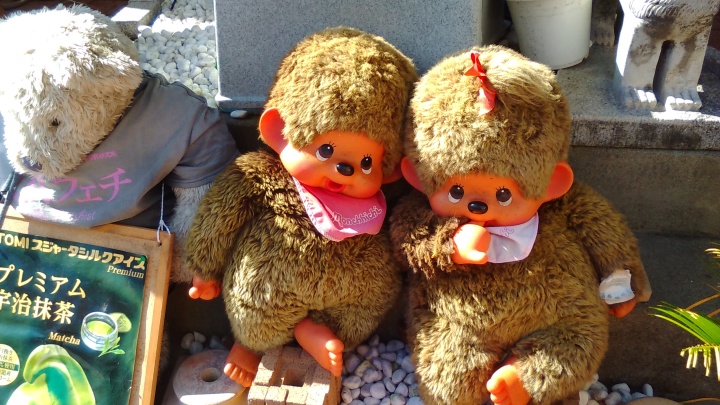 Best place to eat outdoors when visiting the Big Buddha with children
I am addicted to "Mook". I would stab a guess that Mook, spelt in Katakana, is derived from the English "Magazine-Book". A concept not unique to Japan, but adapted so vehemently in Japan that they came up for a word for the reading material that is somewhere between a magazine and a book! The Mook I buy are travel mooks. And I have over one hundred at this stage; for the kanto area alone. Travel Mooks are a great source of information for planning a trip to a particular destination. My latest Mook purchase was in preparation for my trip to the Yuigahama area of Kamakura to stay in the WeBase Hostel, complements of City-Cost. When travelling with young children it is very useful to get the feel of an area from research before setting off on your travels. I had a whole itinerary planned out for our respite in Kamakura. The Yuigahama area has a huge choice of eateries of all different styles and such an amazing selection of cuisine. I took great consideration in choosing the most suitable cafes and restaurants for our combined needs. I was so looking forward to sitting at the beach front and enjoying the infamous vegan buffet at the Sairam restaurant with a reputed sea view and comfortable outdoor seating area. The back-up plan if the kids were too tired to take the walk to Sairam was to indulge in some top notch Japanese cuisine in the 70 year old Kamakura Matsubaraan, right beside the WeBase Hostel. And there was always Daisy's Café as the really safe bet, should the kids want somewhere unfussy that was within a comfortable walking distance and offered palatable rice dishes for a two and four year old. However, as you can imagine if you have kids or ever had the pleasure of travelling with some; things rarely go to plan with little ones involved - especially when they are tired, hungry, agitated or, as was the case the day we visited the Big Buddha; a combination of all! Actually it was a blessing in disguise that we deviated from our original plans, because I got to enjoy a past-time from days of yore, before I ever had kids, of just randomly choosing a place to go based on the feel of the place and to a lesser degree the menu. This was how we ended up in Family Restaurant Queen in the White Lily Mall less than a minute from Hase Station on the Enoden line. Despite lots of breaks in cafes and rest areas, the kids were exhausted from the travel, agitated by the heat and famished after our visit to the Big Buddha ten minutes walk from Hase Station. I knew they wouldn't make it to even Daisy's Cafe which is geographically the closet to the Big Buddha (of the three afore mentioned restaurants). On our way to the Big Buddha I had spotted Queen and taken a mental note, thanks to the fish flip flops on display at the entrance to the mall it is located in. It turns out the fish flip flops have been featured on the TV quite a bit lately and are the most famous offering of the White Lily Mall, which is a really quirky space; essentially a concentration of "booths" in an alleyway. Each booth offers something, some are shops but the majority of them are part of the Queen restaurant. Each booth is a small room and they are decorated differently. You can choose, according to availability, which booth you would like to dine in. They are all really fun, but we wanted to sit outside and that's what we did.There are a number of tables in the courtyard of White Lilly which are used by the Queen restaurant. You can choose smoking or non-smoking. The tables are mainly picnic table style and seat up to around eight people. The kids chose a table beside the entrance to the Shonan Aqua Safari park, a booth with small animals you can hold and pet. There were a bunch of fish aquariums around our table with hundreds of fish. The kids delighted in watching them. The food is nothing spectacular, but it is perfect for families with young children: reasonably priced with a great selection of food that will appeal to children. They also have a fantastic selection of ice-cream made from local milk. Within the mall there is a kappa shrine and lots of other fun features for kids such as life size Moncchichi teddies and other children's paraphernalia on display. The staff are very friendly, although service was a bit slow, but I didn't mind because of the laid back feel of the place. You can help yourself to water from the "Warter Jag"!! There are a lot more elegant places to eat outdoors in the Yuigahama area of Kamakura. And there are definitely a lot more appetising places. My research turned up at least twelve places with seating outside with a sea view and tempting cuisine and then of course there are all the beach huts on Yuigahama beach itself. But if you are just looking for somewhere to fill tummies with outdoor seating (sans sea view), on your way to or from the Big Buddha from Hase station, that is a bit of quirky and fun yet comfortable and alluring to children, family restaurant Queen in White Lily mall might be the place for you!DetailsWhite Lily Mall management website: https://www.white-lily.co.jp/shoplist/kamakuraLily Company on Facebook: https://www.facebook.com/lily.co.ltd/Family Restaurant Queen on Tabelog: https://tabelog.com/kanagawa/A1404/A140402/14063682/Hours: 10 am to 8 pmAccess: one minute walk from Hase Station. Parking available next to the mall.
Saitama
100 Yen Heat Hack: The Frozen Towel
When humidity so intense that your clothes are drenched in sweat before you walk for more than ten minutes combines with record high temperatures to create a truly uncomfortable summer experience, you know it's summer time Japan. There are a number of ways to deal with this problem, including hiding in the air conditioning or under parasols whenever possible and wiping down your brow with the wash-cloth sized towels everyone seems to carry. These are great answers, but my solution is a bit different. My solution may appear strange to some and probably won't be the favorite of any fashionistas, but it works well enough for me. If you have a day planned in which you do not need to wear professional business attire and plan to be out in the sun for a few hours or more, this may help in keeping you cool. First, buy a towel. Douglas Adams's adage regarding towels hold true. You should always know where your towel is. Towels are really terribly useful things. First, let's go towel shopping. Your towel needn't be fancy, but should be long, like a face towel. Your towel should be long enough to drape over the back of your neck as that is exactly what it is meant to do. Material is important as well. We need the towel to be absorbent, so materials like cotton are the best bet. The fluffy micro-fleece varieties work well enough for most home uses, but will not be helpful to us in this venture. If you're not sure the material, check the back label. You can see here that the pink towel is 100% cotton-- perfect for our purposes. The blue micro-fleece towel is not going to soak up what we need it to. Wet, folded incorrectly. Take your towel home. Remove the packaging and throw it in the wash if you like. Then, when it is clean and dry, fold the towel into a smaller form, keeping it as long as possible and dampen it in clean water. The towel should be thoroughly wet, but not dripping. Wring it out if necessary. Now put the towel in your freezer and leave it for a few hours, preferably overnight. As you can see, I folded it wrong and left it too wet. Just before you leave, take the towel out and unfold it. It might be a bit stiffened from the freezer, but should become more manageable as it warms up. Once you can, lay it across the back of your neck and enjoy! The ice cold should keep your blood temperature chilled for a bit and once the towel dries in the heat, it will be helpful in wiping away sweat as well.This is the shape you want. If you made the same mistake I did, you might have to pull it in a few directions to get it to do this, but once you do, you can drape it easily across your neck for a rush of cool comfort, or loop it over like a scarf of frozen delight. Caution: it will leave your clothes moistened! This will also dry in the sun, but if a wet spot on your chest or neckline would be more terrible than extreme heat, perhaps you are better off with a parasol.
JTsuzuki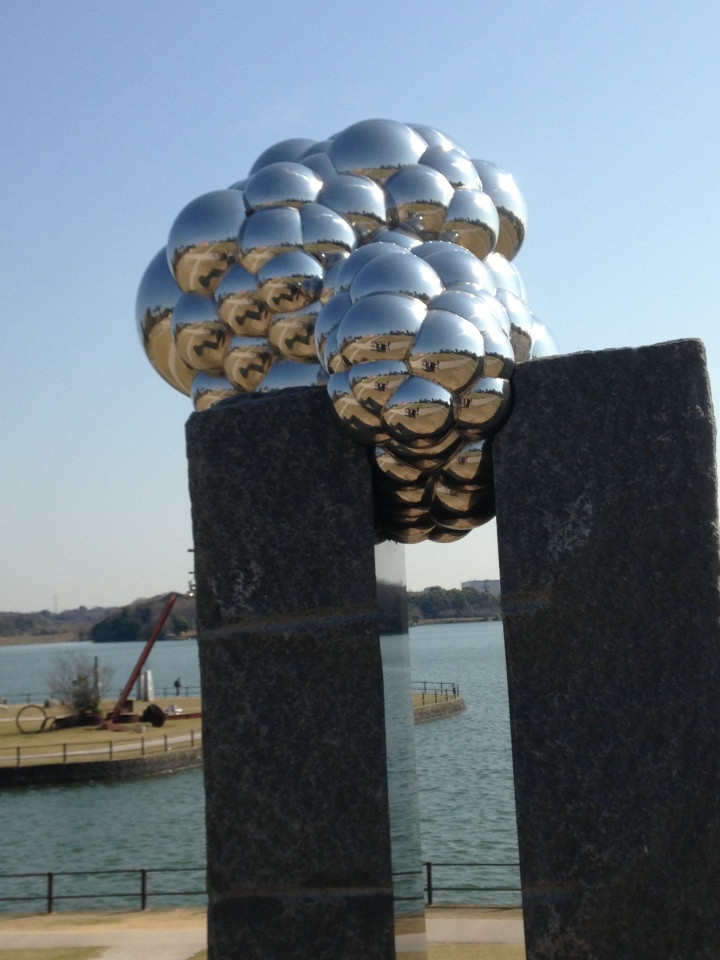 How to take care of Bug biting in Japan?
During the summer, a lot of "mushi' disturbs the people of Japan. But here are some tips how to deal with the bugs of summer:1. Avoid the place where un attended trees grows.2. Wear full sleeve dress to avoid the insect bite3. Clean the surroundings. Cut the unwanted weeds.4. Carry antihistamine cream with you. Buy one for your kids. Do not apply it on face!5. If bite then Squeeze the stinger and venom out as quickly as you can if you're stung. Do not try to suck it out! 6. Apply cream afterward and do not rub too much.7. Go to the hifuka (Skin Hospital) as soon as you can!
azi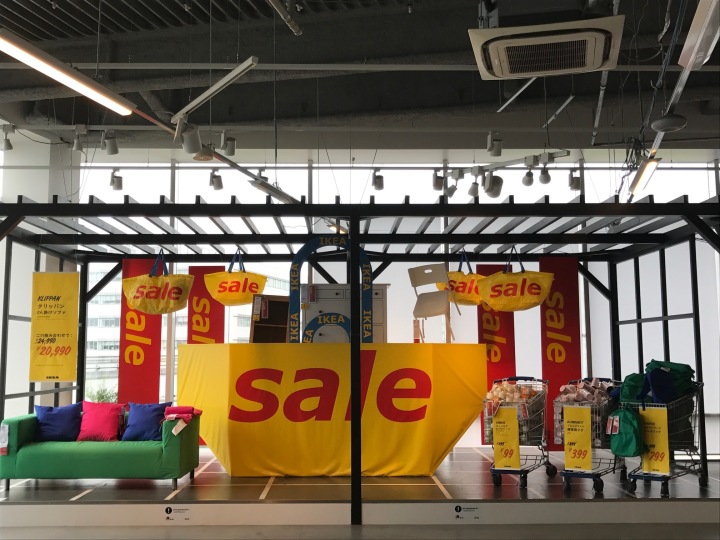 Reasons why IKEA is awesome
I had to go to IKEA yesterday to pick up some stuff for moving house. When an IKEA opened up close to where we are living in Tokyo a couple of years back, I rejoiced - I was always a fan of their stores, and having one close by here was a godsend, for a few reasons...There is always something on saleLiving in Japan can be expensive at times - so it's nice to have an option for homewares that doesn't break the bank. They have a bunch of sales on right now, and any extra money in my pocket is always appreciated!Their cafe section is surprisingly good (and cheap)I remember the first time I tried IKEA food - I was very pleasantly surprised. The cafe section at my local IKEA was super busy yesterday - it seems like people don't necessarily go to IKEA to furniture shop, but often to grab a bite to eat. They seriously have things on their menu like 99 yen curry (decent portion size, and tastes good!) and yesterday my husband got the fish and chips -- it was about 700 yen from memory, but came with two sizeable pieces of fish.(Also - try the cheesecake. SO good.)It's not just homewares, but garden stuff too...I love the garden section here. I wanted to buy alllllll of the cacti and succulents they had - but I didn't think they would do too well in a moving van in the middle of summer. If you're wanting to revamp your balcony though they have all kinds of cool stuff, like patio furniture and outdoor flooring (their wood flooring in particular turns an outdoor area from drab to fab pretty quickly!)There are loads of modular storage optionsWe picked up some hanging wardrobe pieces, because our new place doesn't have a lot of closet space. There are lots of great options in IKEA that help you manage small spaces better, or just give you ways of utilizing the space effectively that you do have.They even have a section with a ton of food you can take home with youA fan of those delicious Swedish Meatballs they sell at the cafe? You can snag some at their food store, that is just outside the check out area. They have loads of options from the sweet to the savory, and there's something to make just about anyone's tastebuds happy.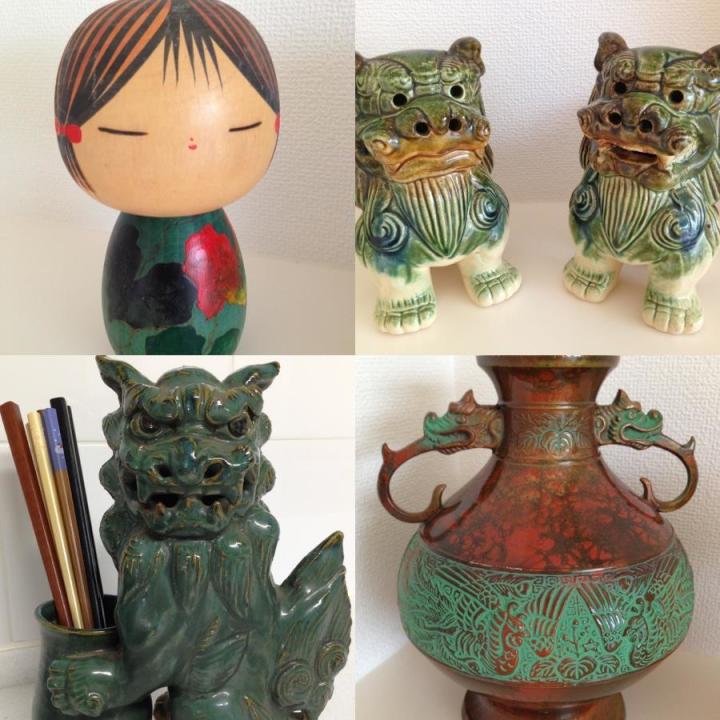 Finding hidden gems - the fun of shrine sales
One thing I wanted to do when we first moved to Japan was check out some antique markets. I've always found things like thrifting a lot of fun, or even attending small local markets whenever I visit a new place.Enter my love of shrine sales. I find them absolutely fascinating! They are a great glimpse into a whole host of Japanese antiques - there are some pictures below of some of the things I got at my first shrine sale several years ago. There's always something interesting to find, or something that makes a perfect (and unique!) gift for a friend or family member back home.I think the part I like most about them is that it's completely unknown what the vendors will bring in. I liken it to treasure hunting, because you do often have to dig through stuff to find those hidden gems - but that's all part of the fun if you ask me!There's a few great shrine sales around the Tokyo area - my favorite is probably the Machida shrine sale that is held on the first of each month. It's definitely worth a look if you're in the area. Are there any great shrine sales near your part of Japan? I'd love to hear about them if you care to share!