USER BLOG
Join the best expat community of Japan. Now!
Share your Japan experience

Create blogs/Join the Q&A

Earn points and get rewards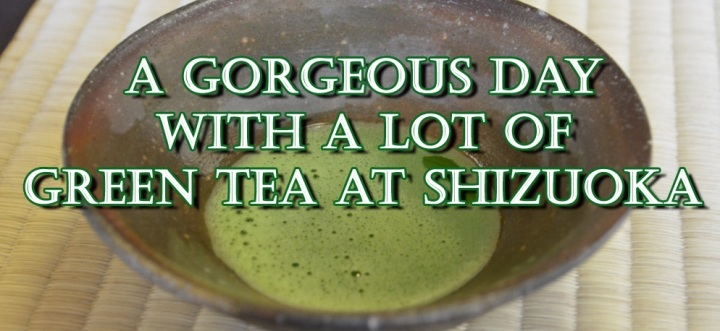 A Gorgeous Day with a lot of Green Tea at Shizuoka
Wednesday, August 9th, was one of the hottest days of this year's summer in Japan. On this day City Cost invited five bloggers on a really special tour, which I was able to join. Here is what we experienced. The Way to Shizuoka Our meeting time was in the early morning, around 8:20 am at Tokyo station. Not all of us are living close to it. For me, it meant to get up quickly in the morning for heading to Tokyo inside a crowded commuter train. Luckily I survived the way, but through this I remembered why I wasn't searching for a job in the Tokyo area. Two members of the City-Cost team were already waiting for us at the meeting point. We had some time for a nice chat until everyone arrived, mainly exchanging names, countries we are coming from and how much time we spent in Japan so far. We ended up as a nice group which had a lot of topics to talk about during the day. With the Shinkansen we rushed to Shizuoka station within one hour. It is still hard to believe, that it is so easy to get out of the crowded Tokyo inside a natural green prefecture such Shizuoka. There we were welcomed by nice people from the Chamber of Tea Association of Shizuoka Prefecture and our lovely interpreter from the World Green Tea Association. All together we got into a private bus, got the first bottle of refreshing green tea from Shizuoka prefecture and started our tour to our first destination. Tea Ceremony Experience As our first stop we visited Gyokuro no Sato (玉露の里), a place where the tradition and taste of Gyokuro is kept alive. Gyokuro is regarded as the most deluxe type of tea with a sweet and rich flavor. At this place you find a restaurant and shops with many local products just next to the parking space. Crossing the river on the other side of the road you find the tea ceremony house called Hyogetsutei (瓢月亭). The name comes from the Japanese words for gourd and moon, which both are displayed in interesting ways inside the tea room. Wooden gourds are decorated at some corners of the room. The rising moon is displayed on the sliding windows. Already seeing this is worth a visit to the tea room. But for sure, this was not all. We were able to take part at a traditional tea ceremony. A lovely elderly woman wearing a kimono was leading the ceremony, explaining everything she is using and doing in Japanese. Our interpreter helped us understanding it in English, too. We even were allowed to ask questions and so got a great impression of the manners while a tea ceremony. Did you know you have to turn the tea bowl twice clockwise after receiving it? After drinking you even should wipe the edge of the tea bowl from where you were drinking with your fingers. I learned so much this day and probably will make another article about only this topic. The Gyokuro was very delicious and I enjoyed the taste of the tea so much. Also the cute wagashi, Japanese styled sweets, which was served with it, was fitting it so well. A Lunch with hidden Green Tea After the tea ceremony we moved back to the parking space and entered the restaurant called Chanohana-tei (茶の華亭). A table filled with mouth-watering food was waiting for us, and yes, it was so delicious! The plates included many things which had a taste of green tea going with it. The green tea soba was only the most obviously one of these. Also the rice had some green tea powder on it and even the tempura had a sense of green tea. There was green tea salt, too! Isn't it impressive on how many different ways you can use green tea? Our lunch was very tasty and the stomachs quickly filled. However, at the end there was still space for a small green tea ice which we got as dessert. Visit to the Houkouen Tea Plantation We went on and drove to the Houkouen tea plantation (豊好園). Already on the way to the plantation I was impressed by the surrounding. Everything was so green and the green tea plants were shining on the mountains. In the background we even could guess Mount Fuji behind the clouds. Going up all the way to the plantation made the view more spectacular, but see it yourself on my photos. At Houkouen we were welcomed by Katahira Jiro, the third generation of Japanese tea farmers at this plantation. He told us a lot about the history of Houkouen, their way of planting and the different cultivars they plant. Around twenty different kinds of hand-picked green teas are growing here and in his talking you could feel how much Katahiro loves his work and how much energy he invests in it to build a good future not only for his Houkouen, but also the region around it. We could try some tea picking and it was an interesting experience, because I did it for the first time. Katahira told us, we can eat the leaves, so I tried. It didn't taste that bad, but I couldn't get the real tea flavor now. Noticing, there is still much to do after the leaves are picked up from the mountain plants to become real tea. Kitahara invited us to his home, there is family prepared different sorts of teas for us. Usucha, Blend, Yumesuruka, Tsuyuhikari and Saeakari are just a few names of the green teas we could try. All had their very own flavor, some were bitter but also some were a bit sweet. After drinking cold brewed tea, we tried brewing our own cup of tea, learning about the different tastes between the first brew and the following ones. Also the time how long you brew the tea can make a difference to the flavor of the tea. This was really interesting and made me want to learn more about it in the future. On our bus drive back to Shizuoka station we all got a gorgeous present from the Chamber of Tea Association of Shizuoka Prefecture. This included a bottle for green tea, different sorts of teas and even some green tea pudding. I am excited to try them all. After around one hour taking a look around the Shizuoka station and buying some omiyage, it was time to say goodbye to this new place we could explore that day. We got in the Shinkansen, all were kind of exhausted from the hot weather, but also very happy with all the things we experienced this day. I want to thank every involved in this tour from the bottom of my heart. Thank you for letting us taking a look into the world of green tea in Shizuoka. I will definitely never forget about this and recommend this area! ------------------------------------------------------------------------------ This post is a special tea blog report, part of our Shizuoka Green Tea Guide, and a chance through City-Cost for bloggers in Japan to engage in new "Japan" experiences about which to create posts.
YokoLostinJapan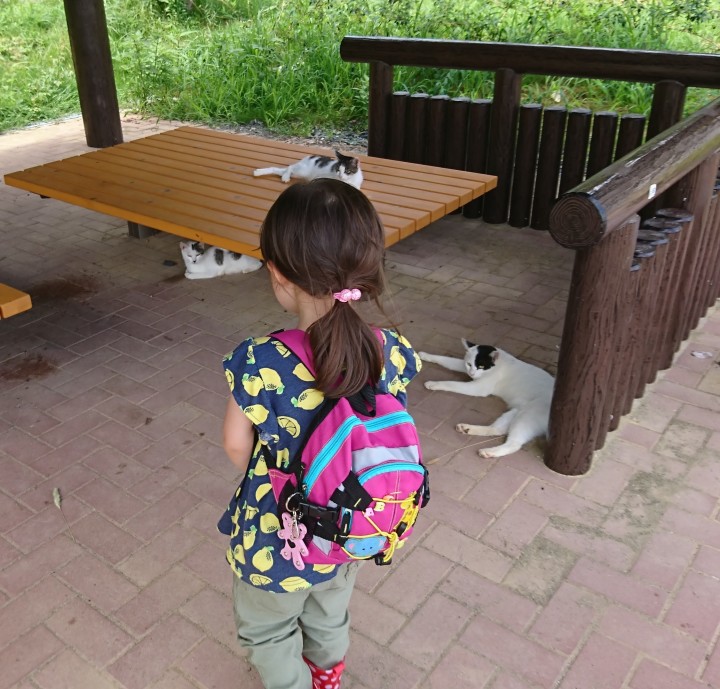 A Day Trip to Tashirojima Cat Island, Miyagi
The first cats we found, in the park near Nidori Port. Other cats we found along the way. One of the best known tourist spots in Tohoku, Tashirojima, or Cat Island, stands an hour's ferry ride from Ishinomaki in northern Miyagi. From Sendai, the train ride to Ishinomaki will take either 60 or 90 minutes (express and local respectively) and cost 840 yen. From Ishinomaki station, hop in a taxi. Just saying Tashirojima will be enough to direct the driver to the ferry port, which I still do not know the name of. The taxi ride will cost around 1000 yen. The most important factor is time as the ferry to the island only leaves 3 times a day, the first of which is at 9AM. If you're planning on leaving any later than that but want to see a lot of the island, making arrangements at one of the few guest houses on the little island would be recommended, but must be done in advance. My research had indicated two port options, but on out trip only Nitoda was open, as indicated here. The last ferry back is usually around 4PM but check local listings for details when you arrive at the ferry terminal. This and other information is available there. A machine inside of the ferry port waiting room sells the tickets in a number of languages including English. A round trip ticket to Tashirojima costs 2500 yen. What to Bring: There are no convenience stores on the island, though there is one small restaurant in the middle. It is a good idea to bring your own food and drinks, but you will also be reminded several times throughout the trip to take all of your garbage home with you as the garbage days on the island are few and far between, and really only meant for the locals. So bring what you want but also pack light enough to trek about a bit as you will likely be walking down paved roads through the wilderness or around the coast most of the day. The tiny restaurant.The cat shrine.Some cats were relaxed enough to be pet, but trust your instincts. Not all are as friendly. Bring cat treats or dry cat food if you want to try to round a bunch of the kitties together or just give them some treats. Again, you can't buy these on the island, so bring them if you want them and mind your garbage. As of the beginning of August, 2017, ongoing construction at each of the two ports (Nitoda and Odomari) has driven the majority of the cats into hiding. We actually had a hard time scrounging ten of them together, only managing to get eight in one spot just before we left. Why did we care how many cats we had in one space? Well, in addition to summer fun with my offspring, this was a GISHWHES item: While there might have been more cats on the far side of the island, we were worn out and ready to return before the 2PM ferry came. We had walked from one port to the other, through some scenic roadway and over some hills. Near the Odomari port area, an older woman asked us to sit and drink some juice with her, and in the heat, we could hardly refuse. As it turns out, the woman is planning to open a small cafe at that location in the near future and always looks forward to meeting new foreigners. When asked for the location of the cats, she suggested we return to Nitoda, the main port from whence we had come. Trekking back to the main port took a little less time than coming to Odomari had, mainly because we read the kanji on the road signs directing us that way this time. After walking back and forth across the whole island and finding only a few cats along the way, we elected to go check out a small souvenir shop indicated on the signs and mentioned by the local woman we had met. A short walk up some more hills and we were there, with a great view of the ocean. Inside the small shop was a miniature photo-collection/museum dedicated to the cats on the island, a few seats and tables, a snack and beverage counter, and a small souvenir stand in the corner. We enjoyed some refreshments before heading back out to wait for the ferry.That over-enthusiastic smile? My gishing face. To our surprise, we found a few cats on the way to the ferry and managed to get others together for one last GISH shot before we headed home.All in all, we consider it a fun adventure and look forward to future trips, hopefully including more cats and less construction.
JTsuzuki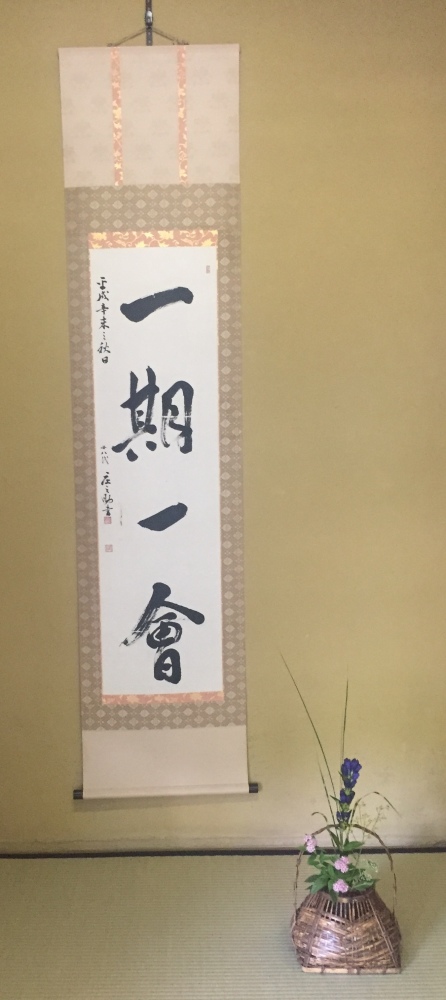 一期一会 and The Way of Tea
一期一会, ichi-go-ichi-e, is a Japanese proverb that translates literally to "one-time-one-meeting", but the depth of its true meaning is lost if you only use this simple, literal translation. Its true essence is the Japanese cultural practice of treasuring each encounter with other people. It is often translated as "a once in a lifetime meeting" which might lead you to think of an opportunity to meet some famous individual, but, in fact, every meeting and interaction with another is unique, and therefore, "once in a lifetime". The proverb originated in the practice of the Japanese tea ceremony, or the way of tea, as it is perhaps more accurately called, with the intent that sincerity should be practiced mutually by both host and customers. Over time the practice seeped into everyday living and culture, which is to say, into the Japanese way of thinking. This might not be so obvious but if you look at its essence you may see it expressed as "striving to perfect what you love", or "leave nothing to chance", or, maybe most obvious in Japan, "respect for others". The scene is set as the Shinkansen ("bullet train") bullets its way out of Tokyo station, through Kanagawa, and on to Shizuoka, with blue skies as far as the eye can see, Mount Fuji looming majestically in the distance in its everyday magnificence. I didn't embark on my day thinking "today, I will practice ichi-go-ichi-e", but I know the principle of this proverb was practiced on me. On arriving at Shizuoka station a bus is waiting for us, and we drive through green, luscious countryside, rows and rows of neatly-lined, deep-green tea plants speckle the land from the road side up into, and over the rolling hills. This is Japan's tea country; Shizuoka. Shizuoka produces 40% of Japan's green tea, and green tea from here is also exported all over the world. The locals here are proud of Shizuoka tea, perhaps even passionate. We arrive at Gyokuro-no-Sato, a roadside park bordered by the Asahina river. The facilities here include a restaurant, shops, a small tea plantation, and the tea-house where we will participate in the Japanese tea ceremony. As we enter the grounds of the tea-house we are submerged in nature, the gardens are enclosed by green hills, our ears assaulted by the midsummer song of hundreds, perhaps thousands, of cicadas. The sun is reflecting off the many-colored carp, and the sound of the water flowing into the pond makes me feel a little cooler. Our shoes crunch on the gravel as we wander off the path, then steppingstones lead us to the door of the tea-house. In the tea-room, two walls have shoji ("paper sliding doors") with the bottom half open, revealing the pond and the lower half of the hills. I absorb it all and my body relaxes without prompting. Then I notice the scroll with ichi-go-ichi-e brushed on its fabric, hanging in the toko-no-ma ("an alcove where art and flowers are displayed"), reminding us, that here, in this tea-house, as in many tea-houses across Japan, that ichi-go-ichi-e is an integral part of the way of tea, even if it is not an integral part of how we live.The name of this tea-house is Hyogetsu-tei which has three kanji, 瓢 - 月 - 亭, "gourd-moon-tea-house", and so, there are gourd carvings on the walls, and incorporated into the design of the shoji is the moon, as it rises above the mountain in the background. Unnoticed at first but once explained the imagination is fired. Even the details of the door handles show the different stages of the moon and each moon is encompassed by gourds. This kind of detail accentuates the idea that this is perhaps a once in a lifetime experience. "Detail", Japan's middle name is sometimes a frustrating inconvenience for us non-Japanese as we maneuver our way through government documents and life, but in a Japanese tea-house, such details must be treasured. We take our seats, and the host joins us. She is personable, respectful, attentive, and eager to share her expertise, and her knowledge of this classical Japanese art. She is unencumbered by her kimono, rising and returning to her seiza ("formal/correct way of sitting"), easily and smoothly. She shows us how to mix the tea, whisking the powdered green tea, blending it with the water. We each receive a bowl of usucha ("light tea"). The tea is of course important, which type of tea, its origin, the way it is mixed, the temperature, and volume of water used, no detail left to chance, but, in many ways it is only a symbol. A symbol and conduit to bring us together, an opportunity to meet, and to create, a moment filled with appreciation of life and the beauty therein. Like, how and when to turn your tea-bowl so that the ornate side faces your guest as you drink, and once you finish drinking, you must inspect the bowl, admire it from all sides, because in any tea-house worth its tea, each tea bowl is unique, and so, in order to show appreciation to your host, or the maker of the bowl, or just for the beauty of the way of tea, you inspect the bowl. A wagashi ("a traditional Japanese sweet") is served. We are encouraged to taste the tea before tasting the wagashi, and again, after tasting the wagashi. The contrast of the sweet and the slightly bitter tea awakening the taste buds. All my senses are engaged now. If you are presented with an opportunity to participate in a Japanese tea ceremony, then go. Go with an open mind, willing to have a new experience. Forget about how many refills are included (none), forget about the size of the sweets (small), let all you know and believe behind you, let your ideas on what you might experience fly out the window of the Shinkansen as you race to Shizuoka, let them go and come to this place with a clean soul and spirit, and allow yourself to have a new experience, ichi-go-ichi-e.Here are some links for Gyokuro-no-Sato (玉露の里) and Hyogetsu-tei (瓢月亭)http://shizuoka-guide.com/english/detail/page/detail/3764http://shizuoka-guide.com/english//detail/page/detail/3217http://www.fujieda.gr.jp/contents/NOD99/LNGENG/428775.htmlhttps://www.facebook.com/gyokuronosato
LovingJapan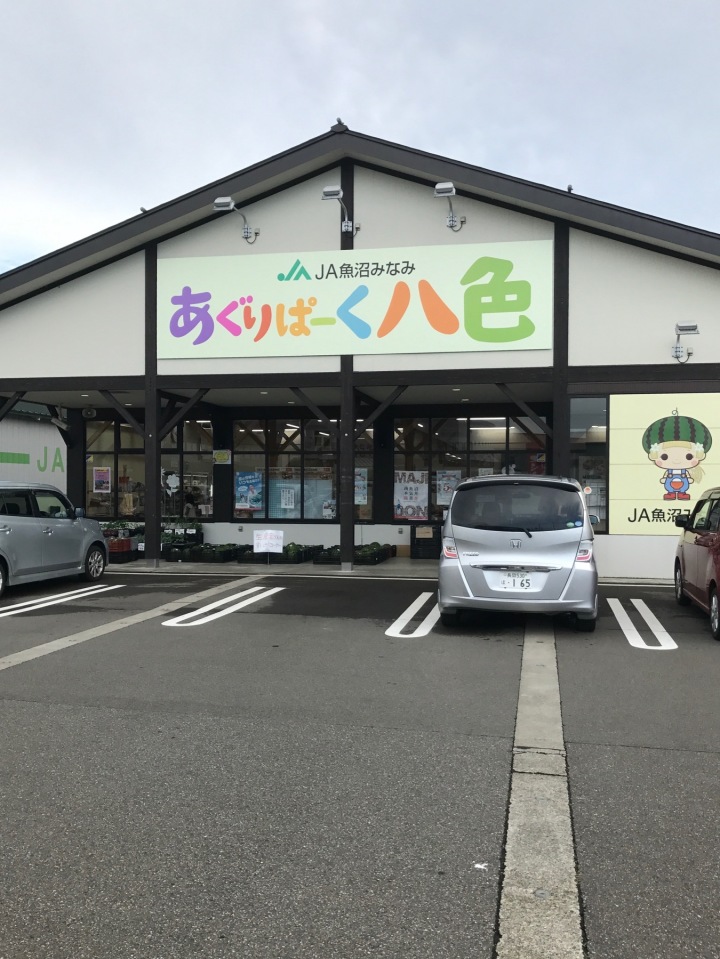 Farmers Market Fun!
Before moving to Japan, one of my favorite weekend activities was to visit my local Farmer's Market. I always loved buying direct from the growers, and the prices and freshness were often significantly better than what I would find at my supermarkets nearby. We checked our local Farmer's Market here in Niigata yesterday and I was really impressed with both the prices as well as the quality of everything! I found even the entrance area was really welcoming - you can see the local area mascot on the picture there - with a watermelon hat and rice grains for hair (two of the local specialties in this part of Niigata!)Check out all those watermelon! I love that everything is grown nearby - the freshest of the fresh!As well as fresh fruit and veggies, our local Farmer's Market has various dressings, preserves, and even local honey!Our favorite find though was probably the locally made baked goods! We tried a vanilla cream bread (not pictured) that was from a local bakery - and we're tempted to go back today and get another, since it was so delicious!How often do you visit local markets? Do you have favorite spots to get your fresh fruit and veg?
genkidesu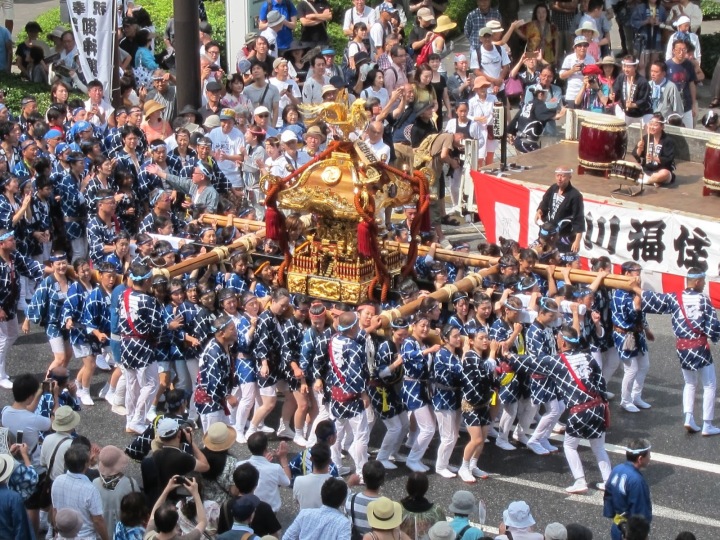 Japan For Free - The great Fukagawa Summer Festival
Every 3 years the Fukagawa Summer Festival takes place directly in my neighborhood. It belongs to one of the three great Shinto festivals in Tokyo. The other two are the Kanda and Sanno Festival. The festival took place for the first time in 1642 around the Tomioka Hachiman Shrine. The festival is held every year, but there is only every 3 years the big variation over 5 days.The festival takes place every year in the middle of August around the Obon period, which is very convenient, as many Japanese at this time have days off. I had time off too, that's why I used the chance to visit the festival every day.Of course you ask yourself, "Why every day?" Quite simply there is every day a different program and if you live only 5 minutes away from the venue, why not use that chance.The weather on these days was very bad and it rained often. However, whenever we wanted to go to the festival, it stopped raining! On Friday we went to the great taiko event at the shrine. The program featured 10 taiko groups that had been drumming for 5 hours. I really love taiko, so it was perfect for me. Around the station of Monzen Nakacho and the shrine Tomioka Hachimangu small food stalls or small booths were everywhere. On Saturday, there were some traditional Japanese performances like noh-theatre, shamisen and koto performances. Also the children are pulling mikoshi (small shrine, a god is living inside) through the streets. It was so sweet to see when 15 small children carried a mini mikoshi through the area, which could easily be carried by an adult alone. The main event was on Sunday. For that, the large main road Eitai was blocked and you could walk on the big street.Already at 7:30 on Sunday morning loud cannon shots sounded from outside. Whoever had not been up until then was awake after that noise. The cannon shots symbolized the beginning of the great mikoshi parade, which crossed through our city district as well as to Odaiba and Nihonbashi.The big finale always takes place directly in front of my house, which is great, as I can watch the whole bustle relaxed from the balcony without standing between all the visitors.However we wanted to get a little bit closer so we went down to the street and waited for the parade. We were in the front row when the big mikoshi were sprayed with water. It was unbelievable how many people joined the parade. One group was very huge, destined to the 100 people who had run and jumped wildly in front of us. It was like a fire wall that came to us. It was incredibly hot because of all the people who have carried the shrine. You can really feel the energy that is running through this event. Every team that carries a shrine is so enthusiastic that it is really great.As Saturday and Sunday, of course, the most visitors, it was very crowded everywhere. On Friday as well as Monday (Tuesday is mostly for the locals) it is less crowded and you can enjoy it more to walk around. On Monday we went back to the shrine to see a noh theatre performance. Unfortunately, it was very difficult to understand even if you could understand Japanese . It was a little bit boring, too, because nothing happened really.However, I wanted to see the traditional dance "odori" which was afterwards. Several groups from all over Japan have performed a traditional dance wearing yukata. I loved to see many different kind of yukata.Of course, there was also some craftsmanship to see. A few ladies exhibited their ikebana artworks:On Tuesday, the last day of the festival, there was a full program again, which was shown mainly inside of the big shrine, because of the heavy rain. We were interested in the final performance, which was an Indonesian music and dance group. Unfortunately, it was very difficult to see something. The performance was inside the shrine and seats were limited, so most of the people tried to catch a glimpse from outside.Nevertheless, it was once again a nice festival. I am already looking forward to 2020, when the next big Fukagawa summer festival will be held right after the Olympics!
Crazydeath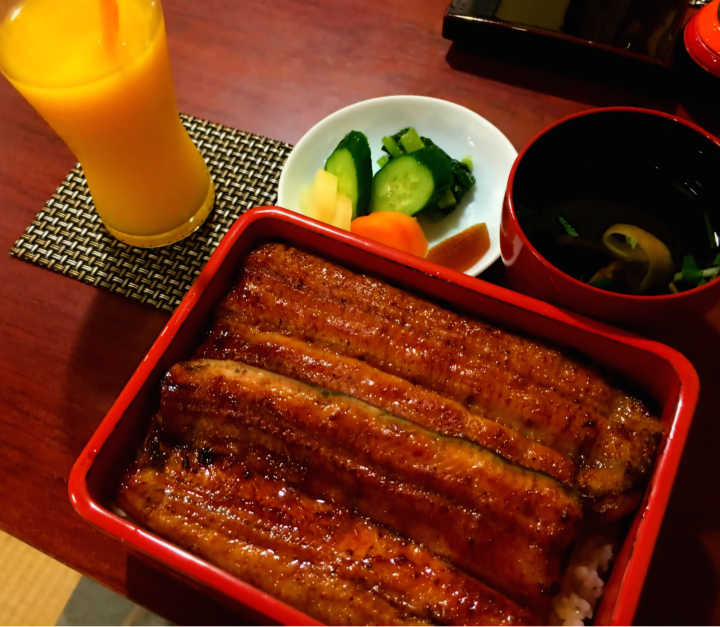 UNAGI Challenge: Affordable vs. Expensive! Which Do You Prefer?
Hot, sweaty, and dehydrating─── the negative side of summer that makes us crave for siesta. Lacking stamina in a beautiful, sunny day is such a waste, so why not eat UNAGI? UnajuFreshwater eel (or unagi) is a popular summer food in Japan, which is said to boost vitality. It is a perfect meal to have after a tiring day, but it can cost quite a bit. Cheaper unagi in supermarkets and budget restos are also available, so no need to worry about putting a hole in your pocket. However, will it be as satisfying as the expensive ones? The only way to find out is to have a TASTE TEST! I tried out this popular summer food from the supermarket, Tsukiya, and in a traditional Japanese restaurant. *** Supermarket This is the most affordable among the 3. Costing about 399 yen, you get a grilled unagi covered with sweet sauce and packed with some seasoning and soy sauce. I bought this at SeiyuDespite being cheap, it was tasty. After a few bites, you could feel the fish meat slowly softens in your tongue, making you relish each mouthful. I do need to point out that you could feel few tiny fish bones that bothered me a little. It also has a hint of charcoal taste, which can be a turn-off for people who don't like their food bitter. Tsukiya I'm not a usual patron of Tsukiya, however, I do know that they are selling Unagi for only a limited time. The most budget-friendly is about 780 yen, but not including any side dishes. Eel and beefThe one I ordered was Unagi-Gyu. For 880 yen, you get rice, eel, and beef. The unagi tasted good, but I just felt it's lacking something. I actually prefer the sauce of the first one more. Despite of that, I must say that it wasn't boney at all. Ogakiku (大川菊) Ogakiku is a well know traditional Japanese restaurant in Koedo, Kawagoe. They have been serving freshwater eels for generations, so you already know you are getting a LEGIT Unagi meal. Shirayaki is an unglazed style eel, while the Unaju has a sweet sauce. The total of this teishoku is about 7,600 yen. It was indeed expensive, and yet it wasn't even the whole bill. See my full review for this restaurant on this link.Shirayaki (on top) and Unaju (bottom)The Unaju in Ogakiku is my favorite among all of the unagis I mentioned in this article. It just captured what my palette was yearning for, a dish with a distinct and rich flavor. The sweet sauce was not overpowering. I didn't feel any bones, which was a BIG plus! And this one just QUICKLY melted in my mouth, like a high-end butter. It was simply cooked to perfection. Shirayaki was also delicious, but I just prefer a tender and juicy texture. *** For people who just want to have a quick bite, grabbing an unagi at the grocery store or in Tsukiya is not a bad idea. On the other hand, if you are willing to splurge from time to time to taste this delicacy, I highly suggest eating in a traditional Japanese restaurant. It can be costly, but you know your taste buds will be in cloud nine. How about you? Which do you prefer?
Bella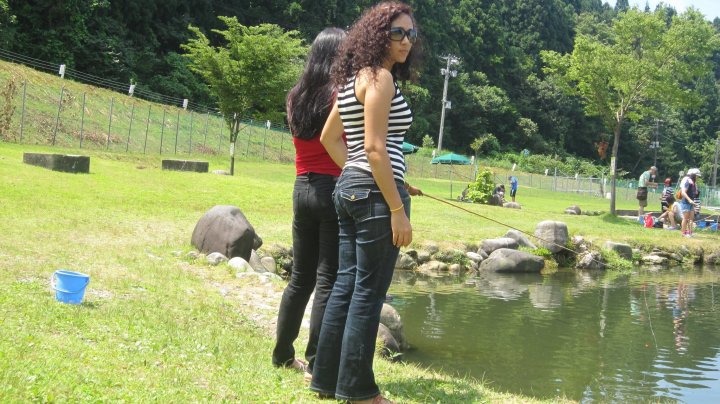 Catch your fish, bake and enjoy: Tainai Fishing and Boat Park
If you are around or close to Niigata and wondering what to do in this Obon holidays, I have a recommendation. Why not experience something different? Have you ever wished to go fishing but wasn't able to because you have no professional skills? If yes, Tainai Fishing and Boat Park is the place you should hit. Located in the shore of Tessouchi river, Tainai Fishing and Boat Park provides a unique opportunity for hands on experience of fishing. Even if you are a beginner, you need not hesitate because this park is best suited even for young kids. Several varieties of fish are left in the big pond in abundance so that the catch becomes easy and everyone gets lucky. All you need is to rent the fishing rod, bucket and the feed to attract fish from the rental reception. Then you are all set to catch your fish of the day. Once you are done catching your fish, you are also able to char grill the fish you caught. The salted fish with smoky flavor tastes the best. Moreover, because the catch was done all by you nothing can beat the fun. This park is also a best location for picnic because there is a green grass field where you can enjoy your own home brought food along with the fish that you freshly grilled in the charcoal. There is also a shop that offers you ice cream, drinks and other snacks to add on to your catch of the day. Apart from the fishing fun, you can also enjoy boating in the serene Tessouchi River. The river is clean and beautiful and offers beautiful swan shaped boats that take you for the tour of the river. There are fountain that keep blowing water and makes the environment so natural and beautiful. This location also offers beautiful hotels and resorts if you plan to stay overnight. However, even a day trip is worthwhile. Tainai Park and Fishing Resort might not be the cheapest holiday option because you pay for rental stuffs and also for fish you catch plus the charges of baking them in charcoal. Boating will also cost you some money but the expenses are worth the fun and experience that you will cherish. If you have kids, you will be overjoyed seeing them get excited as they catch their fish. Please make sure that the park is open when you visit because this place is seasonal and opens between April and November only.One thing you have to careful is make sure that you are not fishing until the end of the business day otherwise you will not have a chance to bake the fish you caught. Plus, do not over catch the fish as it can be costly and it is more for fun than eating full stomach. Me and my friends in Niigata enjoy going to this park every year during summer. Even this Obon holidays we intend to go back and get some sunshine as we fish. Are you eager to join us ?
Babina