USER BLOG
Join the best expat community of Japan. Now!
Share your Japan experience

Create blogs/Join the Q&A

Earn points and get rewards
100 Yen Heat Hack: The Frozen Towel
When humidity so intense that your clothes are drenched in sweat before you walk for more than ten minutes combines with record high temperatures to create a truly uncomfortable summer experience, you know it's summer time Japan. There are a number of ways to deal with this problem, including hiding in the air conditioning or under parasols whenever possible and wiping down your brow with the wash-cloth sized towels everyone seems to carry. These are great answers, but my solution is a bit different. My solution may appear strange to some and probably won't be the favorite of any fashionistas, but it works well enough for me. If you have a day planned in which you do not need to wear professional business attire and plan to be out in the sun for a few hours or more, this may help in keeping you cool. First, buy a towel. Douglas Adams's adage regarding towels hold true. You should always know where your towel is. Towels are really terribly useful things. First, let's go towel shopping. Your towel needn't be fancy, but should be long, like a face towel. Your towel should be long enough to drape over the back of your neck as that is exactly what it is meant to do. Material is important as well. We need the towel to be absorbent, so materials like cotton are the best bet. The fluffy micro-fleece varieties work well enough for most home uses, but will not be helpful to us in this venture. If you're not sure the material, check the back label. You can see here that the pink towel is 100% cotton-- perfect for our purposes. The blue micro-fleece towel is not going to soak up what we need it to. Wet, folded incorrectly. Take your towel home. Remove the packaging and throw it in the wash if you like. Then, when it is clean and dry, fold the towel into a smaller form, keeping it as long as possible and dampen it in clean water. The towel should be thoroughly wet, but not dripping. Wring it out if necessary. Now put the towel in your freezer and leave it for a few hours, preferably overnight. As you can see, I folded it wrong and left it too wet. Just before you leave, take the towel out and unfold it. It might be a bit stiffened from the freezer, but should become more manageable as it warms up. Once you can, lay it across the back of your neck and enjoy! The ice cold should keep your blood temperature chilled for a bit and once the towel dries in the heat, it will be helpful in wiping away sweat as well.This is the shape you want. If you made the same mistake I did, you might have to pull it in a few directions to get it to do this, but once you do, you can drape it easily across your neck for a rush of cool comfort, or loop it over like a scarf of frozen delight. Caution: it will leave your clothes moistened! This will also dry in the sun, but if a wet spot on your chest or neckline would be more terrible than extreme heat, perhaps you are better off with a parasol.
JTsuzuki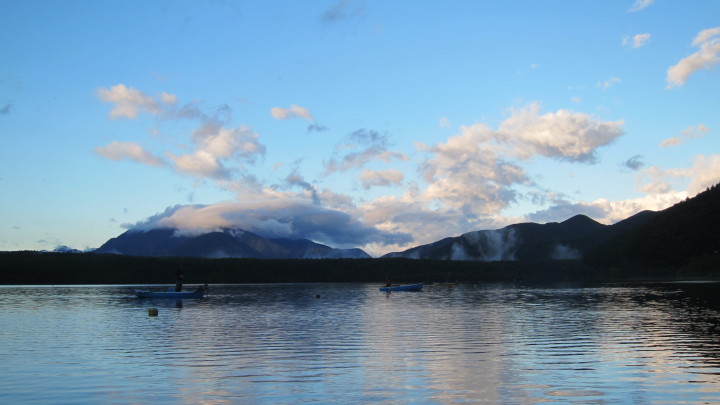 Nice water places in Japan
Besides the beautiful beaches Japan has to offer, there are also other nice places inside the country to enjoy the water. Here are some of my recommendations. • Lake Yamanaka, Kawaguchi, SaikoIf you are visiting Mt. Fuji, you should also make a stop of one of the surrounding lakes like Yamanaka, Kawaguchi or Saiko. These are very beautiful lakes where you can walk around and enjoy the nature or do a boat ride. The lakes are also very popular for water sports and fishing. Especially at lakes Yamanaka and Kawaguchi professional or amateur fishing tournaments are often held at the weekend.• Izu WaterfallsIf you prefer more to enjoy hiking in the mountains, you can see many waterfalls in the mountains of Izu. There are seven small and big waterfalls in the mountain area of Kawazu. Especially if you are standing in front of the bigger waterfalls, you can enjoy a nice cool breeze. • Yume no Shima PortIf you are in Tokyo and want to visit a nice port, you can go to Shin-Kiba station at the eastside of Tokyo. That place is popular for the big concert hall, but on the other side of the station is a beautiful small park with a small port of luxurious yachts. It is really nice to walk around the yachts and sailing boats. Also there is a very cute beach restaurant in front of the port where you can sit inside or outside on nice beach chairs or in a hammock. It is also possible to rent a BBQ spot in front of the port. Unfortunately it is very popular to do BBQs there, so you should reserve a spot early. • Kasai Rinkai ParkAlso at the east side of Tokyo is the huge Kasai Rinkai Park. The park fronts Tokyo Bay and has a big beach area where you can have a BBQ or just a nice picnic. You can also see Tokyo Disneyland from the bay side. A third of the park is designed as a Sea Bird Sanctuary. If you are a bird lover it is a good chance to take some nice photos.• Party Boat Sumida RiverIf you like to drink and eat and also like to enjoy the view over Tokyo from the water, you can book one of the nice party boats on the Sumida River (for example in Asakusa or Ryogoku) and cruise along the river. They have special party plans for big groups which include drinks/food and often also a karaoke machine. To rent a boat is kind of pricy but if you are in a big group it will be a very nice experience. • Tomioka MatsuriYou might wonder what a festival has to do with water, but the Tomioka Matsuri is very special. It is held every three years in the Monzen Nakacho area. In the morning of Saturday and Sunday of the festival many people will carry small transportable shrines (Mikoshi) around the area. You can see those at mostly all summer festivals, but the one in Monzen Nakacho is kind of special because there are huge buckets full of water on the side of the streets. If a group with a small transportable shrine is coming, people will throw tons of water on them. It is like a big shower. Especially during the hot summer heat it is very refreshing. If you are watching the Mikoshi parade you should watch out not to get too wet!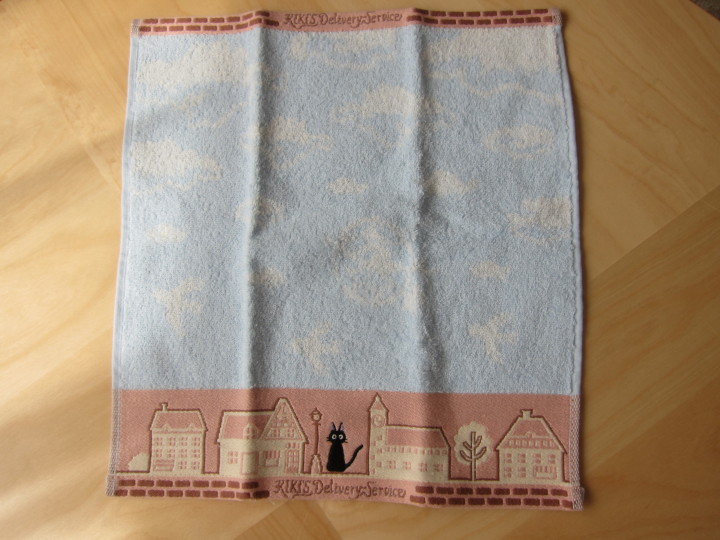 10 tips for dealing with the hot summer in Japan
Very soon the rainy season will be over and the hot humid summer knocking on the door. Summer can be a very hard time in Japan especially for a foreigner who is not used to humid weather.Here are my 10 tips for dealing with the heat and humidity of Japanese summer. • Small towelYou may have seen those small towels already everywhere in the stores. Those are so important during the summer season. When your face is sweating because of the humidity you can use those towels to dry your face. No worries as everybody is doing that, so there is no need to feel weird. Also you can buy plenty of different designs of those towels. Almost every anime character or popular kids character like Hello Kitty or Rilakuma has a big variety of those towels. My favorite are the towels of Ghibli with Totoro or Kiki. • Sun umbrellaSun umbrellas are mostly used by woman in Japan. They have a special UV protection, which is perfect for not getting brown or getting sunburn. Also it is such a big different, when using the sun umbrella, the direct sun does not go straight to your face. You will feel way cooler on your head than not using it. Especially in places where there is really no shadow it will save you from a heat shock. • HatSame like the sun umbrella goes for using a hat. This is the perfect alternative for men. A light small summer hat will keep your head cool. • Airy clothes/cool bizDuring the summer you should wear airy clothes which are loose and it's best if they are 100 % cotton. If you are wearing tight clothes they will stick to your body and you will feel very sweaty. Also you can buy special cooling clothes (for example at uniqlo) which will cool down your body during the hot season.• Cooling productsAt the drugstore or convenience store you can buy many different cooling products like cooling spray. You spray it on your arms and it will give you a refreshing feeling or cooling pads for your forehead for cooling you down. There is really a big variety of different cooling products in the store. Please check them out!• Drink enough!The most important thing during summer is to drink plenty. At least 2-3 L per day is recommended. Especially you will lose so much water from sweating. You really should drink a lot. Nice refreshing drinks are all kinds of no sugar drinks like green tea or black tea. The best of course is mineral water. • Bottle coverI recommended to drink enough during the day. But it will often happen, that you are buying a cold bottle of water and you put it in your bag and sooner or later your bag will be wet. The bottle is kind of sweating because of the heat from outside and the cold from inside. For that problem you can use a bottle cover which will keep your bottle cold and your bag dry. You can buy those at every 100 Yen shop or in stores like Loft and Tokyu Hands.• Light healthy foodDuring the hot summer it is best to eat light healthy food like salad, soup, fish or sandwiches. For heavy oily food the stomach needs more energy to burn the food that let you even sweat more.• Shopping storesIf you are going to the supermarket or big department stores, you will often see many people just sitting in the lounges resting or chatting to each other. Mostly they are going there to enjoy the air conditioner for free. Many people also use that method to save some energy costs at home. • Beach dayOne of my favorite solutions to deal with the heat is just going to the beach. You can go swim in the ocean or lay in a UV protection tent and eat some watermelon or ice cream.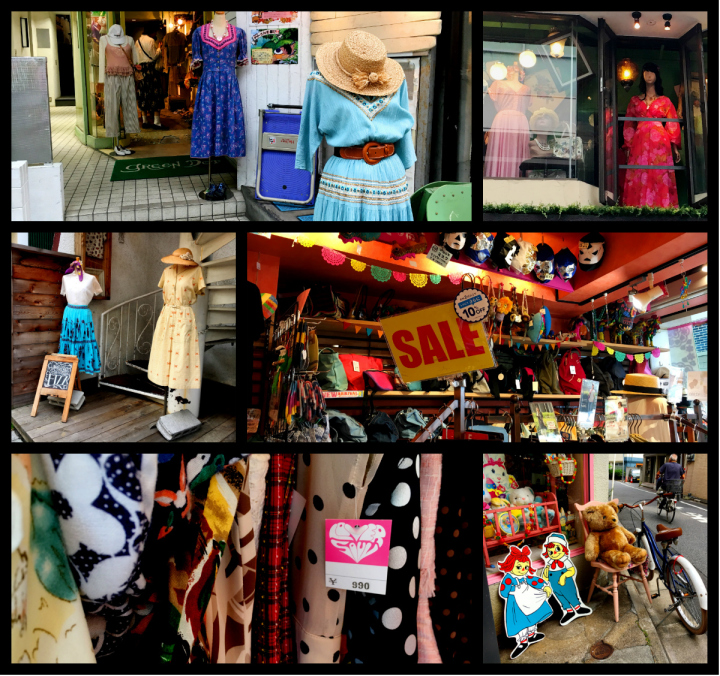 Shopping in Koenji: The Bold, the Weird, and the Vintage
Daring and eccentric, a common description of Japanese fashion. But where do you get this look? Harajuku, Ikebukuro, Shinjuku? Probably, yes, but Tokyo does offer few low-key shopping spots that "hipsters" and fashion enthusiasts would fall for! Have you heard of Koenji? From Shinjuku to Koenji, it only takes 6 minutes by train. As you step outside the station, your first impression of this neighborhood might be ordinary, but it is far from that. This shopping district offers a lot of used clothing stores, catering to a wide range of individualistic style that will certainly turn heads. Aside from clothes, you can also find interesting shops like hair salons, bookstores, variety stores, cafes and restaurants, and even a Daiso! Vintage Shops My favourite shops to visit in this area are the boutiques for vintage clothing. From Victorian Era-like dresses to the 50s, the selection is amazing as well as the prices. Even though they are from recycle shops, you'll spend 10,000 yen or more for just one outfit. If you have the money to spend and you want to look like you have travelled through time, then putting a whole in your wallet won't be a problem. But if you are a budget-buyer like me, you'll still be fond of Koenji. Some shops do go on sale and affordable items do exist! Patience and a keen eye are a must or else your trip will be a bust. If vintage is not your fancy, there are other stuff that might suit you. From sweet lolita, mori girl, colourful South- American inspired apparel, to a less extravagant attire with a unique style; Koenji has a lot to offer to fashionistas. Other Recycle Shops DON DON DOWN on WEDNESDAY! This is one of my favourite stores in Japan! For first timers, Don Don is a used clothing shop that uses an interesting pricing-style, which I call the "the fruits system." Instead of a price tag, it uses pictures of fruits that have a corresponding value. However, their rate changes when it's already WEDNESDAY. So, if today is Tuesday and the 'strawberry' tag is 300 yen, it will change to 100 yen on Wednesday. Make sure to visit Don Don on the 4th day of the week to get some fine deals! ( 0.0 )Other than my fave store, there are other recycle shops that offer varieties of casual clothing. Some of them have very interesting names. Chilling with Tea or a Meal Other than being another paradise for trend-setters, Koenji also has cafes and restaurants that are as distinctive as the outfits in this area. Something is sprouting at ぽれやぁれ (Poreyaare)Some menus have English translations, some of them don't. Some are even handwritten in Japanese, which might intimidate foreign visitors with no Japanese. However, Japanese people are very friendly to 'gaijins.' They really appreciate it if you try speaking in Nihonggo, so make sure to brush up your 'Sumimasen, and Arigatou.' Window Shopping Making plans is hard when you are out of dough. But, Koenji is still an enjoyable place to stroll around and take pictures. The shops in this place are instagram worthy. Pose and shoot xDSo, if you want to take a break from the crowded streets of Shinjuku and Ikebukuro or you just want to find a style that is hard to copy, stop by at Koenji and have fun!
Bella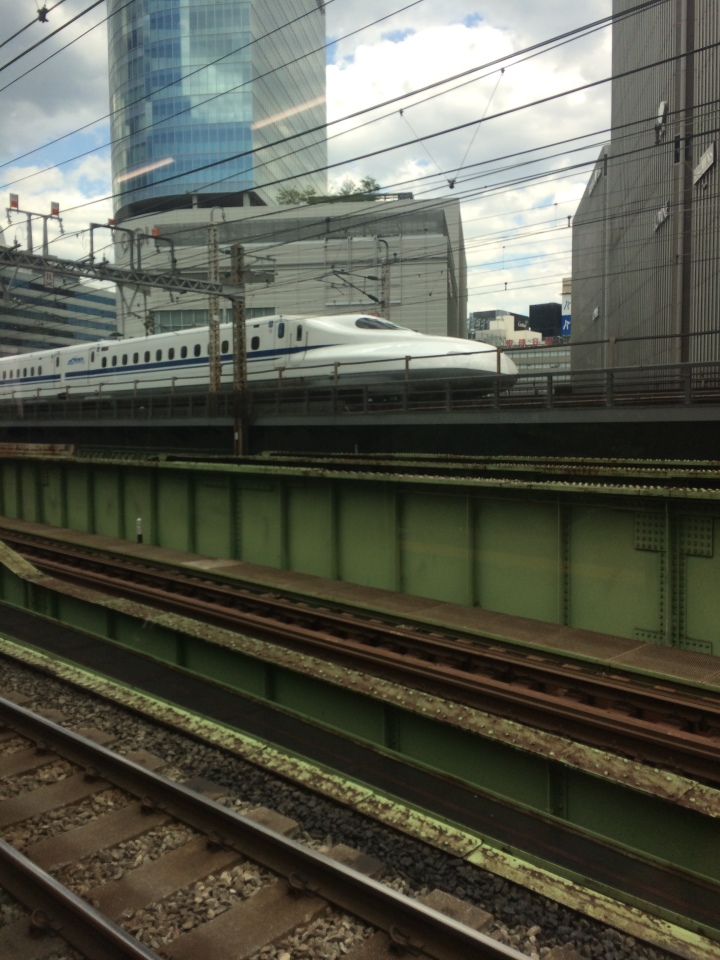 Shopping trips to Tokyo
Shopping Streets in TokyoEven if you don't try to drive, navigating Tokyo can be overwhelming as it is the world's biggest Metropolitan area. Tokyo is a huge city with an enormous number of subway and train lines running all around it and through it. It can take time commuting from one place to the other but once you get used to the subways and their complicated schedules, a journey through Tokyo can be very exciting. Ueno, Tokyo and Ikebukuro stations are all giant hubs for throngs of people going to work, travelling and coming back home. I live in a rural area of Japan, so a Tokyo trip is the most exciting, adventurous, and at the same time potentially exhausting way to spend a day. It requires planning ahead and figuring out platforms for departure and arrival in advance. Using a smartphone as you go saves preparation time (until the batteries run out!) but it is best to plan your transport and stay in advance. So far, I have been to Jimbocho (Tokyo's biggest bookstore district), to Harajuku, to the Ikebukuro fashion district, and to Nippori.HarajukuTokyo's fashion district for youth which is in Shibuya ward, is located west of Tokyo Station. Harajuku Station is surrounded by Yoyogi park in the west, Shinjuku National Park in the north, and Jingu Stadium in the northeast.It was a beautiful sunny day and when I set out to explore Harajuku, and the streets were quite crowded. Having made the mistake of wearing uncomfortable shoes, I dropped in a few shoe stores and soon had a lovely new pair of comfortable sandals for 1,700 yen. The day was saved and my feet were happy to explore. My companions soon got tired of shopping, and fortunately, right next to Harajuku's bustling streets, Yoyogi park is quiet and full of trees and good places to relax.JimbochoJimbocho is the city's biggest bookstore district, where you can buy cds, dvds, and books of all genres in old and new editions. So many books are stored in these classic, old city blocks that anyone can find a bit of everything here, from antique Japanese books to books in English about trains around the world. Science, literature, history, and many other sorts of books are for sale in English and in Japanese. Jimbocho Station is just north of Tokyo station.IkebukuroIkebukuro is located northwest of Tokyo Station in Toshima ward. I haven't had a chance to properly window-shop Ikebukuro yet, but it was bustling when I went and seemed full of younger people, and had a party atmosphere in the evening.Nippori fabric and textile townNippori is Japan's textile town, located north from Tokyo Station. Maybe this is where ambitious fashion designers come to shop for their materials. I have not planned yet what materials I need for certain projects. When I was in the lining section, I thought of "Sex and The City" and the New Yorker tulle skirt. There is are also plenty of silks, leather, cushion fabrics, sewing materials, and kimono fabrics to browse. I am really grateful that I am able to explore Tokyo once a month. It has always been a pleasure to see the crowds, trains and subways as well as the city's unique markets and other areas for shopping.
Ooray2775

First Time Roamers at TOKYO INT'L ART FAIR
The weekend is a MUST for me to have plans.Hence, when I saw FACEBOOK "suggested" an art event in Tokyo, the eager planner in me search for details and a roaming companion for this art crusade! What is it? I actually have NO IDEA! It just popped out on my Facebook page. It has the word ART and that was enough to get my attention. According to their page, TOKYO INTERNATIONAL ART FAIR is held by GLOBAL ART AGENCY (also known as GAA Ltd.) to gather art junkies and give them the chance to admire pieces created by artists who travelled all the way to Tokyo. Visitors could buy artworks first hand and socialize with the artists in the exhibition, creating a unique experience for both parties. Artists, collectors, and art enthusiasts united! Where and When? From May 26th- 27th at Hikarie Hall Shibuya (9th floor), Tokyo Int'l Art Fair showcased varieties of art pieces like paintings, sculptures, photography, illustration, and etc. How much? The event on May 26th has VIP tickets that cost about 1,500 yen. It includes Champagne Reception, private view, and the first opportunity to buy art. I went on May 27th, which is FREE ENTRY. One of the styles that captivated meHow was it? It's my first time to visit this kind of event. I didn't know what to expect. I just enjoyed my time looking at artworks, especially, those pieces that have a similar style with my art. Pencil, pen, and paper. Simplicity is beauty.My creative juices were triggered to flow again as I talk to some of the artists. It was just wonderful to know the story behind the art in the artist's own words. After lurking around, my friend and I went to the lobby and noticed the tubes of gouache on the tables. Then, a woman who was replacing the paints that were taken told us, "You can get one. It's for FREE." Those lines were like magic in my ears! Fancy business cards, post cards, and gouacheUnfortunately, we could only take one. But still, it's one of the BEST FREBBIES I've ever had! XD
Bella
Top 5 shopping streets in Japan
There are so many nice shopping streets and markets in Japan that it is hard to decide where to go. Depending on what you are looking for, you will have many choices especially in big cities like Tokyo. Here are my 5 favorite shopping places in Japan: 1. Nishiki Market in KyotoDuring my first trip to Kyoto in 2010 I visited the Nishiki Market for the first time and I really loved it. Walking around the narrow streets of the market, which has around 100 small stores and restaurants is really fun. The shops and restaurants are selling mostly food and kitchenware. You can find many Kyoto specialties like sweets and pickles at the market. My favorite store is a very tiny store where you can buy raw fish dipped in a delicious sauce on a small wood stick. Every time when I visit Kyoto it is a must go place for me. Especially, the staff at that store are very nice to foreigners.2. Higashiyama District Also in Kyoto is the very old Higashiyama district on the slopes of the mountains in east Kyoto. The most beautiful part is around the popular Kiyomizudera. There are many old wooden houses and you can find many traditional handcraft and sweet stores. It gives you a good feeling of walking around the old capital of Japan. During spring time many lanterns will be lit up in the evening along the street. It is such beautiful scenery to walk around in in the evening, especially if you are wearing a yukata or kimono.3. Yanaka GinzaIn the northern part of Tokyo you can still feel the atmosphere of old Edo. North of Nippori station is the small Yanaka district. You can find small restaurants, grocery, clothes and toy stores and many others in that district. The streets are like an small, independent city. You can find everything you need for your daily life, but never forget everything comes with a charming, old style. If you look up to the roofs of the buildings you will find many beautiful plates decorated with scenes from old times. Sometimes you will also see some small residents walking around the roofs. The street is very popular for its cats! There are also some stores which just sell cat products.4. Nippori Fabric TownAlso close to Nippori station but on the south side is Nippori Fabric Town. The 'fabric town' has many different stores for fabrics, leather, accessories and even dresses. It is really a paradise for people who love sewing and handcraft stuff.5. Tokyo Station Character StreetTokyo station is a small shopping paradise, especially if you forgot to buy something, you will find it for sure in one of the stores there. My favorite area is the Character Street on the B1 floor. There are many stores for all the famous Japanese characters like Hello Kitty, Sailor Moon, Totoro or Pokemon. TV Channels also have small stores there, where you can buy merchandise from their TV shows and dramas.If you are a fan of those character products you should really take a look.