USER BLOG
Join the best expat community of Japan. Now!
Share your Japan experience

Create blogs/Join the Q&A

Earn points and get rewards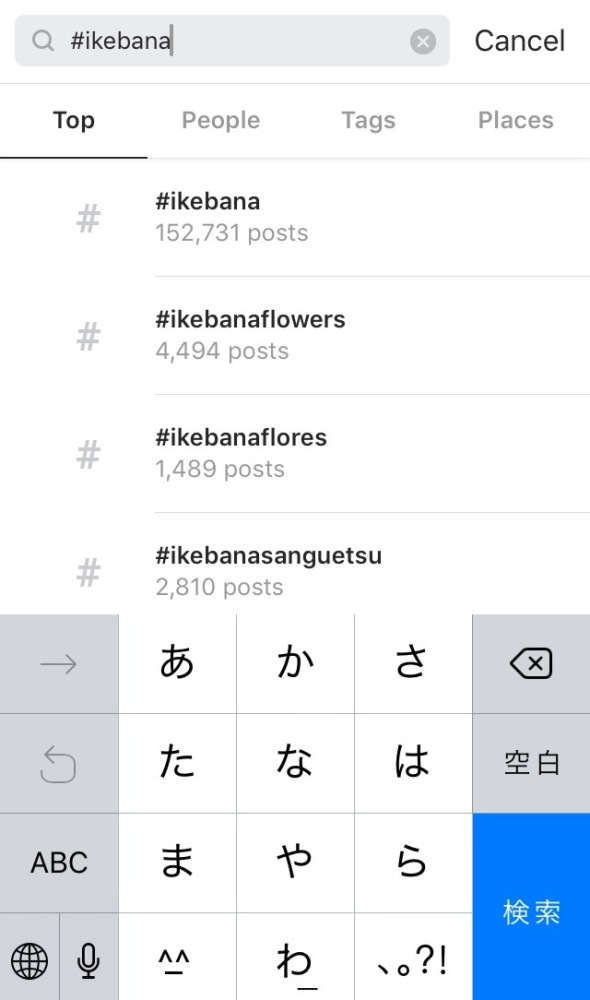 It's best time to start something...How about Ikebana?
When a new year begins, we feel like starting new things, don't we? In fact, we see many ads of schools including online or correspondence course. Do you have any special plan for something new? How about trying Ikebana this year? In this article, I will introduce how to start Ikebana lesson.The most important and difficult is to find a school. Below are the ways to find schools.1) Web searchJust as usual search, put in google "Ikebana lesson English Tokyo" or like that. In the result, there will be major school's headquarters information on top. And you'll find some small private schools as well. If you find English page on those sites, you can be sure that the teacher can speak English. Then compare pictures of lesson room, teacher, and works they show on webpage.2) Instagram or blog searchIt's really modern method, but actually many flower artists have IG account, including me. If the artist is a teacher and has own school or lesson, they mention so in profile page or each post. Through IG, you can easily find your favorite works and contact each artist.You can search with hashtag #ikebana #いけばな #生け花This is my IG page. Search @yoonaflowers 3) Cultural Experience program for touristsIf you are visiting, this is the easiest. You can learn the brief history of Ikebana and try it in traditional Japanese room. Also, the students are all foreign beginners. But fees will be expensive and difficult to have next lesson even if you like because it is for "tourists' experience".4) Hobby clubsI heard ten or more years ago, many companies had hobby clubs after work, and Ikebana was one of the major activities. Some of my older Ikebana classmates say they started it from hobby clubs. But recently, many companies abolished such circles as the recession goes or other reasons.5) Paper ads in newsletterYou'll find some ads in your city's newsletter. Fees are little cheaper than other schools, but most of those schools are not bilingual (and in my opinion, the students might be elder than you).Most of the classes have one-time trial lesson, and fees will be around 3,000 yen to 5,000 yen. Normally you can borrow the goods needed, so all you need is a towel to wipe hands, apron if you wear delicate clothes. After the lesson, you can have flowers used in the lesson (material fee are normally included in lesson fee) to re-arrange them at home for review. Lesson timetable and number of students are different on teachers. Some open only private class on requests, others regularly have 10+ students at one time. If you are more interested in Ikebana and want to continue, you can visit several schools for trial and find your favorite. Next time, I will write about the materials/tools which I use for Ikebana.Oh I forgot to say... Of course, I can teach you if you are looking for a teacher in Tokyo!!!
yoona

Moshi Moshi Nippon Festival 2016
On the last weekend of November the Moshi Moshi Nippon Festival 2016 was held at the Tokyo Metropolitan Gymnasium (Tokyo Taiikukan, 東京体育館). There you could experience some of Japanese pop-culture and some traditional Japan. And most of all: the entry is free for all foreigners!!The event was held for public on Saturday and Sunday. On both days there were music acts, Saturday was a little bit more exclusive with some Japanese models. However, I went there on Sunday to see the performance of famous Kyary Pamyu Pamyu at the evening. A list of the complete line-up and the timetable you can find on the Moshi Moshi Nippon website.Already outside of the Tokyo Taiikukan you could find a lot of stuff. They had a food area with different food to try out. Surely, the prices were not really cheap. Some of the sponsors had information booths. On a small stage DJs and girlgroups were performing. You had the chance to climb on two robots of Shinjuku's Robot Restaurant which were exhibited there. Also Mari Car was there, which makes it possible to go through Tokyo by go-kart costumized as Super Mario characters. At the booth you could take photos inside costumes or reserve a go-kart tour.But let's take a look inside the hall. First you have to get your wristband which allows you to go in and outside as often as you want. As foreigner you could register before online and just needed to show a QR code at reception. Or you simply fill out a form with your data at the venue. Japanese have to buy a ticket for ¥ 2,990 at the ticket counter.Inside you could experience a lot of things. Getting dressed into a kimono or lolita dress and taking photos or making some special origami and so on. I especially liked the Oiran - a beautiful Japanese courtesan. Taking photos at some booths and uploading it to your SNS account made you get some stuff for free like a printed version of the photo or small goods. At kawaii room you got a bag with Japanese beauty products after filling out a survey. You also could try flying a drone or play Resident Evil with VR. All was pretty interesting.While not so many people were around in the afternoon, it got pretty crowded at the evening when performances of CAPSULE and KYARY PAMYU PAMYU were held. Many fans went there and enjoyed the short shows which lasted around 25 minutes each.Because the event welcomes many foreigners at nearly every booth at least one staff spoke English. Some bilingual stuff were also walking around the venue. You can get a lot stuff for free from the sponsors, so we ended up with Aeon x Gudetama shopping bags, vegetarian instant ramen, a lot of stickers and even some discount coupons we can use in the future.The festival was held third time now and will probably take place again next year. So if you are in Japan at the end of November, don't miss it. You can get a lot of stuff for free!!
YokoLostinJapan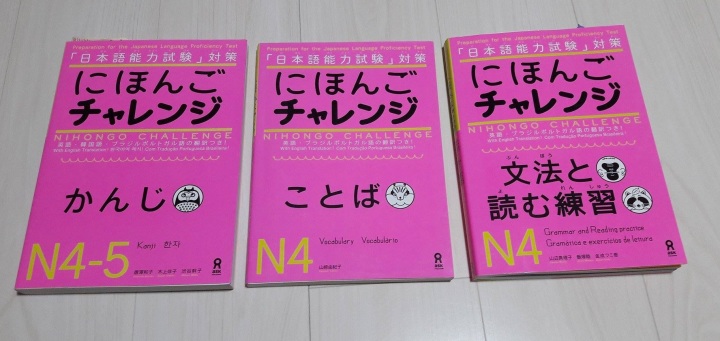 Getting prepared for the JLPT N4
As you may know: being good at Japanese language is important for living in Japan. To find out about your Japanese skills there is a test called Japanese-Language Proficiency Test (日本語能力試験) or shortly JLPT.The JLPT takes place twice a year - once at the begining of July and once at the begining of December - in Japan and a lot of other countries. The test has five different levels, starting from N5 as lowest and N1 has highest level. Mostly, if you want to go to Japanese university or want to work at a Japanese company, you need to have passed at least N2 level. What this means, you can see in this table (info from Wikipedia) So this is what you need on Kanji and vocabulary for each level:N12.000 kanji + 10.000 vocabularyN21.000 kanji + 6.000 vocabularyN3650 kanji + 3.000 vocabularyN4320 kanji + 1.500 vocabularyN5120 kanji + 800 vocabularyI applied for N4 level and the test will take place on Sunday. I'm kind of nervous and worried if I can make it. Sure, compared to the 2.000 kanji and 10.000 vocabulary you need to reach N1 level, the 320 kanji and 1.000 vocabulary don't look much. But they are!! Especially if you are learning Japanese by yourself without a teacher or a language school.Luckily there are some books you can use for studying. So mainly, I made this post to show which books I used for preparation *laugh* First there is a book series called Nihongo Challenge (にほんごチャレンジ) which I enjoyed to use. Unfortunately I can't finish all the books before the test. I have the three books for N4 Grammar and Reading practice (文法と読む練習), N4 Vocabulary (ことば) and N4-5 Kanji (かんじ). All books costs between 1,200 ~ 1,400 yen (+tax) and include explanations, practise tasks and solutions.Another book I got interested into when I saw it in the books store is 日本語能力試験対策N4漢字・語彙・文法 20日間で合格力を身につける! It includes many tasks in the sections kanji, vocabulary and grammar which have the same structure as the JLPT test. At the end of the book you also can find some test examples where you can find out if you are ready for the test. Even so the book costs 1,500 yen (+tax) I can totally recommend it. I enjoyed practising with this book.I also used the Offical JLPT Practice Workbook N4. With only 700 yen (+tax) it's cheap, but there is only one full test inside you can practise with. It's good to get to know the structure of the whole test and how the test sheets will look like. Here also you can try out the listening part, because a CD is included. I wasn't so bad with this test - hope it will be good at the real one, too.My last book, is a book I bought in Germany. It's explaning Japanese grammar in German language and it's pretty usefull if I don't understand the explanation in the other English books. Maybe you also have such book in your homecountry? In addition, I also practised a lot vocab with apps like Memrise, Kotoba and Obenkyo on my smartphone.Is anyone else taking the test this time? How did you get prepared for it?
YokoLostinJapan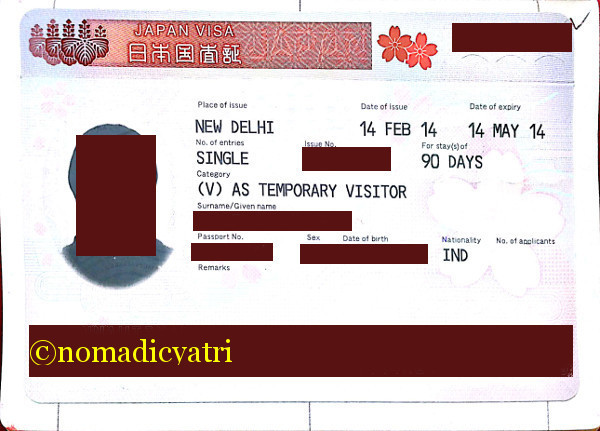 Visa For Land Of The Rising Sun #nomadicyatri
Land of rising sun is always dream destination for most of the travellers. If you are thinking to visit Japan, then here I am giving you a complete information about visa before you are check-in into gateway of Japan.Many countries have visa weaver in Japan and you can check the list of countries here visa exempt list.You require following documents before moving to embassy or to authorize travel agent.Declaimer : Every countries have different rules regarding visa to third country, but this post might help you to start process or just awareness while thinking to visit Japan :)Coming as independent (Self arranged)1- Copy of passport with first and last page having bio data.2- A completely filled visa application form.3- Covering letter which will explain your purpose to visit as well as itinerary.4- Photograph (2x2 inch but confirm with embassy)5- Travel booking(arranged tour if there), Hotel and air ticket with itinerary.6- Latest income tax return or Bank statement for 6 months (original one with passbook)Coming through guarantor (Visiting friends or family)Documents from applicant-Documents from applicants are same as I have explained above. You just need to cross verify with documents checklist in embassy homepage before submitting form.Documents from guarantor-1- Invitation letter original.2- List of visa applicants.3- Letter of guarantee if inviter is paying your expense.4- Copy of tax return/ certificate of deposit balance/certificate of income.5- Copy of passport first and last page.6- Residence card stating you visa type and expiry date.Special Note : Japanese embassy in Delhi is no more accepting direct application, you have to submit visa application through travel agents while Chennai , Mumbai, Bangalore and other parts of India you can submit visa application directly to consultant as earlier.Authorize travel agent: Currently in India there are only two travel agents.1- Cox & Kings Global Services2- VFS GlobalEmbassy URL (India) - Japan EmbassyVisa Fee - 440 INR charged by embassy and service charge from travel agent is 600~650 INR.Note: All the description presented here are based on Indian passport holder who visited Japan for 3 months. Visa rule changes time to time so keep looking on above websites for update.All the documents you can download from embassy website to avoid mismatch in format.
Cookievagabond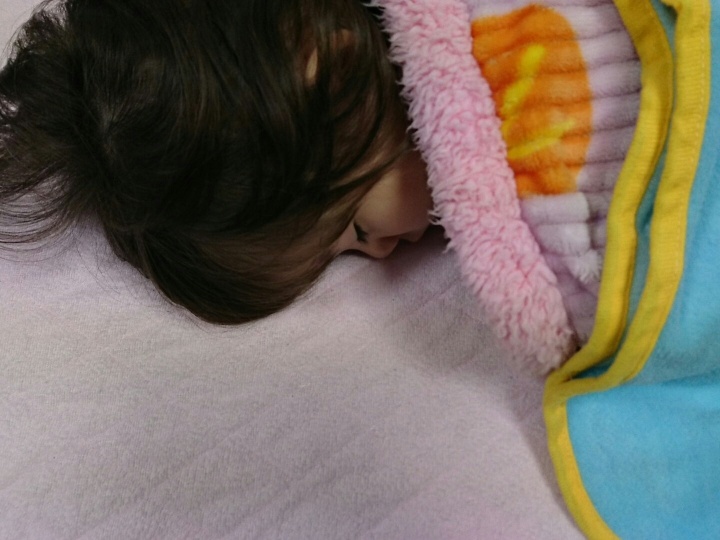 10 Ways to Prepare for Japanese Quakes and Tsunamis
At 6AM this morning a Magnitude 7.4 earthquake struck outside of Fukushima prefecture. It was slightly less intense in Miyagi, where it still caused alarms and woke us up. Soon the tsunami sirens were going off and we were headed uphill and inland to my in-laws place to wait out the morning tsunami warning. Unless you're from a quake-prone area, the threat of these common Japanese disasters can be really scary for the potential future Japanese resident. Here is a list of things to do to help you prepare for the unlikely scenario of a major quake and/or tsunami in Japan. What happens when there's a quake: First, if it's a major quake, your Japanese cell phone will make all sorts of ungodly noise, with a max-volume alarm going off no matter what mode the phone is in. This is to save your life, but the alarm will only sound a few seconds before the shaking starts. Then there's shaking. Usually it'll end after a few seconds and your apartment will be almost exactly as it was before. If it lasts much longer, you can hide under a table or desk until it stops. If it's a big one, you'll likely want to leave the building and head to a more secure location at that time. After the shaking stops, if you're in an area close to the ocean, listen for more alarms and prepare to move to higher ground. Tsunamis can happen without an earthquake trigger, but any quake above a magnitude 7 is likely to cause some tsunami action. What do you do? 1) Stay Calm Okay, maybe not that calm. This was my daughter this morning. Freaking out over whatever is happening helps no one. I don't know about you, but the more elevated my adrenaline, the less I can speak or understand Japanese. The less friendly or respectful I am to others. The less I can do to help myself or anyone else. The first thing you have to do is breathe. Then, if you've prepared properly, you should already know what to do next. 2) Have a Go Bag Most long term residents do. A backpack or other bag, filled with a few liters of water, canned food, candles or glow sticks or other portable light source, batteries, and anything else you can imagine needing when you're without running water, access to food, or electricity. Also include any vital documents like your passport and bank books. Keep it close to the front door, but out of the way, so you're not always tripping over it but at the same time it's ready to go and easy to grab. This is one of ours, from our hall closet. 3) Know Some Kanji It is good to be familiar with the words themselves, like 津波 tsunami, 地震 jishin (earthquake), and 台風 taihu(typhoon). It is also beneficial to know the kanii for whatever town you are living in and as many of the surrounding areas as you can. This way, you'll be able to interpret the information in more difficult situations, even without a translation app. 4) Know Your Town See that red dangly bit? That's Matsushima. We're just south of there, also in the red. Being able to pinpoint your town on a map of Japan can come in handy. It is very useful to know more about your town than just the kanji and pronunciation. You should, shortly upon arrival, figure out if you're close to the ocean or rivers and on low ground. Also, find out what parts of town have higher elevations than where you are and how to get there quickly on foot or by bike. Knowing you're a few train stops away from safety isn't always as useful as the trains won't usually be running after a quake like that. They might be back up within a few hours, but in extreme cases, it might take a week or longer. 5) Have a Plan After you know where the tsunami evacuation areas are, and where you can or should go, make out the plan in your mind. Walk the path a couple of times when you're not running for your life so you know how to get where you need to get. Think about what you'll need for at least a few days after a major catastrophic event and get that stuff in the go bag. Keep an eye on the expiration dates when you check the bag once a year or so. 6) Make Good Connections Having friends in a other parts of Japan can make all the difference when things go south. My little adopted family survived partially by the grace of a few packages from friends in my former Japanese home, who were otherwise unaffected by the quake. At the same time, packages sent from abroad were being turned away, the postal services unsure of whether or not they could deliver to the tsunami affected areas. Also, it's good to have friends in town who you can rely on in times of crisis, personal or otherwise. 7) Check In If you're in a town that gets hit with a major quake or tsunami, you can do the math to figure out when your friends and family back home will be awake to see the news, but the general rule of thumb I follow now (after the mag 9 knocked out power and cell phone towers, leaving my mom without word from me after the Mag 9, ruining her birthday among other things) is as soon as something happens and I know I'm okay, I try to get word out on Facebook or Twitter to let people know I'm safe. 8) Stay Safe If you're in a tsunami prone area, stay out for a good long while. Since the 2011 tsunami, the authorities have been more restrictive in when they tell people to head back to the affected areas. This is because a lot of people went home after the March 11 quake, expecting a small to normal sized tsunami, and never came back. So if you're in a situation where you can run by your house, grab a few possessions and head to high ground, do it, and stay at that higher ground for a few hours. They'll tell you when it's safe to return. 9) Know When to Turn it Off Already in your safe spot with your go bag? Ongoing coverage making your anxiety explode? Turn it off for a bit. Just like with any other major news event of the last 20 years, you're going to see the same footage over and over on TV. When you're convinced that you've got as much information as you can use and continuing to watch for more is exhausting you, don't feel bad about turning it off for a bit and watching something you want or doing some other things around the house or wherever you're holed up. Staying hyper-vigilant and freaked out for too long is a drain on anyone. If you are in a safe, private place where it is possible, take a nap if you feel like it. Your phone will go off or the tsunami sirens (which sound a lot like tornado sirens) will go off if danger strikes. You'll hear about it and are unlikely to sleep through it. When today's tsunami warning was lifted, our phones were sent an emergency message from the city, letting us know it was safe to go home. 10) Some Things Will Return to Normal; Some Things Won't Trains and other basic amenities generally come back fairly quickly, provided nothing has been wiped out or needed to be moved inland for tsunamis. The infrastructure here is great and it is tested for these things fairly regularly. Although life in general may appear much as it was just before the incident, some things will be different. Especially after a major event that causes such a huge death toll, communities will change. There will be turn over as some people will move away and others take their places. Things will change, but most shops will reopen and life will be very similar to before, even after a catastrophic occurrence like the magnitude 9. Don't discount what happens inside of you as well. Your mental health is important, and events like this can change how you feel. For about a year after the 2011 disasters, I couldn't leave a cup or mug or dish anywhere but in a sink or in a closed cabinet for fear that they would fly off and break. I worked on getting over that and other post-quake mental issues by slowly acclimating to my new normal and forcing myself to hang pictures in frames on the wall, even though part of me just knew they would all fall. Some of them have. Most have stayed in place and helped me remember that not every day is quake day. Living in Japan may mean dealing with the occasional quake. Most are so small you can't feel them, but after you go through something like the magnitude 9, you can never fully ignore them again. You will wait for the shaking to stop to make sure it is a small one before moving on. Most of the time, you'll only need to stand still for a second or two and it will be over, even in a fairly tall building. Other times, if you've prepared yourself, you'll already know what to do.
JTsuzuki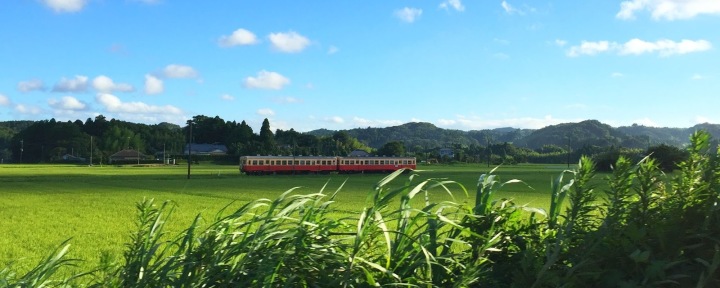 10 things to know about living in Japan
I´ve been living in japan for a few years and there are still many new things which I learn and experience every day. Living in a different culture often means many differences to your own country but also many new experiences. 1. RulesFirst off it is very recommended to follow the rules in Japan. Walking on the correct side of the escalator, standing in the line of subway or just about the right greetings with co-workers. Especially in big cities where many people are living together it is important to follow the rules, otherwise everything will end in a big mess. If you don´t know what is right, just check what the others are doing and do the same.2. ConnectionsWhen you are just arriving in Japan and you don´t know anybody it is very important to meet new people and make connections at your workplace and also for your private life. Especially in Japan, good connections can open you many doors. Also it is very important for the mental health, otherwise you will have depression very soon. 3. Be always kindBe always kind to the people around you. Don´t show that you are in a bad mood or have an other opinion. In Japan it is very rude to show very direct your opinion. Try to show always your positive side and don´t be negative. The people around you will appreciate that.4. TravelingTo travel around Japan is very easy and safe. I used to travel often alone around the country and never felt unsafe. Especially people in the countryside are very kind and helpful and the very good transportation system ((by Bus, Car, Train, Airplane, Ferry)) makes it very easy to travel around. Even if you can not understand Japanese you will always find somebody who can help you and sometimes they even guide you to your destination.5. You will always be the foreignerEven living a long time in Japan, people will always see you as a foreigner. It happens very often, that people talk to you in English even when you speak Japanese to them. This can be very frustrating but never give up! Also in the countryside it is rare to see foreigners, that´s why people are very curious and stare at you or will ask you many questions. 6. Public holidaysJapan has many amazing holidays and festivals. I really love those days. There is really a day for everything! Like the day of sport or the day of mountain. But usually nobody celebrates these days, moreover people rest at home or enjoy a day off. The opposite are festivals, for example tanabata (star festival) or hinamatsuri (girls/dolls festival), which are big events with many traditions. Try out as many events as you can, it is a lot of fun!7. Zentral heating & Air ConditionerThere is no central heating in Japan except in the northern parts. So, please take care to always stay warm with many clothes, blankets and other heating supplies like heating carpet, kotatsu (table over an electric heater) or heattech clothes. Japan can be very cold in winter and the air is very dry. On the other side in summer it is very hot but all buildings and transportation have air conditioner but they are often too cold, so it is better to always carry a sweater with you. 8. ChildraisingThe first time I came to Japan, I was very confused to see little kids staying up late outside and it seems to be so normal. Especially kids who already attend school have to study a lot in Japan and often go to afterschools or cram schools which will end sometimes very late in the evening. Usually school and work starts late (around 9 h) in Japan, comparing to my country, that means that everything also ends late. 9. Amazing Delivery ServiceSince living in Japan I really love the post service here. You will always get your packages on time. They even come late in the evening, if you ask them. It is very great that you can let packages deliver for a specific time without paying an extra fee. Even if you need to send something inside Japan, they will come to your house and pick up the package without any extra cost. For sending overseas you can use one of the 24 h post offices which you can find in many areas.10. LanguageNumber ten should be also number one. The most important thing is to learn the language. It is very hard to live in another country without speaking the language. Without Japanese it is very difficult to find a good job, rent an apartment or just open a bank account. You will need Japanese all the time in your daily life. English is not that popular and most of the people cannot understand or speak it.
Crazydeath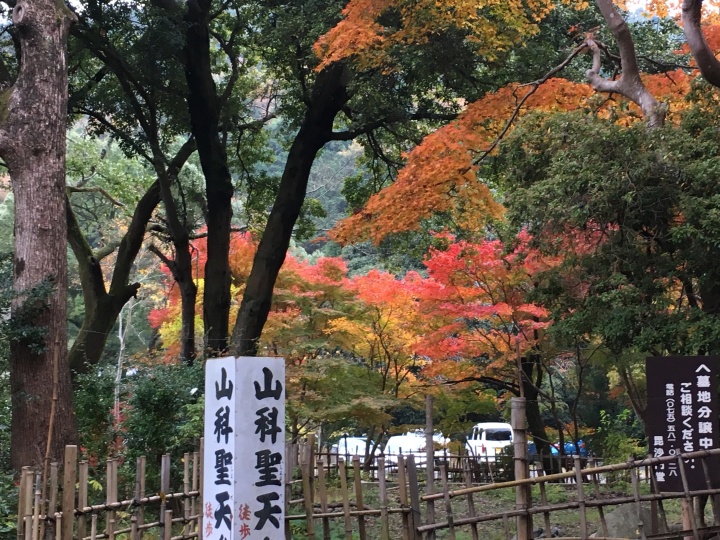 Temple visit for autumn colors
Autumum colors make us reflesh.Therefore, currently Kyoto has full of tourists especially the locations of popular places to visit .As majority of international travelers checking guidebooks like lonely planet.If you want to avoid too many international tourists especially when you prefer to experience something more like locals or only somebodies domestic travelers come to visit ,suppse nice to visit somewhere out of city Kyoto but close to city Kyoto .They have community festival sometimes and some of them are open to public .They have events for craft markets , local traditional plays etc, There is also trail . If you want to hike / heal ,I would recommend you to visit this small temple ."" Please follow to some rules . Good manners are very appropriated"""".*** They says "" NO POKÉMON GO "" please ! ****
Greenteabreak