USER BLOG
Join the best expat community of Japan. Now!
Share your Japan experience

Create blogs/Join the Q&A

Earn points and get rewards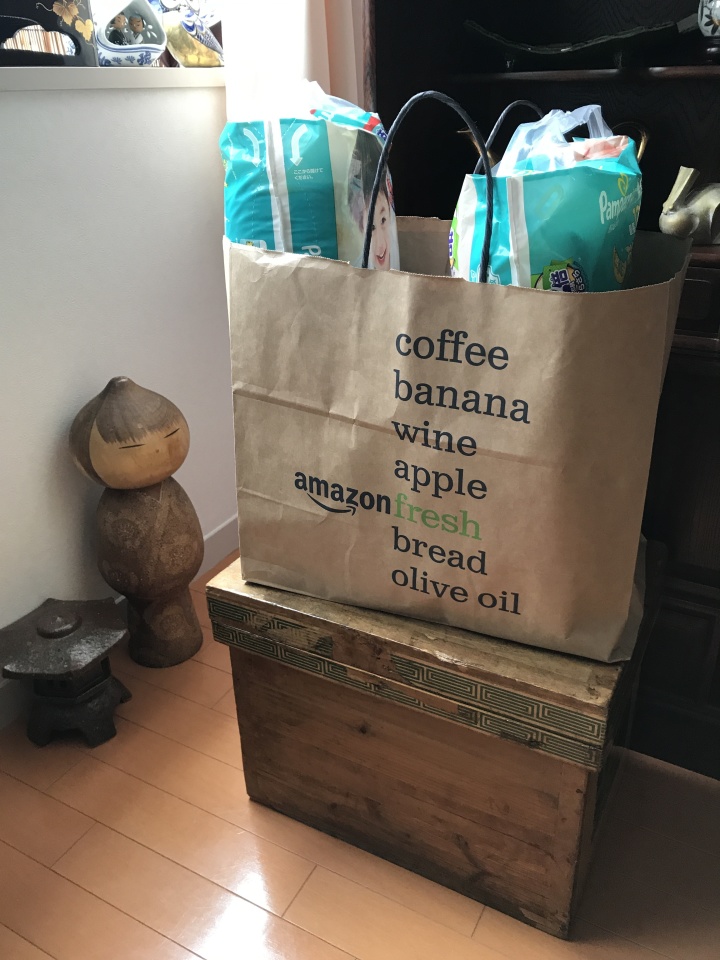 Testing out Amazon Fresh in Tokyo
We have officially moved out of our old place and right now we are staying with my in laws in Tokyo until we head to Niigata in a couple of weeks. It was the perfect chance for us to test out Amazon Japan's relatively new offering, Amazon Fresh. Right now it is only available in certain wards of Tokyo - but they are looking at expanding that further. We ordered diapers and wipes for our little ones, fruit and veggies, some salmon, yakisoba noodles, as well as shampoo and conditioner.Here's a picture of one of the bags (the fruit and veggies already were packed away in their rightful places!)The presentation was really nice. It felt like an upscale supermarket that we were purchasing from, with everything in large Amazon Fresh bags with modern branding. The quality of all the fruit and veggies was excellent too, which was something I was initially a bit skeptical about.To use Amazon Fresh you will need to be an Amazon Prime member (3900 yen annually) and there is a 500 yen charge per month for having the Fresh service active on your Amazon account. They do have a free 30 day trial for both of those things if you want to give it a whirl. They also had a coupon code for 2000 yen off your first Fresh delivery - not a bad deal!Another thing to bear in mind is that any deliveries under 6000 yen will incur a delivery fee - we specifically ensured to go over that to avoid paying a fee!Would you use Amazon Fresh if it was available in your area?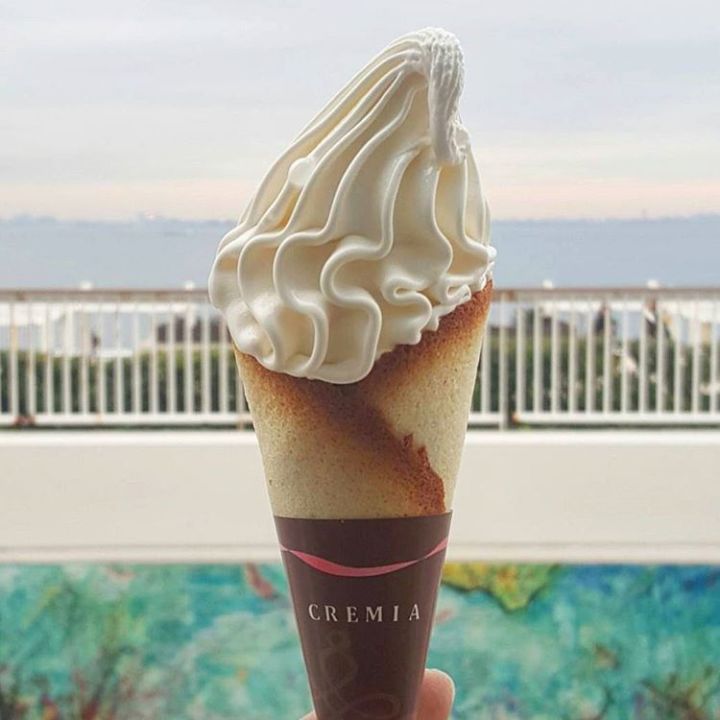 Dealing with summer: 3 ice cream chains around Japan!
Ugh, this heat! I feel like no matter how many Japanese summers go by, I still feel like I'm melting and ill-equipped to deal with the weather when it rolls around. Some people tell me you just end up acclimatizing to it - but I think they're liars!If there's one good thing about summer, it's that I feel 100% more justified to eat ice cream whenever I feel like it. Here are three ice cream chains that I've come across many times throughout the past few years in Japan - they'll give you some quick help (and happy tastebuds) when it comes to cooling down.CremiaEvery time I go past a Cremia it's hard to resist getting a cone. The whole deal with their soft serve ice cream being so special is because the milk fat percentage they use is higher than your regular stuff - so as their name might suggest, their stuff is creamier than anything else I've ever tasted. It's also made with Hokkaido Milk, the good stuff! Definitely worth a try if you come across one - they feel super indulgent!Blue SealBlue Seal is a family favorite of ours, probably in part to do with the fact that we used to live very close to one of their stores. As the sign says, born in America - but it has really become a bit of an icon here (particularly down in Okinawa). Our favorites are the more unique Okinawan flavors of Beniimo (purple sweet potato) and Chinsuko, the popular Okinawan shortbread style cookie. Both are delish, and I like that they're not your standard flavors you can get here there and everywhere.Baskin RobbinsIf you're from the States or one of the other countries that has Baskin Robbins stores, you might be asking "meh, what's so special about Baskin Robbins?" I think that here in Japan, Baskin Robbins is cuter than anywhere else in the world (that goes without saying for a lot of things - Japan, you knock it out of the ball park when it comes to cuteness!)I love that they have cute offerings like this on their everyday menu - as well as having awesome seasonal offerings that are just as adorable. Halloween last year was a prime example of just how cute their stuff can be!Hopefully you're all surviving the heat in your neck of the woods in Japan - like I said, it's all the more reason to indulge a little!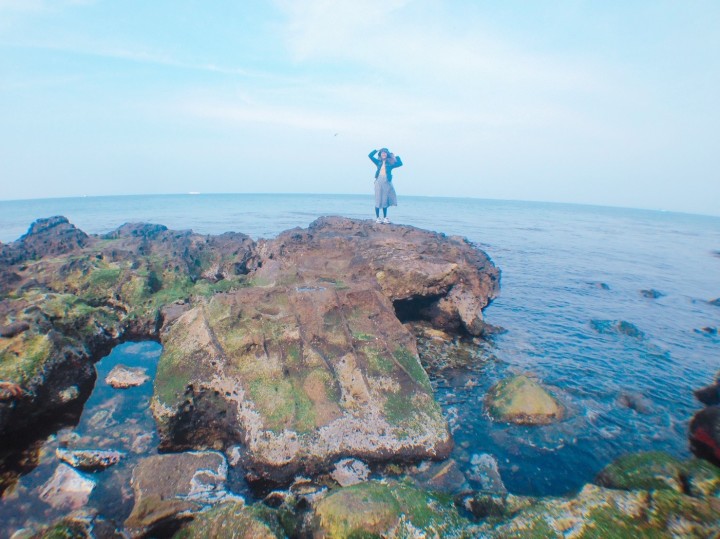 Best Water Spots in the Land of the Rising Sun
I grew up near the beach in a tropical country. When I moved here, I almost gave up on seeking new adventures with water. I was already aware that Japan doesn't have the pristine white beaches (except Okinawa and a few islands) we had back home in the Philippines.However, that was a year ago and with that amount of time that passed, I happen to prove myself wrong. And since we are celebrating Ocean Day pretty soon! Let me share to you some of the awesome places that I have been to for more than a year of being here in the Land of the Rising Sun.Let's begin with the one that I recently visited. SARUSHIMA Working as an English teacher here in Japan could be tiring. And I am that soul that begs to get out of the city every now and then. Luckily, I have this awesome housemate that would keep on bugging me to do the same whenever we share the same day-off. One day, she told me we were going to this place called Sarushima in Yokosuka. The island can be reached by a ferry from a port in Yokosuka for 15 minutes. I recommend you to bring your own snacks and enjoy them in the picnic area of the island.2. YUIGAHAMA I recommend you to buy beer from a nearby convenience store and chill at Yuigahama if you happen to visit Kamakura. Just a walking distance from the station, you will enjoy watching surfers or you can also enjoy a quick dip yourself! Please don't focus your attention to my feet. The beer would love some love though.3. KOJUKURI Before last year's summer ended, I was lucky enough to have a road trip to Chiba with my friends. We headed out to Chiba for a beach picnic but ended up having a free paramotor session instead! Talk about lucky, right? We got to see the awesome view of the beach from above and below! I wasn't able to take a good picture while I was flying so let's just say, "Mottainai".4. OKUTAMA ( TAMA RIVER)I got hooked to camping and hiking here in Japan. I was basically a beach gal and a couch potato back at home. But how could I just sit still and stay home if Japan offers a lot! Uhm, obviously I couldn't find a good photo of the river but if you trust me, it was cold enough to have our beer bottles in perfect condition before we consumed them! Camping by the river was definitely a must in summer!5. OARAI BEACH - IBARAKIWe tried to learn how to surf here last year, but the waves were crazily strong so we had to end up swimming. Or should I say, being pushed by the waves as if our lives didn't matter.I have more places to share but I will save it for my next blog! For now, I hope everyone will stay hydrated in this crazy humid summer!
ricecooker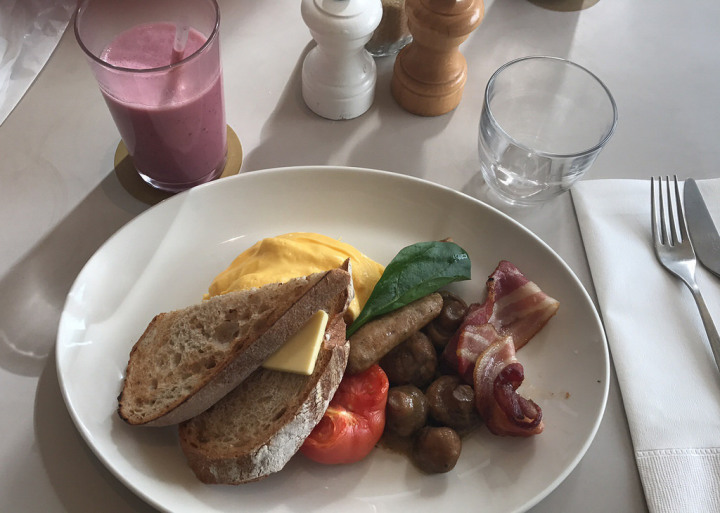 3 Foreign Breakfast Imports that will start your morning off right!
Breakfast is my favorite meal of the day - and as they say, the most important, too. Living in Japan has opened my eyes to what breakfast constitutes (rice, miso soup, salmon?!) and I'm definitely okay with that - but sometimes I just want my western style breakfast too!Tokyo has a plethora of delicious spots to grab a bite for breakfast - but here are three of my favorites that originated elsewhere in the world!BillsBills was started by an Australian chef in the land down under, and has now spread to a number of countries around the world. I'm personally a fan of their ricotta pancakes (so light! so fluffy!) but my husband is all about their savory options. Their coffees and juices are delicious and the atmosphere at their Omotesando store is airy and chic!Clinton Street BakeryClinton Street Bakery started in Manhattan in New York by a husband and wife duo - and their goal was to make the best baked goods in all of the city. Lofty goals, but they have often been acclaimed as the best pancakes in New York. Now, I haven't been to the New York version, but the Tokyo location has killer pancakes. Again, my husband is all about the savory choices - an option for regular or smoked salmon eggs benedict? He's there in a heartbeat!Eggs 'n' ThingsStarting out in Waikiki back in 1974, Eggs 'n' Things has also made their mark on the Japan breakfast scene - there are now a number of locations here. The Harajuku store in particular still draws in the crowds and you may have to line up. If you love a good pancake with all the toppings (hellloooooo whipped cream!) then this is the place for you. There are also loads of savory options and healthier lighter choices like acai bowls, in true Hawaiian fashion!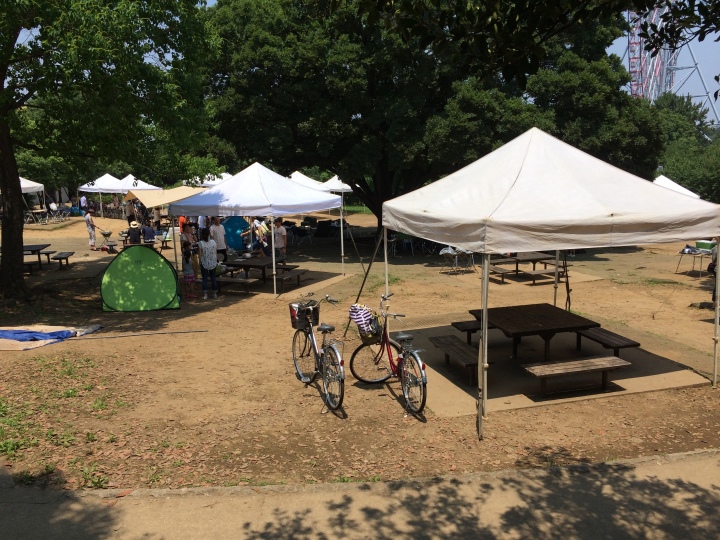 Summer BBQ at Kasai Rinkai Koen - meat, veg and human getting grilled
Those of us in the Tokyo area (and elsewhere maybe) have been emphatically reminded over the last few days that summer is here. Temperatures and humidity in Tokyo are now such that even the act of sitting still has taken on the form of something that equates to a "task". And the bad news is, rumour has it that this summer in Japan is set to be the hottest / sweatiest for a number of years. Brilliant! Now, back home having weather presentable enough to fire up a BBQ is one of life's finer pleasures. Here in Japan serious questions should be raised about an entire nation dishing out more heat via hot charcoals. In fact Japan's summer BBQing season could be taken in more ways than one, in so far as it's not just the purchased meat and veg that is being cooked. I sent a picture to a mate back home of our BBQ prep yesterday at Tokyo's Kasai Rinkai Park - bench sheltered from the brutal sun with a bit of a canopy and a well scuffed, grass free patch of baked earth. He responded by saying it looked like I was in Africa. A crass stereotype maybe but a BBQ in Japan's summer temperatures has the potential to become something of an urban softie way out of their comfort zone type of deal. (BBQ spot reserved)Actually, Tokyo's largest park might seem a fine place to enjoy the robust pleasures of grilling meat in the outdoors, being situated as it is along the shores of Tokyo Bay. You can always be sure of a stiff sea breeze at Kasai Rinkai Koen. The problem is, much like a BBQ pit itself, the park's BBQ zone sits in a kind of dip surrounded on all sides by trees and foliage, perfect for trapping in the heat!Add to this a throng of people, their corresponding grills and a whole load of beer and you've a recipe for someone needing an ambulance. In all seriousness, yesterday's bash with some friends of the partner clocked in at around five hours between 11:00 and 16:00 - the hottest part of the day. This becomes something of an endurance test during which it's imperative to have some time in the shade and drink that which doesn't have alcohol in it, at least from time to time. (The Japanese BBQ grill)Still, a BBQ is a BBQ - a great opportunity to bring people together. Japan does BBQs really well. Yes, the meat lacks a bit of girth and substance. Yes, there will be groups of students where the lads contort into all sorts of shapes as they try to impress girls who've turned up to the bush in their finest high heels. And yes, you will be desperate to get back home and have a shower. All of this aside, a BBQ in Japan is somehow a comforting reminder of the warm bosom of home (or maybe it's just me) and a great way to break the ice with the locals.At one point I did slip out of the party to have wander around the park. In my beer / heat induced haze I confess to having snuck in a ice cream (for medical purposes you understand) and spent most of the time loitering around some kind of photography club consisting of middle-men who seemed to have 'rented' some young models (girls) to pose whimsically in front of their massive lenses (not a euphemism - the lenses really were massive). When I got back to the party someone had broken out a packet of marshmallows to heat up over the dying embers of the BBQ. A touching tribute to me, I was told, as it's not something they would normally think to do in Japan.Kasai Rinkai Koen ImagesThe BBQ zone at Kasai Rinkai Park comes with all the kit you would need to fire up a BBQ. There are benches and tables, canopies can be rented, toilets are nearby and there are taps/sinks to wash things in. Staff are on hand to help out with recalcitrant charcoals and also to help get things set up. Bring all your food supplies with you though as the park is massive and some distance from the nearest supermarket. Kiosks in the park sell beer at expensive prices and there's a convenience store by the train station (Kasairinkaikoen - Keiyu Line) which will sell out of items on a busy summer weekend.(Kasai Rinkai Koen BBQ washing situation)
Tomuu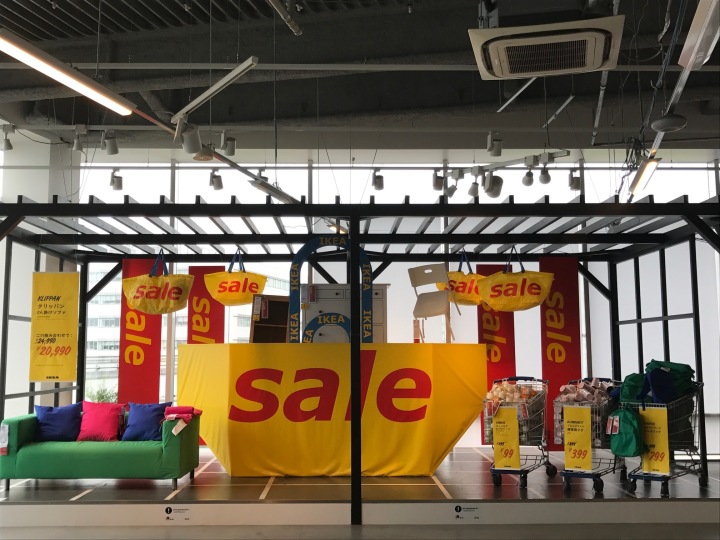 Reasons why IKEA is awesome
I had to go to IKEA yesterday to pick up some stuff for moving house. When an IKEA opened up close to where we are living in Tokyo a couple of years back, I rejoiced - I was always a fan of their stores, and having one close by here was a godsend, for a few reasons...There is always something on saleLiving in Japan can be expensive at times - so it's nice to have an option for homewares that doesn't break the bank. They have a bunch of sales on right now, and any extra money in my pocket is always appreciated!Their cafe section is surprisingly good (and cheap)I remember the first time I tried IKEA food - I was very pleasantly surprised. The cafe section at my local IKEA was super busy yesterday - it seems like people don't necessarily go to IKEA to furniture shop, but often to grab a bite to eat. They seriously have things on their menu like 99 yen curry (decent portion size, and tastes good!) and yesterday my husband got the fish and chips -- it was about 700 yen from memory, but came with two sizeable pieces of fish.(Also - try the cheesecake. SO good.)It's not just homewares, but garden stuff too...I love the garden section here. I wanted to buy alllllll of the cacti and succulents they had - but I didn't think they would do too well in a moving van in the middle of summer. If you're wanting to revamp your balcony though they have all kinds of cool stuff, like patio furniture and outdoor flooring (their wood flooring in particular turns an outdoor area from drab to fab pretty quickly!)There are loads of modular storage optionsWe picked up some hanging wardrobe pieces, because our new place doesn't have a lot of closet space. There are lots of great options in IKEA that help you manage small spaces better, or just give you ways of utilizing the space effectively that you do have.They even have a section with a ton of food you can take home with youA fan of those delicious Swedish Meatballs they sell at the cafe? You can snag some at their food store, that is just outside the check out area. They have loads of options from the sweet to the savory, and there's something to make just about anyone's tastebuds happy.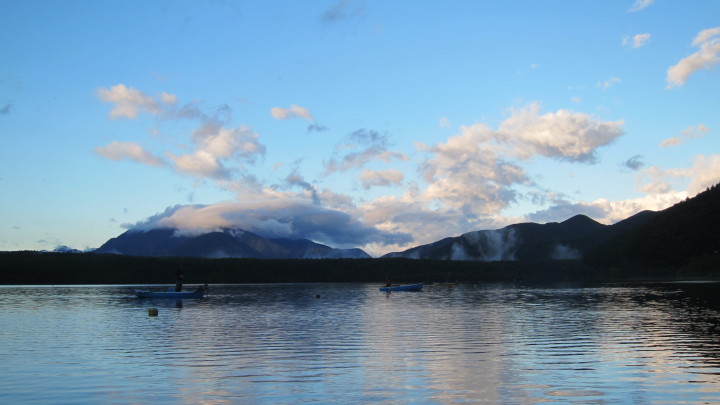 Nice water places in Japan
Besides the beautiful beaches Japan has to offer, there are also other nice places inside the country to enjoy the water. Here are some of my recommendations. • Lake Yamanaka, Kawaguchi, SaikoIf you are visiting Mt. Fuji, you should also make a stop of one of the surrounding lakes like Yamanaka, Kawaguchi or Saiko. These are very beautiful lakes where you can walk around and enjoy the nature or do a boat ride. The lakes are also very popular for water sports and fishing. Especially at lakes Yamanaka and Kawaguchi professional or amateur fishing tournaments are often held at the weekend.• Izu WaterfallsIf you prefer more to enjoy hiking in the mountains, you can see many waterfalls in the mountains of Izu. There are seven small and big waterfalls in the mountain area of Kawazu. Especially if you are standing in front of the bigger waterfalls, you can enjoy a nice cool breeze. • Yume no Shima PortIf you are in Tokyo and want to visit a nice port, you can go to Shin-Kiba station at the eastside of Tokyo. That place is popular for the big concert hall, but on the other side of the station is a beautiful small park with a small port of luxurious yachts. It is really nice to walk around the yachts and sailing boats. Also there is a very cute beach restaurant in front of the port where you can sit inside or outside on nice beach chairs or in a hammock. It is also possible to rent a BBQ spot in front of the port. Unfortunately it is very popular to do BBQs there, so you should reserve a spot early. • Kasai Rinkai ParkAlso at the east side of Tokyo is the huge Kasai Rinkai Park. The park fronts Tokyo Bay and has a big beach area where you can have a BBQ or just a nice picnic. You can also see Tokyo Disneyland from the bay side. A third of the park is designed as a Sea Bird Sanctuary. If you are a bird lover it is a good chance to take some nice photos.• Party Boat Sumida RiverIf you like to drink and eat and also like to enjoy the view over Tokyo from the water, you can book one of the nice party boats on the Sumida River (for example in Asakusa or Ryogoku) and cruise along the river. They have special party plans for big groups which include drinks/food and often also a karaoke machine. To rent a boat is kind of pricy but if you are in a big group it will be a very nice experience. • Tomioka MatsuriYou might wonder what a festival has to do with water, but the Tomioka Matsuri is very special. It is held every three years in the Monzen Nakacho area. In the morning of Saturday and Sunday of the festival many people will carry small transportable shrines (Mikoshi) around the area. You can see those at mostly all summer festivals, but the one in Monzen Nakacho is kind of special because there are huge buckets full of water on the side of the streets. If a group with a small transportable shrine is coming, people will throw tons of water on them. It is like a big shower. Especially during the hot summer heat it is very refreshing. If you are watching the Mikoshi parade you should watch out not to get too wet!
Crazydeath