USER BLOG
Join the best expat community of Japan. Now!
Share your Japan experience

Create blogs/Join the Q&A

Earn points and get rewards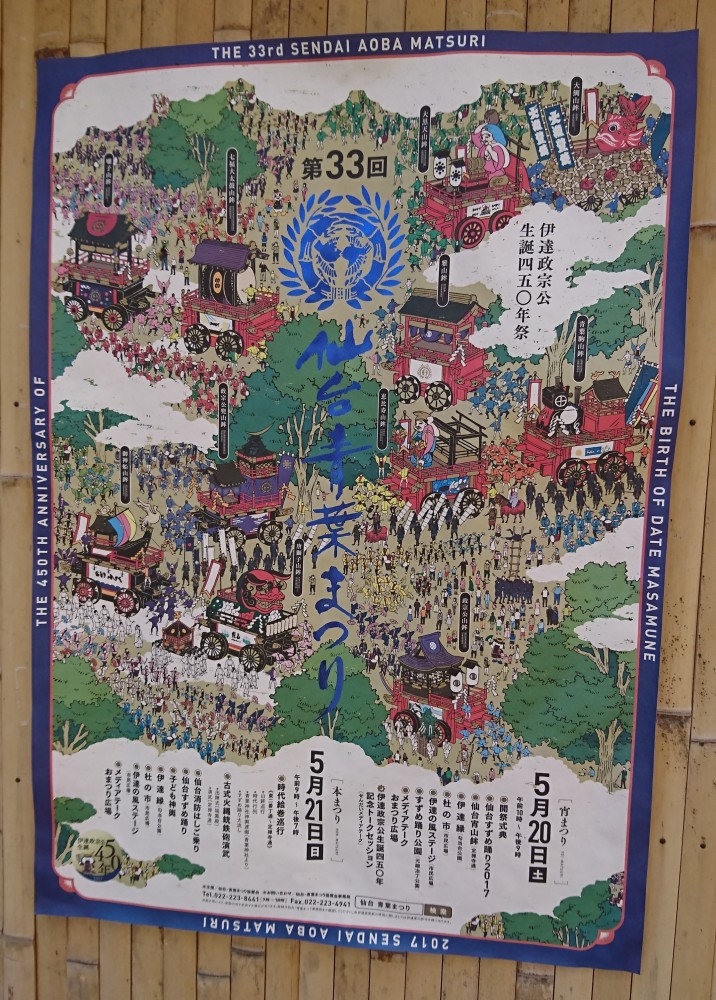 Aoba Matsuri Summer Festival Review
There was a great festival last weekend in Sendai, but if you weren't in town to see it, don't fret. I've got a few small highlights right here. My group came along around noon on Sunday and made a bee-line for the food stalls, and there were plenty to go around. My easy favorite is shoronpo, which I think of as soup inside of a dumpling and is also my favorite in Chinese cuisine found in Japan. In addition, many stalls offered variations on normal festival favorites, from chocolate covered bananas and strawberries to french fries and fried chicken bits. One special booth to the area though is the kamaboko stall which serves the lightly cooked fish-paste cakes made to resemble bamboo-leaves and served on a stick. More than one shop in the arcade also sells omiyage sets with these Sendai classics inside. In one of the parks, a large stage was set up where each of the osuzume dance groups eventually gets a turn to perform. If you're less interested in the floats and costumed processions and more interested in just the dances themselves, this is the place for you. There is seating available but it is first-come first-served, so if you show up as late as we did, don't count on sitting down. The stage is usually positioned just past the end of the parade route, so a short walk will take you to Jozenji street, where you can see more of the floats going by. The mascots also put on a show, which my kid enjoyed immensely. If you're into people in samurai armor and osuzume dancing, this is the festival to come to next year. You can make a whole day of it and stay to watch hours of the procession, but even just stopping by for lunch can be a thrilling spectacle, as we found when we happened upon a samurai-ninja battle in progress on our way through to parks with the food stalls. So if you're likely to be in Tohoku next May, check out this festival for some fantastic dancing, exciting displays of historical action, and great food to go with the fun. You can find out more about the festival with lots of information in Japanese here and some information in English here.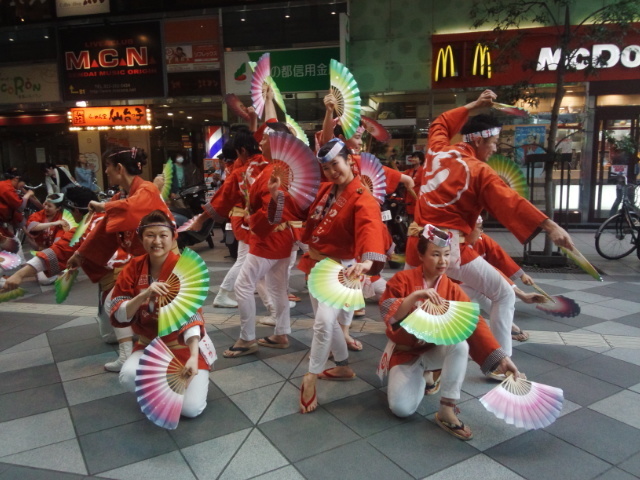 3 Free Summer Festivals in Miyagi
Looking for some free fun this summer in Miyagi? Mark your calendars! Each of these festivals is free to experience!Aoba Matsuri May 20-21, Sendai The weekend of May 20th and 21st of this year is special for the people of Sendai, where the streets will be filled with colorful floats and suzume dance performance groups on Sunday, following group dance contests performed the evening before. Lots of dancing and floats in Sendai can only mean one thing: It's time for the annual Aoba Matsuri. Always held on the third weekend in May, this festival maintains a centuries old tradition celebrating practitioners of Sendai Suzume or the sparrow dance. The dance itself is usually performed in large groups with fans to the tune of a few large drums and occasionally a flute or two. For more information on the general festival activities, there is an English website. For more detailed descriptions, including a route map, please visit the Japanese website.While attendance is free, concessions are available. If you do go out, it is nice to go early and grab a nice seating area close to one of the main streets, which may be packed during the normal parade times. My personal recommendation here is either in the shopping arcade, where the roof blocks the sun, or on Jozenji Douri, where trees provide shade. The festival lasts a good long time, but the best spots to watch from usually don't. By far, my favorite part of this festival is the people. I have usually found the dancers to be excited, happy people, who also usually spoil my daughter with interaction. I don't know if you can say the same about similar festivals in other, larger cities. Shiogama Marine Day July 16-17, Shiogama In Shiogama, the big festival of the year is Marine Day which is celebrated with a number of exciting things, including a parade. The costumed groups from schools in the city as well as civic and hobby groups take to the streets to perform a rendition of a (usually traditional) dance down the entire length of the main street, from the library at Ichibankan to the main entrance to Shiogama Shrine. Being from Texas myself, I saw this group last year and knew I needed a picture. Proof that *some* of the dances are less traditional to the region... If you do come for this one, keep an eye out for the Shiogama International Friendship Organization and you might see me as well as my tiny adorable daughter. If you have time on the national holiday, come out and see us. Hopefully this year my kid won't be asleep on me the whole way. Again, attendance is free and concessions are available. There are actually a slew of events to consider, including fireworks. For more information (in English even!) check out the website. Sendai Tanabata FestivalAugust 6-8, Sendai This one is the least time consuming of the festivals on this list as the decorations are set up for viewing at your own speed. The decorations themselves are massive creations, usually of tissue or origami paper and glue, occasionally utilizing paint, plastics, or string. Viewing is free though many of the shops on the arcade offer concessions from midday through evening. The best day to go is the first day, before troves of visitors to Sendai's most popular festival have damaged the decorations. You can also ready my take on last year's decorations here or read about this year's upcoming festivities here. If you're in the Tohoku region and looking for some free fun during the summer, come to a festival or three!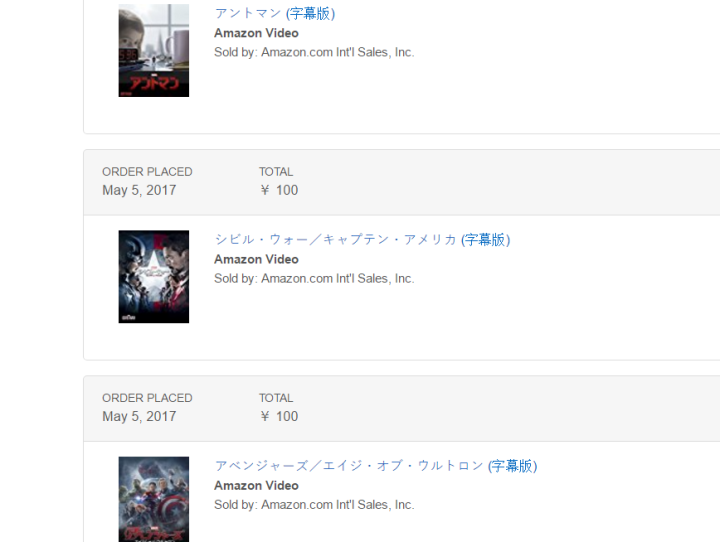 Golden Week for the Introverted
I most easily describe Golden Week in Japan as Spring Break for adults, in that much of the country had the week off including school children, teachers, and several kinds of professional. Having a week to enjoy yourself, especially before rainy season steals away six weeks or more of your time and sticks you inside on the weekend, can be excellent. That is of course, unless crowds make you nervous. If you're like me, the idea of slowly maneuvering through crowds to get anywhere or do anything fills you less with excitement than irritation. The dark side of Golden Week is that most of those people who now have the day off will be out and about, wandering into spaces and holding up lines. If you're living close to a major city, expect some traffic increase as people come in from the countryside for time in an urban environment. This can make some things run a little less smoothly than they might otherwise. This can be really frustrating for anyone, but especially challenging for the socially anxious, like me. Here are a few alternative options for the more introverted among us. 1) Catch up on your shows. Did you know that Neil Gaiman's Novel American Gods has been made into a TV show that you can stream on Amazon (provided you have an Amazon Prime membership)? Netflix and Hulu also have options for the savvy media hound, so go find some great things to watch or re-watch. Don't forget Star Wars Day strikes right in the middle of Golden Week (May the Fourth be with you) and you can rent a few of these either at DVD rental places or via streaming on Amazon. We chose to spend one day watching the Marvel movies we had yet to see, two of which were only 100 yen to rent on Amazon! The Amazon rental service is really useful. From the time of purchase, you have 30 days to begin your viewing. From the second you push play, you have 48 hours to complete your viewing-- and you can watch your chosen media as many times as you want to in those next 48 hours. We re-watched Ant Man and Captain America:Civil War with some friends before our 48 hours were up. 2) Head to the Park It seems that most parks, so full of people for sakura viewing last month, have since been pretty vacated. Take advantage of this and go find a little spot for a picnic or a game of catch. At Tsutsujugaoka Koen in Sendai, we spent the day running around with a soccer ball and having a lovely little bento picnic. Of course there were some people there, but not in the droves that were seen a few weeks previous. Some sakura was still blooming and a few food stalls were still open, so if you're looking for a little city-side excursion, there is peace in the park. 3) Study (with poop!) A little extra time to yourself is a great time to better yourself, and what better way than this. The newest in kanji studying for elementary school students and ambitious yet puerile foreigners is poop, as explained in this Nippon.com post. The sentences are generally pretty simple and if you find these in the book store, you can peruse them briefly in order to find the level most appropriate for your current kanji learning needs. I chose second grade, as I can recognize half of the kanji but pronounce closer to 25%, so it will be a silly way to review what I know and learn more. Each book in the series of six (one for each level of elementary school) will run you a little less an 1000 yen and you can find them at most major book stores (check the kids section) as well as Amazon. However you spent your Golden Week, I hope you had a good one.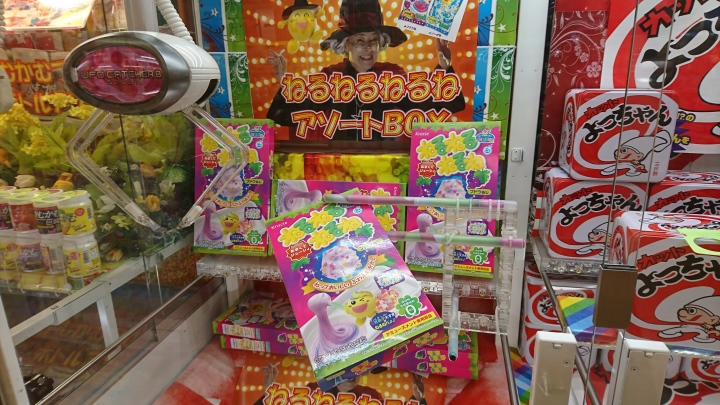 A Guide to Crane Games
Stuffed toys. Chocolate. Replica katana. Wireless keyboards. Pocket watches. Anime figurines and models. Fukubukuro. Snacks. These are just a handful of things I have seen offered as prizes in the crane games inside of Japanese gaming centers. Some are bizarre, some enchanting, but most are deceptively difficult to deliver. Here are a few tips and tricks to get the most out of your crane-gaming experiences in Japan. First, let's look at the variation of crane games currently offered. I realize that not everyone spent hours of their youth in the cheap arcade of a Texas bowling alley, mastering the art of the claw machine, but that lack of experience doesn't mean you can't win anything. While winning might not be easy, there are many variations of the machine and strategies to win. Let's start with the basics. The most traditional model of the claw machine has a three pronged claw which is controlled by a joystick or button panel that move it into position above the desired prize. The claw then drops and clamps the prize, bring it up and into a prize chute or tilting it over an edge into a prize chute. In a perfect world, it's just that easy. The tricky part? In larger machines, the claw's tension can be loosened so its grip on the prize is tenuous at best. This means a one shot win is next to impossible. The loose claw prevents a proper hold from forming and may swing the prize in a number of not entirely intended directions. Solution: Use your plays to lead the prize closer to the chute, placing the claw in a position to overlap the prize and the area between it and the prize chute, so the sloppy grip might still pull the thing closer to winning by your third or fourth attempt. This may sometimes backfire as the loose grip might swing the prize back away from the chute. The 2-claw machines are frequently used for smaller plush toys or items in long containers that have to be pulled, tilted, or slid from their perch into the prize chute. Thinking about the weight distribution of the prize can be helpful here as a good grip on the heaviest area can knock the prize off balance and lead to an early win. With the box prizes, if there appears to be even weight distribution, think about physics. Where would a little claw pulling slightly upward do the most good? Guessing and checking is sometimes necessary to attain these prizes. Positioning is also important in the little games as only the prizes in the very front are generally attainable. If you have your eye on a prize in the back, ask a game center staff member to come and help (just pointing at the prize can be helpful) or come back later to see if your prize has made its way to the front. The final claw option is the one-claw machine, like a half-functional version of its two-armed sibling. The prizes are often marked by a small paper circle, which sticks out from the prize, waiting for the one claw to be perfectly positioned above it. Even when this happens, the result may only be a move of a couple of inches at the most, meaning this prize may be a significant expenditure of money, time and energy. There is a minor cousin of the one-claw, which I call the scoop. These are usually little machines in the center-front of the game center, offering small toys or chocolate piled high on 4 plastic platforms, each emptying into its own prize chute. Below the evenly placed platforms, a conveyor belt of similar prizes rotates. For 100 yen, a player may use the one scoop attachment to scoop up prizes from the conveyor belt and drop them onto the platform, hopefully taking up enough space to knock over and win the tower of prizes. These take a lot of time and money to win, and usually the prizes can be purchased elsewhere cheaper, which is why these are usually the favorites of small children. That said, I did knock over the tower of chocolate wafers in a tiny game center in rural Gifu in 2008. It was glorious. The last game on my list is the one at which I am the worst. The pincer game involves positioning a small set of pincer-scissors exactly behind a small exposed section of string connected to the desired prize. As you can see by the fraying of the string in this picture, even getting the thing into the right position does not necessarily guarantee a win.Whatever your game and however you play it, good luck and have fun! Remember: if you don't win, you can probably buy the prize at BookOff later anyway.
Getting Down and Dirty-- Cleaning a Japanese Bathtub
The amount of upkeep that goes into a Japanese apartment astonishes me sometimes. Coming from a country where "Clean the tub" usually means scrub out the insides and perhaps snake the drain if you really need to, I was utterly unprepared my first time trying to deep-clean the shower and bath area. If you have a tub like mine, you'll notice a great many procedures need to be done before you can call the place "clean". Most foreigners who've at least watched the 80s flick Mister Baseball know that you aren't supposed to soap up in the tub. This cuts down on soap scum in the tub itself, but that doesn't mean the process is easy otherwise, partially because we don't stop cleaning at what your body touches, but more on that later. Japanese bathtubs tend to have greater depth than their counterparts in the west, which means even just cleaning the parts of the tub deemed normal by international standards may take more effort than it would elsewhere. If your shower room is also where your clothes dry, you might have to wipe up or pick out lint from the plug area as well. Also, the faucet part in tubs like mine can be cleaned separately either with a solvent dissolved in bathwater and/or flushed with one of these units. I have yet to use this, but the picture really says it all.To clean the rest, you'll need gloves, paper towels, cleaning spray, and a plastic back to throw the scum-covered towels in. I also recommend a strong stomach. In addition, I sometimes use fizzing de-clogging tablets which are included in the picture above. First, attack the drain. In general practice, the actions here repeat. If the part can easily be taken out or off, take it out or off. If it is gross, rinse it off before you put it back. If it's really gross, wipe it down or out with a paper towel first. Really super gross? Spray it with a cleaner, let it sit a few minutes, then rinse it and wipe it until it is clean. This goes for basically everything in the bathtub-drain area. I do recommend taking your time so that you don't forget where things go. Also, please use your apartment's ventilation system to assure fumes from any cleaning agents don't cause any negative reactions for yourself or your housemates. Then we come to a bigger problem-- taking off the facing of the tub. On older models, this won't be an option as the tub itself will be welded together completely, but that means there is less for you to clean. If you have a fancier tub, especially one that fills itself at the press of a button, there's a bit more work to do. The great thing is that many of these tubs have picture based label guides to show you what to take out and put back to get into the under-tub. First, take out the under-bits that wedge the facing into place. On my model, there is one of these on each side. Take each one out. This might mean pushing against the facing to take weight of the wedges so that you can retrieve them. Once access to the under-tub is granted, spray and wipe every surface you can reach, cleaning up whatever you can. Don't be afraid to let your cleaner soak a problem area for a minute if it is too difficult to deal with immediately. I do not recommend messing with any of the tubes under the tub. All the pieces I remove and clean are simple plastic, occasionally with rubber rings in one place or another. These are generally safe to remove, clean, and replace.When everything is as clean as you can make it, put the facing back on the tub and wedge the under-bits back in place, following the pictures on the guide if provided. If there is no guide, look for other clues, like this kanji. Then start putting everything back in place, slowly considering the pieces of the plumbing puzzle if necessary. If the facing of your tub is like the facing on mine, you may have to hoist the facing up to wedge the two under-bits in place. Do your best to wedge them under well. Don't worry if this part is tricky for you. I am still very bad at it, too. The hardest part for me is under the drain, in a little tank of standing water that I really so not understand the need for in this country of perpetual humidity, but I'm also not a plumbing expert. I do find this area next to impossible to clean sufficiently due to lack of access. How do you clean something you cannot take it apart and wash/rinse the individual pieces of? Instead I swish a gloved hand around inside, pulling out clumps of gunk and throwing them in my garbage bag before diluting the remaining gunk with clean hot water from the shower head. Usually, I add a drain unclogging tablet thing, which fizzes cleanliness into the effected area. However you get it done, good luck in cleaning your Japanese bathtub!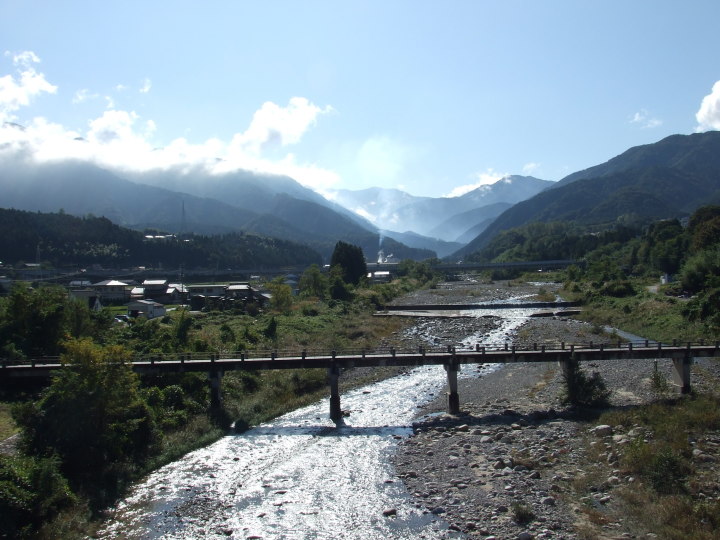 Small Town Pleasures (and Annoyances)
In the almost 9 years I've lived in Japan, I have yet to live in one of the major cities. Shiogama, my current location, is much smaller than my hometown but not the smallest town I have lived in. That title belongs instead to my first address in Japan, Nakatsugawa City, Gifu Prefecture. Check out this view, right? This was the view on the walk to the 100 yen shop. The only one in town involved a 30 minute trek (each way) across a large bridge, but it was hard to mind when this was the setting. No One Knows Where You Are One of the first troubles in moving to non-urban Japan is all your friends back home not really getting where you live. They may ask casually, expecting you to say Tokyo or Osaka, not that most could even point out those cities on a map, and are shocked and confused to hear anything different. Get used to it. If you stay for a bit, you may start hearing your loved ones explain your location using a newfound understanding of Japanese geography, like my brother. It can get annoying explaining the same thing after a while, and having all your friends back home suggest you explore some Tokyo thing they heard about as if you could just pop over to the city whenever you liked, but in the end, your day to day life is a lot more peaceful. So many fast food options, internet cafes, convenience stores and more of those so-Japan things you've heard are on every street corner may not actually be available or conveniently located. That said, there were plenty of vending machines in Nakatsugawa, but only with soft-drinks. Am I the only one who stands out this much?Everyone Knows Who You Are You're that foreigner, right? Must be, since you're the only non-Japanese person in town. In my experience, this usually means getting treated more like a normal person most of the time, as many people don't necessarily jump to racist responses. No signs saying "No Foreigners Allowed" like you might find in some larger cities, because there's never been a need to put one up. Also, there tend to be more people who want to help you practice Japanese than practice their English on you. I found people in the countryside to be significantly more comfortable working with my less-that-fluent Japanese than people in larger cities. Less rushing means more time, and that means more patience. The down side? Religious people may wake you up early on your day off to hand you a pamphlet in English. They know where you live, because everyone somehow knows where that foreigner lives. People may stare, but most of the interactions I've had have been decent bordering on lovely. Occasionally there are jerks, but most people are trying to work with you. Sometimes this treatment can feel a bit like being a celebrity, because everyone knows your name. When the town is big enough to hold a few foreigners, it can lead to small mix-ups. Usually, this manifests as people calling you by a different foreign name, still well-meaning for the most part. I did have one post office worker ask me to pay extra postage for some other foreigner's letter, but even that was easily resolved. This does also mean that if you go out in town and cause a ruckus, it probably will get back to your students, coworkers, and even your boss, so you have to be on pretty good behavior or wait and paint some other, bigger town red on the weekend instead. Gotta Love your Coworkers My first town was tiny-- so tiny it was actually a few towns and villages that banded themselves together a few decades ago so that they could have a train stop. Seriously. Working in a 2 teacher/1 manager conversational English school in such a small town meant that I had more time to learn about my coworkers and form close bonds-- so close in fact that I eventually married one of them, though that is a whole different story. If you're a bit introverted like me, these social things are so much easier than working in a big city. Gotta Love that Nature I took about 1,000 photos of those mountains and rice fields. I loved that weird little town, and still do. There was something really peaceful and comfortable there, on a level I've never felt in a large city. I mentioned that I met my husband when I was working in this little town. The funny thing is that we were not the first teacher-manager couple to come out of that specific little school in the middle of the Gifu countryside. A western male teacher married his female manager and moved to Europe a few years previous. The setting of small town Japan can feel so intimate that it is hard not to make life-long bonds with those you come to know. Is it the fairy-tale surroundings? The Mushishi-esque atmosphere? The lack of other people presenting themselves? The absolute boredom of rice-field-town? We may never know... Rustic...Charm? The most famous thing in that town where I lived, aside from a bit of the Nakasendo, were these "Marriage Rocks" which appear to have naturally been shaped like sexual organs. Well, the male looks masculine, but the female of the two is more like a massive crack down the middle of a massive round rock, though I guess people of the time felt it was compelling. There were postcards featuring these rocks at the only souvenir shop in town, right at the train station. Is it funny that I met my husband when we were both working in the small town with marriage rocks? I think so. Also, You'll Learn Stuff Because I lacked access to the frozen TV dinners that got me through college, I learned to cook. I worked out basic navigation by routinely getting lost in the tiny town and finding my way back pre-google maps. Adapting to living in a place where the conveniences of big-city Japan are not available can help you become a more well-balanced person overall, if you let it. Wherever you wind up and however you got there, I hope you're having a good one.
The Punk/Lolita/VK Shops of Sendai
One of the first weird but cool and so very Japanese things my friends fell in love with in college was Gothic Lolita fashion. This trend/lifestyle choice started a while back and you can learn more about the history here. There's even a wikihow on how to be a lolita here. There are a few variations of the Lolita theme, but the vast majority come with extremely detailed and expensive clothing and accessories. There are plenty of shops, first hand and second, for any style of lolita in Tokyo or Osaka. Sendai is not so big and offers significantly fewer options, but they do still exist here, mostly clustered together on the seventh floor of the Forus building, walking distance from Sendai station. Just walk down the arcade until it dead-ends at Sun Mall Ichibancho and turn right. Forus is on the right before you get to the Disney Store. Take the escalator up and get off when you see "Gothic Lolita * Sports" sign on the seventh floor. As amusing as it sounds, this isn't the floor for displays of Gothic Lolita Sportsmanship (Pretentious petty-coat fluffing? 50 yard Scowl? Delicate field hockey in painful footwear?) but the sign is an accurate description of the floor's contents as a sporting goods shop takes up half of the floor. On the other half you can find Angelic Pretty, Alice and the Pirates, and KERA Style shop in addition to a small Doc Martens store front. There are also wigs and alterations available for the discerning customer. The first thing you see is the media shop, which usually has the most recent copies of the Gothic Lolita Bible, a bi-yearly seasonal style guide for the lolita, complete with sewing patterns for a few select pieces every month. Also, this place sometimes holds in-store events for current Visual Kei artists and other similar genres sold in the store. If you're looking for the lolita outfit of your dreams or just wanting to window shop, this is one of the more peculiar but fun areas of Sendai in which to do it. Serious budget-conscious lolitas in the area also know of several small lolita-specific resale shops, though they still tend to be a bit pricey for some budgets, including my own. The frilly and fun things I find these days are far closer to the station, on the sixth floor of the building once known as Sakurano. The company went under earlier this year and took with it access to one of my very favorite shops in Japan-- Ozzonste. This was the store on the second floor, before Sakurano died. Ozzonste isn't strictly lolita but does work some nice details into some fun and well-made garments, usually with fabric stretchy enough to accommodate a larger American woman like myself. I can't wear everything they make but the stuff I can makes me feel so very cool and frequently can be paired with more plain clothes to make a cool outfit that doesn't scream VK/PUNK/GOTH/WEIRDO (not that there is anything wrong with any of those things-- I love those things, but I don't have the bravery, budget, or wardrobe to wear them every day). So for the more tame among us, this isn't a bad brand. Unfortunately, I haven't been financially capable of shopping at this location in years, though I always found the window shopping to be inspiring. Instead, I go up to the floor dedicated to second hand clothing and hunt. Scouring for badass clothing is actually one of my favorite past-times in Japan. If my daughter is stroller-bound and asleep, I can kill more than an hour looking through all the women's sections for anything with a brand-name I like. On this specific trip, I bought one beautiful Ozzonste top (regular retail: way over $100. BookOff Price: less than 2000 yen) and a really cool h.Naoto shirt for a friend back home...no really. That is way too badass for my housewife-life. There are several brands that specialize in classic Lolita including Angelic Pretty, Baby The Stars Shine Bright, and Alice and the Pirates. I've known some to wear the latter few in combination, but generally all to the full-lolita ensemble. These are not things you can just pair with your jeans, generally. You will find them at the name brand stops, the lolita resale shops, and very rarely at BookOff. My favorite designer, H.Naoto, might use some of the frill and flare from lolita for some of his brands but generally tends more toward the goth-androgenous VK side of things. Hell Cat Punks offers similar clubbing options edging toward the punk side, if you're planning on attending many hardcore live performances. Both of these sometimes find their way into the KERA shop in Forus or BookOff. In the meantime, here is my purchase in action, completing an outfit I didn't know I needed or had. For anyone not believing that little green top can fit anyone above a US size 12, here's proof! So now you've seen that stretchy Ozzonste tops can fit people outside Japan's concept of normal sizes, but you may still be thinking, "Didn't you say something about jeans? Could you really wear that with jeans?" And I would tell you no, that this top really is more of a theatrical piece in my opinion. That said, I do have a few pieces from this brand that can be added together, even with red high-wasted mom-jeans.Still theatrical, still dramatic, but not as much as a full ensemble of similarly designed clothing, which might feel like overkill.How do you adapt interesting Japanese trends to your lifestyle?