USER BLOG
Join the best expat community of Japan. Now!
Share your Japan experience

Create blogs/Join the Q&A

Earn points and get rewards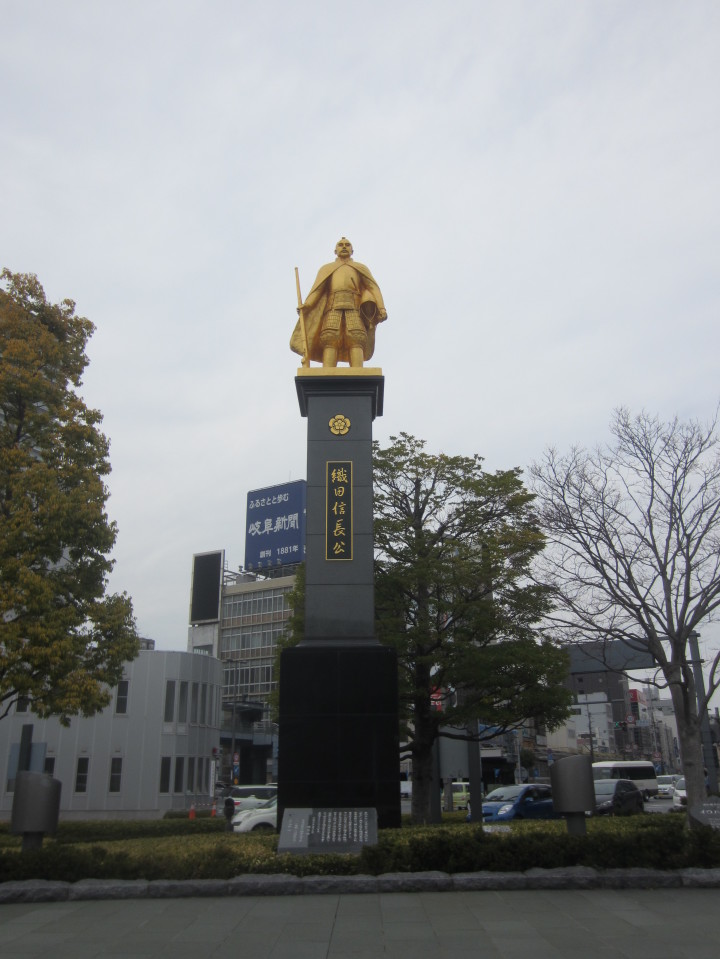 Gifu's Golden Oda Nobunaga Statue
Some of you might know that the great warlord who conquered and united Japan originated from Gifu Prefecture. More accurately, Gifu city is exactly where he established himself and his ambition. For that, Gifu city is very proud of being the home of arguably the most historical figure of Japan, and signs of Oda Nobunaga can be seen everywhere in the city.One of the most prominent appearances of Oda Nobunaga is his golden statue that stands right outside of the Gifu JR station. In the center of the station square, it stands tall, holding his helmet and his signature rifle. A huge part of his victory in war came from his trades with western businessmen and installment of western firearms in the army.That figure is what you will see the moment you step out from the station. The great Oda Nobunaga welcomes you to explore his hometown and discover the history of Japan's sengoku era.And now, I live here.-----------------------------------------Follow for more everyday magic I encounter in Japan!
Jackson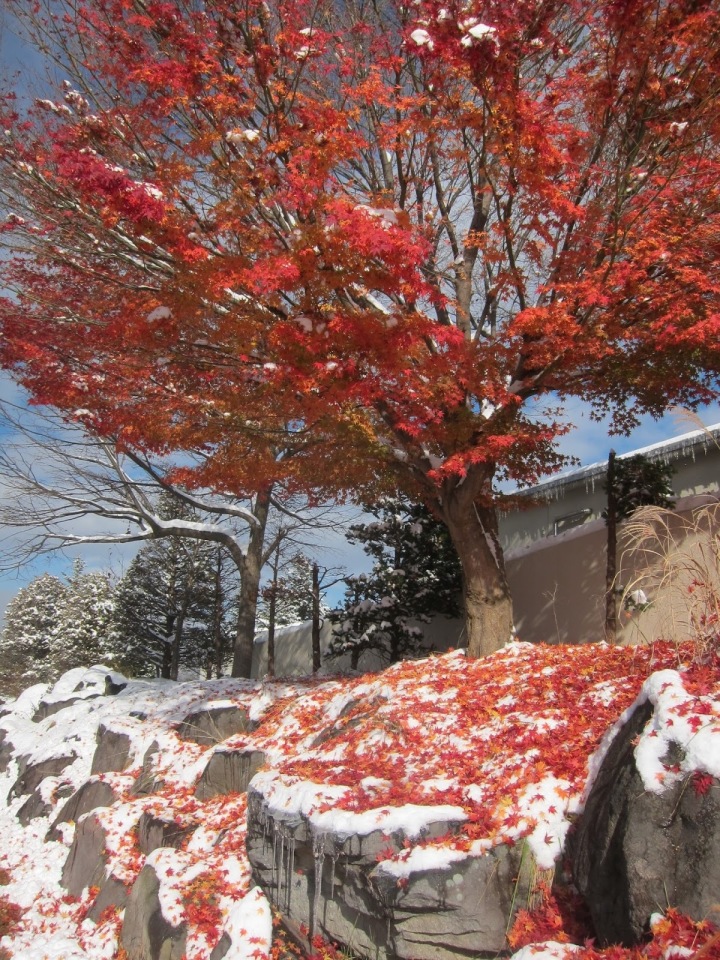 Bustour to Takayama
I was looking for a nice place in the mountain, which is not too far away from Tokyo. My solution was the little town Takayama in Gifu. It takes 5 hours by bus (Nohi Bus Service from Tokyo-Shinjuku). The view from the bus was great. I saw a beautiful winter landscape in a great mountainside with many lakes and dam. I arrived in Takayama during lunchtime and walked straight to the old town of the city, to see many old nice streets full of handcraft shops, restaurants and small sake stores. I walked around and tried many sweets and drinks like amazake, which were very delicious. There was also the chance to try diffrent kinds of sake for just 200 Yen. The day ended with walking through a long street with many temples, along a small mountain.But I was very surprised. The city is very good for tourists. Every sign is written in Japanese/English and sometimes also in Chinese, Korean or French. At the tourist information you will find pamphlets in diffrent languages (English, Spanish, French, German..). Also mostly of the people in the tourist area can speak at least English and Chinese. Also you can do very easy daytrips by bus to Shirakawago and Toyama.
Crazydeath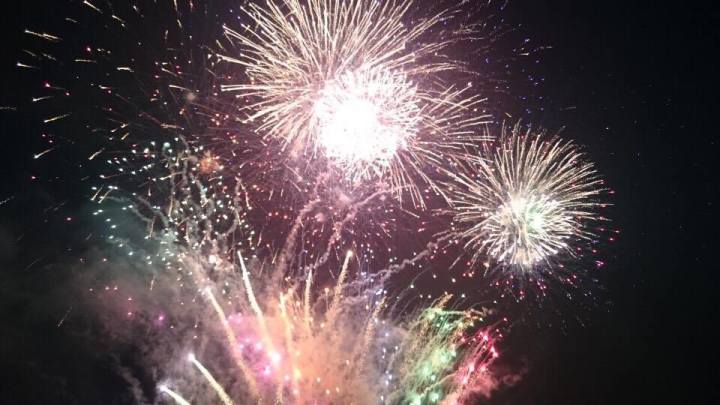 Mid-Summer Evening Getaway: Hanabi and Town Hopping
A unique tradition that the Japanese celebrates every summer is the Hanabi. Hanabi, which is the Japanese term for fireworks, became a summer festivity in the 18th century; although the history started in the mid-1500. According to history, one of the oldest fireworks shows in Japan was annually set up to drive away evil spirits and appease the soul of the dead. This was because of epidemics and nationwide famine that killed a million in the previous years. The celebration of Hanabi can also be deeply understood by considering the character of the Japanese people who love a 'short-lived beauty' such as the Sakura in spring which lasts only a few days. (Read more: http://www.nicjapanese.com/english/e-cul-hanabi.html) When I arrived in Japan, my sister-in-law had been telling me about Hanabi. I remember her describing it as 'exciting, beautiful, and unexplainable'. Knowing that it is a fireworks show, I thought there was nothing really special about it since we have fireworks display during the New Year's Eve and a fireworks show on a warm summer evening doesn't quite add up. But, her excitement about the fireworks show thrilled me and made me look forward to it. Each city and town has its own schedule for the Hanabi so it is not done all at the same time. We decided to go to Sakahogi first, which is just a 10 minute car drive from Minokamo, to watch the Hanabi. I had my son dressed in a Yukata (informal cotton kimono) as it is just appropriate for the occasion. From the car window, I could catch a sight of people walking towards one direction. Most of them were wearing colorful and elaborate Yukata. Stalls for different kinds of food were set up in the place. People were patiently lining up to buy snacks, dinner, beverages, sweets, and other traditional food. We sat on the ground just like everybody did. Musicians played to entertain the people as they waited for the show. And, finally when the clock hit 7:30 exactly, the fireworks went up to the sky. I watched as it gracefully painted the dark sky. It was really spectacular. The following week, we joined the Hanabi in our city, Minokamo. The enthusiasm still hasn't died down even if I knew I'll be seeing the same fireworks and tasting the same food. Since Minokamo is bigger in land area and population, there was a larger crowd that night. The queues were much longer and was quite challenging to lose sight of your companions. What made this one a little special is the dancing after the fireworks show. Just after a few days, we travelled to another nearby town which is Yaotsu. People set up by the river bank and some along the foot bridge overlooking the river. As the evening was still young and the sun hasn't set yet, people lined up to buy their food, chatted with friends they meet on the way, took pictures, and a few just sat there waiting for the night to get dark and the fireworks to start. Evening came and lanterns were floated on the river and a boat carrying lanterns was going round the river as it synchronized with the sound of a drum which created a solemn ambiance. Some minutes later, fireworks went up as high as the heavens and blasted color over the pitch dark sky. (Here are a few photos I was able to take.)Hanabi is a beautiful tradition enjoyed by locals and tourists alike. But while we all take pleasure in it, there are a few things to keep in mind. - Bring your own mat or picnic blanket if you wish to sit while watching. - Bring/buy food to avoid starving yourself.- Be very patient when queuing for food or anything. - Sometimes, there are designated entrances and exits. Take note and follow it. - Clean up and take your trash home with you. - And of course, take photos but don't let it spoil your fun.
Terrilyn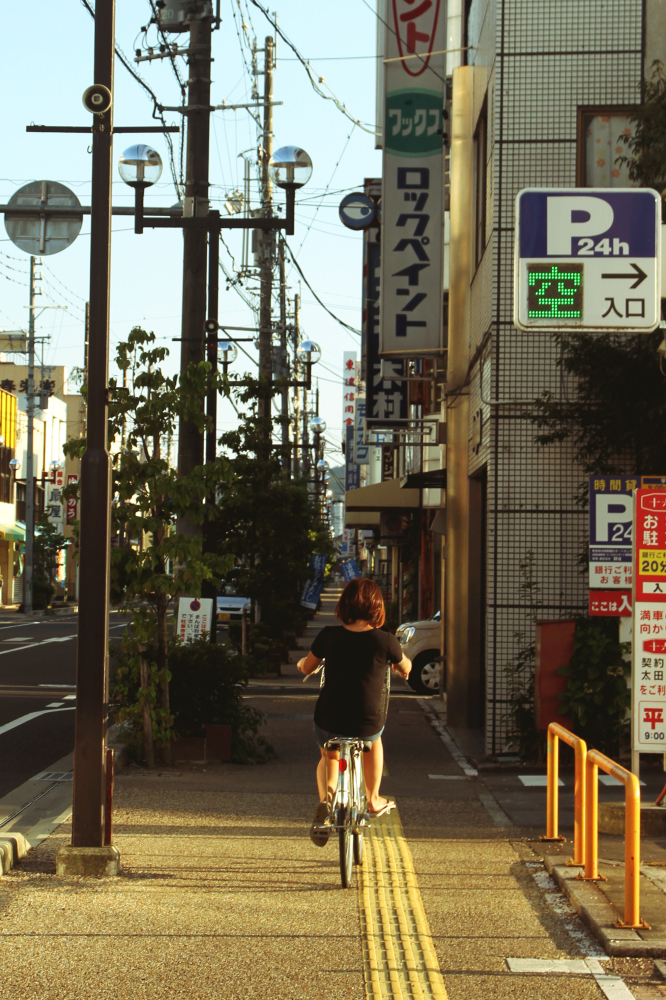 Minokamo: Summer on a Bicycle Ride
It was the 1st of July this year when my husband and I together with our two-year old son arrived in Nagoya airport. It was almost five in the morning but the sun was high in the sky and the wind that blew was warm and humid. I could feel pain radiating from my limbs up to my head as we were all exhausted from an 11-hour bus and airplane travel. We headed straight to Minokamo, Gifu where the rest of the family resides. Minokamo, Gifu is at least an hour and a half away from Nagoya by car giving us a chance to catch some sleep. My body badly wanted to give in to a little rest but my mind and eyes were awake. It felt like a dream. I have never been out of the country since Malaysia ten years ago. My eyes danced in amazement as I watched everything we passed by. It was all beautiful, so peaceful and calm, so green and relaxing. There was one thing in particular that I noticed, though, I have not seen a single live person walking. It made sense because there were cars everywhere. And, when we arrived in the apartment building, there were bicycles parked in front of the apartment. So, putting two and two together, people here either drive their own car, use public transport, ride bicycles, or just walk (which is rarely chosen). Driving a car on a hot summer day would be the best choice if you wish to stay cool and fresh. Some of our family can drive but asking them every now and then to drive us wherever we want would be an inconvenience on their part as they are occupied with work. Densha (train) is a great choice as well.. Although they are a little expensive, they are very comfortable. However, one thing that I really loved was the bicycle ride. The first and last time I rode a bicycle was when I was ten years old. In my mind, I could still remember how to balance my body and pedal but when I try to ride on one I feel like falling off. It was becoming impossible and I was running out of hope of ever riding a bicycle again. My husband patiently taught me to ride the bicycle again. We went around the neighborhood on bicycle every night for a week. I fell of too many times, bumped on our neighbors' fence often, and I had cuts and bruises on my legs. Finally, I learned to ride again. Since the sun is hottest during the day and the air is heavy and humid, we go on a ride in the late afternoon or early evening when the wind is cooler and the heat does not hurt. Before setting out, we pack face towels as the heat can make you sweat heavily; and most especially a good camera. For us to travel light, we avoid bringing a lot of things. We usually just stop by convenience stores to buy something to eat; my personal favorite – Tuna-mayo Onigiri. Water is also a huge necessity so we either buy it in convenience stores or just get one from vending machines which can be seen almost anywhere. On our bicycle rides, we visit shrines, temples, parks, old towns, and shopping malls. Minokamo and another city called Kani are just separated by a river and connected by a bridge, it is easy for us to go from one city to the other. Aside from the boutiques and regular shops in malls, another interesting place that we always visit when we go biking around town are the reuse shops. These shops are basically selling second hand goods. We don't necessarily buy stuff but we usually just amuse ourselves with what they sell in those shops. At times, we bike near the river bank to breathe fresh air and calm our souls. We sometimes park our bikes under a tree and watch the sunset or we just let our eyes gaze through the horizon. Bicycle ride on a sizzling hot summer can be challenging and unpleasant, especially in Japan where the summer temperature is as high as 38 degrees Celsius; I never get to experience this where I come from. What makes it gripping is the up close contact with the living: the people and the nature; you meet people on the road on a bike and you still get to greet them. My husband and I once visited the bamboo forest which is near the river between Minokamo and Kani. We didn't have to get off our bicycles, instead we just biked through the forest. It was fascinating and beautiful. Japan has diverse choices of transport to choose from. All of it are convenient and comfortable. A Bicycle ride is not just a good way to exercise, it is not just friendly to the environment, it is not just cheap, or it is not just fun; it is extraordinary for me and at least a romantic bond that I share with my husband. Living in a place with the façade of a busy city, the aura of an ancient town, and the serenity of nature are great reasons to bike around town.
Terrilyn
Visit Takayama (Trailer)
So do you remember my Summer in Japan post about Takayama? You do? Great!I thoroughly enjoyed making that article and those vlogs that went with it. However, you may not have time to watch those vlogs. Here's an idea! Check out the trailer for it instead!Once you have done that, why don't you check out my Facebook! I could do with a few more friends on there! ;-)Small Girl, Big JapanI'm all about the Japan It Forward hash tag I made. I'm all for spreading the word about Japan!#japanitforward
smallbigjapan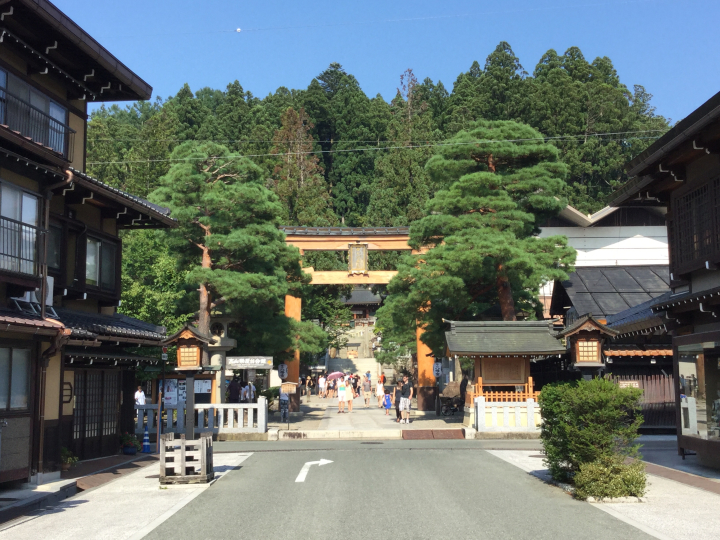 Summer in Japan: Take a Two Day Budget Break to Takayama!
It's heating up, but it's time to escape the humidity of the urban life and head for the old and traditional Japanese town of Takayama for two days.Takayama is the city of old. It's famous for its Hida beef, senbei, and sake. It's also famous for its national historic treasures that I'd recommend all tourists to see.You can access Takayama via Shinkansen or the express bus from Shinjuku. The express bus goes through the mountains and has more views than the ShinkansenI would advise anyone planning to stay in Takayama to take a ryokan. A ryokan is a traditional style Japanese hotel. There are plenty in Takayama. In fact, there are more traditional hotels in Takayama than modern hotels. They are a little on the pricey side, but most ryokans are very comfortable. I stayed in Ryokan Kaminaka (¥8000) and it was a very nice hotel. The owner doesn't speak much English, but is able to make her point well. I advise to take a bilingual travel book with you.There is a lot you can do in two days, and it's not very expensive at all. All of the shrines and temples are free. The Sakurayama Hachimangu Shrine is a fabulous shrine, and if you are lucky you may catch the monks in a service.If you choose to visit the Sakurayama Hachimangu Shrine, then I'd recommend to visit it the Takayama Festival Floats Exhibition. Takayama is known for its festivals and elaborate Mikoshi (portable Shinto shrine) that they carry on their shoulders. It's around ¥700 to visit the exhibition, but it's worth seeing. The attention to detail is immense. As you go in you get your picture taken, and when you get to the end of exhibition you can receive a small copy of the photograph for free. You can also buy the large version for ¥1000.You can also visit Hida Kokubunji Temple for free, and you can eat street senbei for ¥100 (minimum) and street Hida beef sushi. You can also go sake tasting in the old town. Once you have gotten yourself full and drunk, you can visit old museums for a couple hundred yen, check out the morning market, or take a hike up to the Takayama castle ruins. Warning: It is a hiking route, so don't get too tipsy.There are a lot of hiking and walking routes around Takayama. If you don't fancy that kind of thing, then easily the best thing to see there is the Hida no Sato (Hida Folk Village) for around ¥700. It is walkable from the station, but as Takayama can get hot it is better to take the bus from outside the station.Hida no Sato is an outdoor museum where you can see how the villagers of Old Takayama used to live. The first sight is glorious, and you can have a souvenir picture taken. They also take one for you on your own camera.The houses there are big and spacious. Especially compared to today. You can experience how they used to live. The museum has recommended walks you can do, and craft centres where you can learn how they used to do things. Also you can visit the houses and take living and craft lessons inside the traditional houses.Once you have completed everything you wanted to, you can go to the public footbaths; Hanami and Sakura. They are free.Please watch my two day travel vlogs for all the goings on in Takayama!
smallbigjapan