USER BLOG
Join the best expat community of Japan. Now!
Share your Japan experience

Create blogs/Join the Q&A

Earn points and get rewards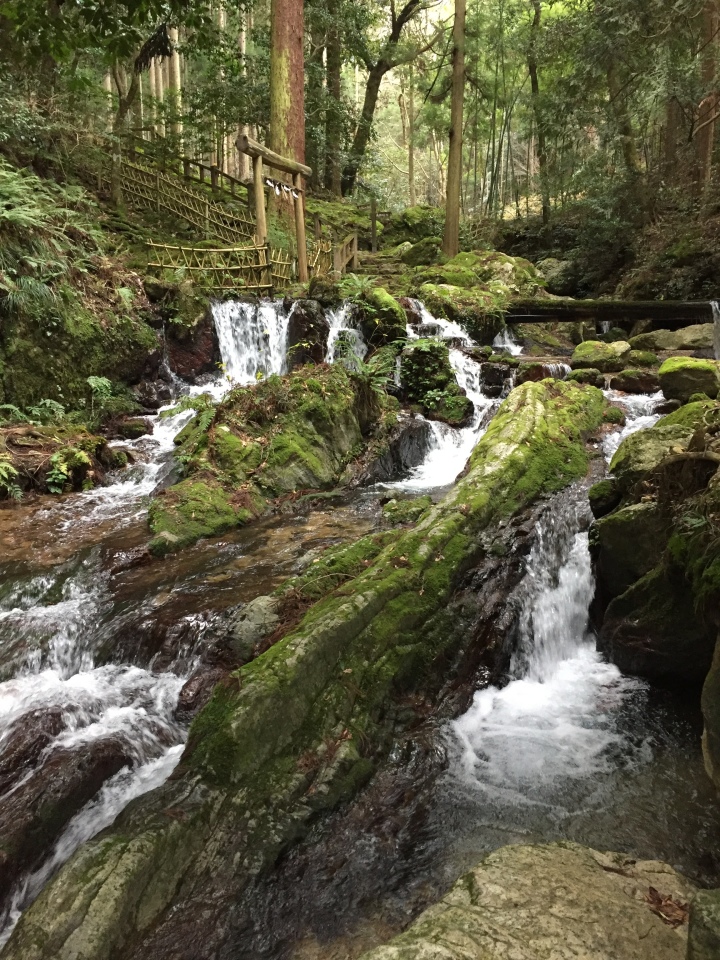 Uriwari waterfall in Fukui
Fukui is one of the most unknown prefectures in Japan. Even it is not far away from Kyoto or Gifu prefecture, many people never heard of that area. During my journey to the biggest lake in Japan, Lake Biwa, I decided to make a small stop in Wakasaka (Fukui), to visit a small waterfall there.From Tsuruga, one of the biggest city in Fukui, I just took the Obama line to go to the station "Kaminaka" in Wakasaka. It took around one hour in a very cute small local train through the mountains of that area. The station itself is really countryside, no shops or even a kombini, just local houses. I walked around 15 minuts from the station to a small park with a teahouse and a few shrines. At the end of the park was a small forest, where you could find a small waterfall.The waterfall was very beautiful and had a mysterious atmosphere. Especially I was totally alone there and I could only hear the sound of the water and the birds around me. I felt a little bit like I´m in the anime of "Nausicaä". Just right next to the waterfall was a small house for resting. It was lunchtime, that´s why I used the chance to make a small picnic alone in the forest. I was very surprised to find this amazing place in that area, especially I´ve never heard of it before. The way to go there is very long, but if you have a little bit leftover time it is a very nice spot to visit.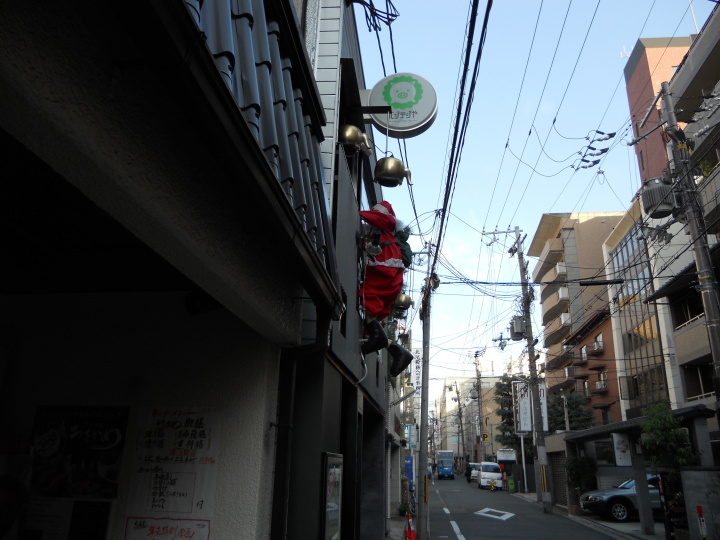 The grievances of 2016 that weren`t
This year has been a remarkable one. With celebrities dropping like flies and America`s political biosphere on fire, it is good to look back and reflect on all the good and bad things these past 365 days have brought. Of course, living in Japan is a whole other story. When you stay here for long enough, the outside world starts to look like some distant memory; nothing can touch you. For some, this means the stress of war, turmoil and new presidents (not necessarily talking about Trump here. Iceland also got a new president this year, albeit one with less fabulous hair). Some people come to Japan to run away from their problems. The problem is that this country is not free from its own problems. Troubleshooting in a completely different environment is not for the faint of heart, and many well-meaning individuals buckle under the pressure and leave within a few months. There is a term I often refer to when discussing the expat experience: The Honeymoon Period. For those not familiar with the term, The Honeymoon Period is the time period in the beginning of your stay somewhere unfamiliar, where everything seems perfect. The flowers smell fresher, the air is cleaner, the people more polite, trains on time and the food. Oh my Glob, the food! Like an explosion of feel-good senses burst from your brain and permeates everything you see. Even the homeless people seem to be smiling. Now, as we hopefully know by now, all good things come to an end. It is sad but true. You wake up one morning and you find an uncooked rice in your bowl of gyudon. You drop your change from the conbini because the teller put the coins on top of the receipt again. Some kid yelled "Why Japanese people!" at you for the three-thousandth time and something inside you. Just. Snaps. This is when the honeymoon period ends. The time it takes differs between people. For some it takes only a few months. For others, a few years. The most common timeframe I`ve heard is two years. It seems that the second or third year for expats is the hardest one. I guess it has something to do with starting to see patterns in life. You`ve experienced the same things before, the veil of freshness drops and your brain starts getting bored. And when it gets bored, it starts focusing on the negative parts in life. And that`s when you`re in trouble. For myself, I have no idea where I am on the "honeymoon-period-curve". I am on my third consecutive year in Japan, but my fourth in total. I have experienced some hardship and annoyances during that time, but never have I gotten close to saying "well, it has been fun. I`m leaving. See ya never!". So for the difficulties of 2016, I would only count the minor grievances as a collective, rather than one big event. And even then, these annoyances don`t add up to me wanting to pack my bags. So, without further ado, I present the top 5 gripes of 2016 in no particular order. 1. The amount of people (hito-gomi). There are so many people in Japan. There are so many people in the cities. There are so many people in my train station. Why can I not get a seat on the train at 7:30 on a Wednesday in the most populated station in West Japan? Why is everybody pushing me? Why is that person running? What does he know that I don`t? Don`t you dare steal that seat. I saw it first! What`s that smell? Why is a school baseball team taking the train now? Despite all that, I actually really like riding trains. 2. Polite versions of already polite enough words There`s the plain form, there`s the polite form, there`s the super polite form and probably twenty more forms. I barely mastered using the desu-masu forms, and the teller in the Disney store just asked me something I couldn`t understand. I say "eh?" and the teller replies "puresento?" like I`m a damn fool. Even now, I cannot recall what she actually said, but I know it was not a "masu" form of any word I know. Or maybe it is. Now, the real reason I don`t understand is because I haven`t bothered to learn as much as I should have. That doesn`t make me feel any better, you know! 3. The lack of sleep Japan has such variety. There are so many things to do here. Everything is available almost any time of the day. 24/7 entertainment. Why would you want to leave? Why would you want to sleep? So what if you have to wake up at 6:30 to dance in front of hundreds of 6 year olds. You can survive on 3 hours of sleep and coffee. There is no escape. Sleep or boundless entertainment. Choose one and regret the other. 4. The variety Why buy this when you can buy that? This place has a discount, but this place uses point cards. If you sign up now, this place offers a free takoyaki machine with your purchase. Options, options, options! Sometimes I wish for a world that has just ONE STATE APPROVED TOILET PAPER TYPE. And then I remember that I actually like takoyaki. Oh well. 5. The weather It`s too sunny. It`s too cloudy. It`s too rainy. It never snows! It`s too cold! Why can`t it be summer in wintertime and winter in summertime? Why is the weather not like it used to be back home? What? It`s because I`m not home? What`s this nonsense? Now, as you may have noticed, these are extremely minor annoyances. Barely worth mentioning. And all of them can be summed up to my own personal view of the world. My own failures as a person, my own inexperience and my own irrational, egotistical ways. And that is the way of the world. We all get upset sometimes that the world doesn`t revolve around us. And that`s quite alright. As long as we recognize and deal with our feelings in a productive, safe manner (Batting center!), it`s alright to feel the way we feel. If you start feeling overwhelmed and alone, just remember that there are options (options, options, options!). We all get into a slump every once in a while. As Doctor Seuss said, there are plenty of ways to "unslump" yourself. 2016 is coming to an end. The next year will promise another four seasons and a whole lot of reasons to leave the country. It also gives us just as many reasons to stay. So let`s rejoice and count our lucky stars we`re not celebrities.
Kasajizo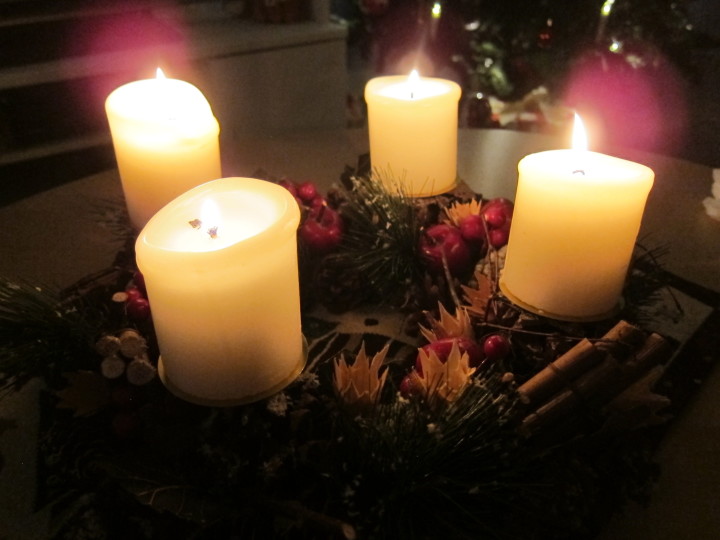 Christmas in Japan - The German way
I´ve been living in Japan already a few years, but the Christmas season always brings back the memories of my hometown and I wish to be there. But mostly I can not go back every year so I´m trying my best to enjoy christmas in Japan. The Christmas atmosphere is totally different here. The following points are very different than what I used to know:- The weather is always too warm! At least in Tokyo it can be sometimes amazing hot during the Christmas holidays (up to 20 degree). And of course there is no snow when it is so hot outside. - People tend to go out for a date on Christmas eve. Usually Christmas is a holiday for the whole family in other countries. In Japan oshogatsu (new year's celebration) is the big family come together day. For many people Christmas is a romantic day, that´s why especially couples like to spend that day together. - Christmas Illumination/light up:First time I saw those Illumination events in Tokyo, I was very surprised. I didn´t understand what it has to do with Christmas. In my home country (Germany) we don´t have those light ups. People usually hang some Christmas decoration like lightning stars or candle at their windows at home. - Christmas Food:The typical Christmas food in Japan is chicken and Christmas cake. This tradition comes from a very old TV spot of Kentucky fried chicken. I guess nowhere else you will find this kind of food combination. In Germany there are many different kinds of dishes we are eating. Usually for the Christmas eve it is very popular to eat raclette or potato salad and sausages (it depends on the region). For the Christmas lunch on 25. and 26. December we have the big Christmas roast like duck, rabbit, goose or turkey. And of course all the time you can enjoy typical Christmas sweet like "Lebkuchen" or almond biscuit.- Christmas markets open very late:Most of the Christmas markets in Japan open 2 weeks before Christmas and end right after Christmas. So always make sure to check out when they are open. Usually the Christmas season starts at the beginning of December, except in Japan.If I´m staying in Japan during the Christmas season, I´m trying my best to do as many traditional Christmas things as I can. Usually at the beginning of December, I´m starting to decorate the whole apartment with Christmas ornaments. For the right scent I´m used to put some cinnamon and orange on a small plate and put them in every room. Around mid of December, I´m baking together with friends some Christmas cookies and the kids love to make a small "Lebkuchenhaus" which looks like the small house of the bad witch of the Grimm fairytale "Hansel and Gretel". After Christmas you can eat the whole house because it is mostly made from sugar, "Lebkuchen" and other sweets.As soon Christmas is coming, I´m taking out the big two meter Christmas tree. Unfortunately it is very difficult to find a big real Christmas tree, so I´m used to put a fake one. To decorate the tree with many ornaments and electronic candles are a typical tradition in my family and usually a lot of fun. The morning of Christmas eve in Japan is always a very busy time for me. I´m standing the whole time in the kitchen to cook for my Japanese family. We just celebrate one day in japan because usually nobody has off, when it is during the week. The typical Christmas lunch is a mix of all typical German food. Mostly every year I´m cooking a very huge duck which I ordered online, german style potato salad, red cabbage and octopus salad (that´s the Japanese part). As dessert we filling our stomach with Lebkuchen. After eating all those food we need to move our bodies. That´s why we visit the nearby Christmas market. In our case the Hibiya Christmas market is the closest. Also it has a very big candle pyramid original from Germany. Especially in the evening it looks very great! We just walk around and check out all the handcraft-/foodstores and drink a cup of "Glühwein" (hot wine).As soon it´s getting evening we are heading back to home and open all the Christmas presents which are laying under the Christmas tree. Most people just give presents to little kids, but I like the idea to also give a small present to the whole family members and friends. Then we are turning off all the lights, except from the Christmas tree, and watch all together a typical Christmas movie like the "Christmas carol". My favorite one if from the muppets!The day will end in a typical Japanese way with eating delicious sushi at a nearby restaurant. Even I can´t celebrate in my hometown, I like now the way I´m celebrating in Japan too.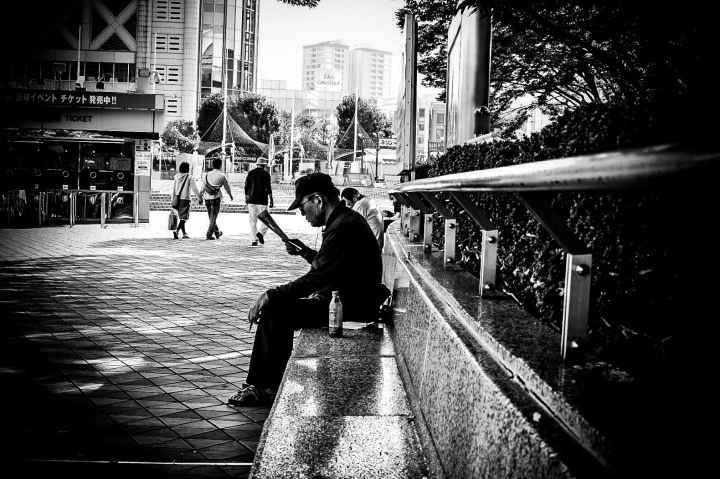 Tokyo Dome city visit
A beautiful place for fun and rides. I enjoyed visiting Tokyo dome city. Sharing few shots during my visit.Visit my website
kcsantosh
What to do for Christmas...
Christmas back home is always special. The entire extended family gets together, has a massive dinner with ham, turkey, goose, browned potatoes and an endless flow of gravy. Presents and pleasantries are exchanged, everyone is happy. This will be my fourth Christmas in Japan, and honestly, although it doesn`t have the same `homey` feel to it, I enjoy it so far. Different countries have different ways of expressing themselves. My first Christmas in Japan I honestly can`t remember. I was in university and was living in a dorm. Although New Year's eve was memorable, with all its drinking and dancing and attempting to count down from 10, Christmas passed quietly by without so much as a peep. A few years later, after I properly moved to Japan, I had my second Christmas here. I was living in Kanto, with great access to Tokyo without the hustle of having to actually have to live there. So, naturally I went to Disneyland. On Dec 24th. Now, I know what you might be thinking. Is he insane? Nobody goes to Disneyland on Dec 24th! There`s too many people! Well, I was pleasantly surprised. I don`t know if it`s the park layout or the wonderful people who work there or some sort of Disney magic, but it didn`t seem as crowded as it should have. We even managed to go on a few rides and see Santa in the parade (yes, he waved at us!). I highly recommend going to Disneyland and Disney Sea (on separate days of course) during the Christmas season. You won`t regret it. The third Christmas was after my partner and I finally moved to Kansai. Naturally, there`s no substitute for Disney, but we made do with Universal Studios. Now, tickets to USJ are considerably cheaper than tickets to Disneyland, especially yearly passes, so we couldn`t …pass on that deal! (haha) I have to say, when you only have one chance to go to Disneyland, the pressure to have fun makes the experience a little bit frightful. So, when we have yearly passes to USJ, we go there, ride the Harry Potter rollercoaster, decide that we`re tired, leave and come back the following day. Or not. It`s our choice. And I think that`s one of the great draws of having a yearly pass. If you`re on the fence whether or not to buy the yearly pass, keep this in mind. If you`re pressured to have fun, you won`t have fun at all. This year is my fourth Christmas in Japan. What will we do this year? Well, there are a few options to consider. 1. For the traditionalist in me Decorating Christmas trees is a wonderful tradition that brightens up the house and brings out the hidden interior designer in us all. I usually try to spot the moment 100 yen shops start selling Christmas products (usually right before Halloween ends). My partner and I usually end up buying way too many decorations and have no idea where to put them. But being creative is just part of the fun. Now, right after Christmas is the perfect time to buy discounted decorations. You can find products for up to 90% discount in some stores. This is the time to buy in bulk. I buy a lot, put them straight in a box and put the box on a high shelf not to be opened until in November the next year. It`s a little present from me to me. 2. For the food lover in me There`s no shortage of good food in Japan. Getting all sorts of foods from other countries is a breeze compared to just a few decades ago. Although getting ham from Europe seems pretty difficult. But anyway, the old story about how Japanese people simply cannot celebrate Christmas without KFC chicken seems a bit off to me. The people I work with are more inclined to eat chicken from Mos Burger. This year, my partner and I decided to go all out. We pre-ordered Christmas cheesecake and chicken from our local Life Supermarket. I am very looking forward to seeing the results. In the years past, we simply went to the supermarket on the very last minute, so that we could feast on the discounts, rather than the food. I really recommend doing this if your wallet is lighter than a helium balloon. But the options are as many as there are people (and there are a lot of people here). 3. For the commuter in me The bigger train stations usually have something for everyone. There`s illuminations everywhere, the shops are decorated, the classic Christmas songs are blasted through every speaker possible and not to mention all the great Christmas bargains. I personally recommend either Kyoto station or Osaka station. They usually have some events that make going there worth it. Unfortunately, I always forget one important thing about Christmas in Japan. You see, back in Iceland, Christmas starts on December 24th. The entire thing is filled to the brim with celebrations and special days. Christmas officially ends on January 6th, the 13th day of Christmas. This is when you are allowed to take down your Christmas decorations. This is not the case in Japan. In Japan, Christmas begins when the stores decide to put up the decorations and it ends on December 25th. After that, they have to get ready for New years, which is more important to the native Japanese. What I`m trying to say here is, if you`re like me and wait until the last minute to do everything, please remember that the last minute is a lot sooner than you think. Whatever you decide to do this Christmas, just remember one thing. That last box of Christmas lights in IKEA is mine!
Kasajizo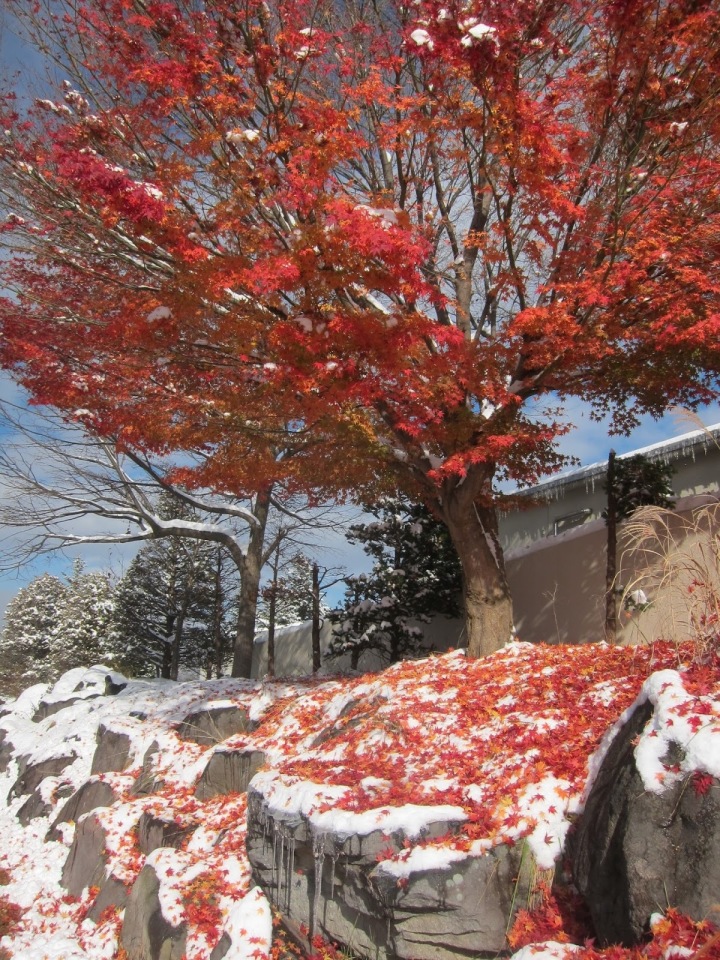 Bustour to Takayama
I was looking for a nice place in the mountain, which is not too far away from Tokyo. My solution was the little town Takayama in Gifu. It takes 5 hours by bus (Nohi Bus Service from Tokyo-Shinjuku). The view from the bus was great. I saw a beautiful winter landscape in a great mountainside with many lakes and dam. I arrived in Takayama during lunchtime and walked straight to the old town of the city, to see many old nice streets full of handcraft shops, restaurants and small sake stores. I walked around and tried many sweets and drinks like amazake, which were very delicious. There was also the chance to try diffrent kinds of sake for just 200 Yen. The day ended with walking through a long street with many temples, along a small mountain.But I was very surprised. The city is very good for tourists. Every sign is written in Japanese/English and sometimes also in Chinese, Korean or French. At the tourist information you will find pamphlets in diffrent languages (English, Spanish, French, German..). Also mostly of the people in the tourist area can speak at least English and Chinese. Also you can do very easy daytrips by bus to Shirakawago and Toyama.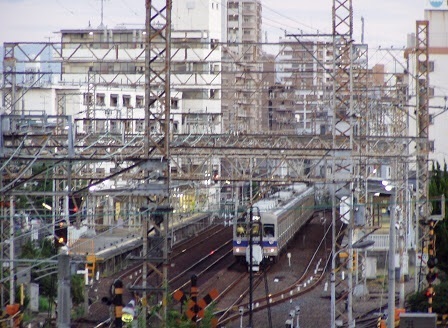 Saturday From an Osakan Train.
It's 2:07 pm and I'm boarding an inner city bound Nankai Line train having just enjoyed a buffet lunch in Rinku Town. In stark contrast to the busy, usually jam-packed trains I take during the week, this train is only half fall. The other passengers seem to be mainly just-landed travellers en route from Kansai airport, and satisfied shoppers heading elsewhere after spending the morning making the most of the famous Saturday morning sales at the nearby Mitsui Outlet. The atmosphere is relaxed and un-rushed; It's Saturday, and it feels like it. Once on board, I choose a forward facing seat by the window. I switch on some music, glance out the window, and look forward to a relaxed, sun-kissed journey back into the city.In true Osakan train fashion, the train glides promptly through a combination of built up urban areas, random small rice-paddies, traditional Japanese streets and various riverside paths and small parks. The Nankai Airport Line's intimate positioning to these areas ensures me an inspiring view of the numerous episodes of weekend life being played out on the streets below. I'm a big believer that a city's true beauty is radiated not through its physical structures, but through its charm and character; something which can only really be created by its inhabitants, by its people. When noticed, it can make simple train journeys like this unexpectedly memorable.My almost forty minute ride into Namba rewards me with big glimpses of Osaka's character in motion. I observe people of all ages engaging in various sporting passions: soccer, tennis, baseball and Futsal. An Oji San tending to his crops on one of those random patches of farmland just outside Izumisano. A lone orange vendor waiting for custom at an industrial area a little further up the line. I observe joggers making the most of the early afternoon sun along a canel near Ishizugawa; families doing the same by the water fountain feature in front of the big Aeon shopping mall in Shichido. I also notice various relaxed Saturday gatherings of people outside community centers, and in parks as well as open, but quiet artsy coffees shops that I'd never noticed before in the streets surrounding Sakai station; then a little further on from Sakai I observe a small, but lively market occupying a tiny fraction of Suminoe Koen. The things I'm observing are not particularly newsworthy, nor are they particularly unique, in fact most of the things I'm seeing probably happen every week (and not just in Osaka), but seeing these things in motion from a speeding train in quick succession of each other somehow makes me appreciate them more.I feel like a I'm being treated to an inside glimpse of Osaka's heart; a front row glimpse into the simple things that make the city and that Saturday feeling so special. They are the very small, uncelebrated things that make living in, and traveling through this city so beautiful and inspiring.
AngelicaSutton