USER BLOG
Join the best expat community of Japan. Now!
Share your Japan experience

Create blogs/Join the Q&A

Earn points and get rewards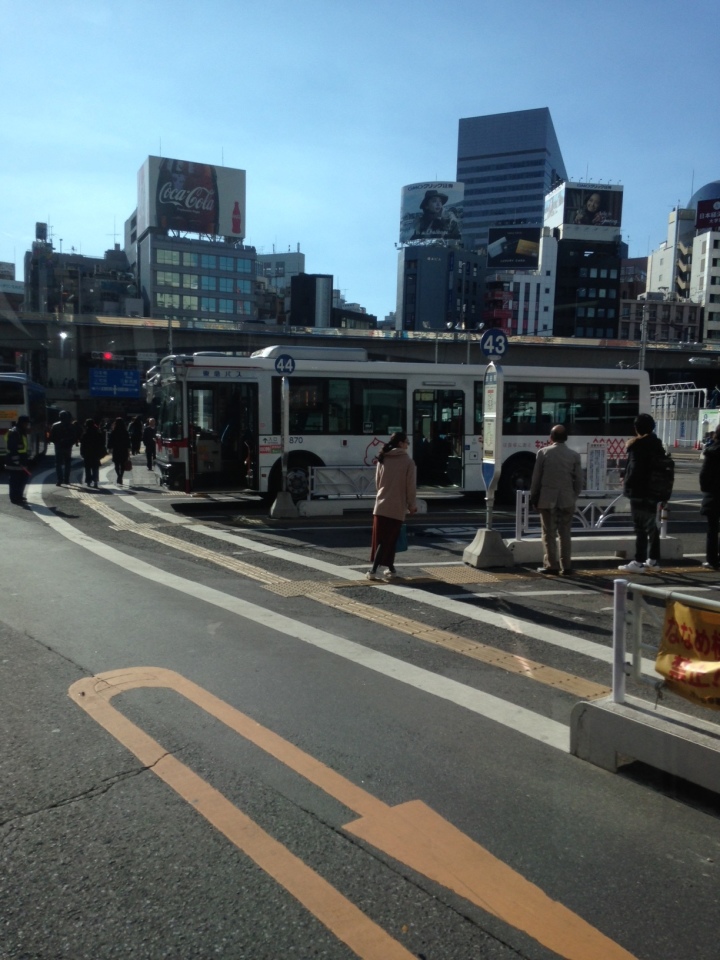 Forget the trains, buses are the better way to go in Tokyo
Tokyo being the big cosmopolitan city definitely has that advanced subway system to mobilize the millions of people that need to go about their daily lives. The subway plays such an important role that the key criteria for selecting a home here is the immediate proximity to the trains.Unfortunately for me, the ignorant gaijin, who failed to understand the subway factor and happily signed for an apartment about 20 minutes walk away from the nearest subway station. Well, 20 minutes ain't that far I suppose but think about the ridiculously hot summers or the brutal winter windchill or the kids and groceries you have to drag along to make that 20 minutes trip. Dreadful may be the word to describe my daily commute.... until I discovered the city buses!Comprehensive bus routes Everywhere the subway doesn't cover, the city had planned for buses to make up for it. On top of that, there are also buses that run alongside the trains to be that perfect substitute for when the trains are down or the late night journeys after the trains end. Feeling lazy and not wanting to walk that short distance home? Just jump onto the bus and you can be sent almost to your door steps.If you are staying in that part of town where roads are too tiny or commuters are scarce, chances are there will be those mini buses that cover that route.Comfortable journeyNot only are buses easily accessible, they are really comfortable too. Put it this way, you will never find a bus more crowded than subways, especially during peak hours. Not only that, because people treat buses as short distance solutions, turnover for the seats is rapid and hence easy to have a chance to rest your legs. Traveling with small children couldn't be safer and more relaxing on a bus. Bus drivers here are especially careful and patient with kids, making sure they are seated before they start the journey and waiting for them to safely alight before zooming off. Can't imagine a subway doing the same, ever!Picture taken at 8.30am in the morning, peak hour apparently!Travel at a flat rate Unlike the trains, bus fares are at a flat rate so regardless of the number of stops, you only pay a single price. The price, however differs based on the type of bus. For a regular city bus, the going rate is 220 yen. Mini buses goes for 150 yen. If you are paying with Suica or Passmo, you get a 4 yen discount per trip on a regular bus. During summer holidays, paying school kids can purchase a summer bus pass that enables them to travel unlimited trips on city buses for only 500 yen. What an awesome deal!Also, you would never have to worry about having the right change or enough money in your card to pay for your ride. You can always get change or charge up your card on the bus itself! Just let the driver know what you need.Almost always on scheduleYou can always find the bus timetable at the bus stop that indicates when you can expect your bus, weekdays, Saturdays or Sundays and public holidays. The best part is, you can really rely on this timetable! The worse I have encountered is the bus being a few minutes late, else, there really isn't much of a surprise. If the bus happen to rock in earlier, the driver will make it a point to wait until it's scheduled departure time to close its doors. As long as you manage your own schedule, you can safely rely on the buses to bring you to your appointments on time!The last time I decided to move again, I wasn't much concerned about proximity to the trains anymore! With a couple of bus stops around me, I was more than happy paying a lower rent and living in a bigger space!
mica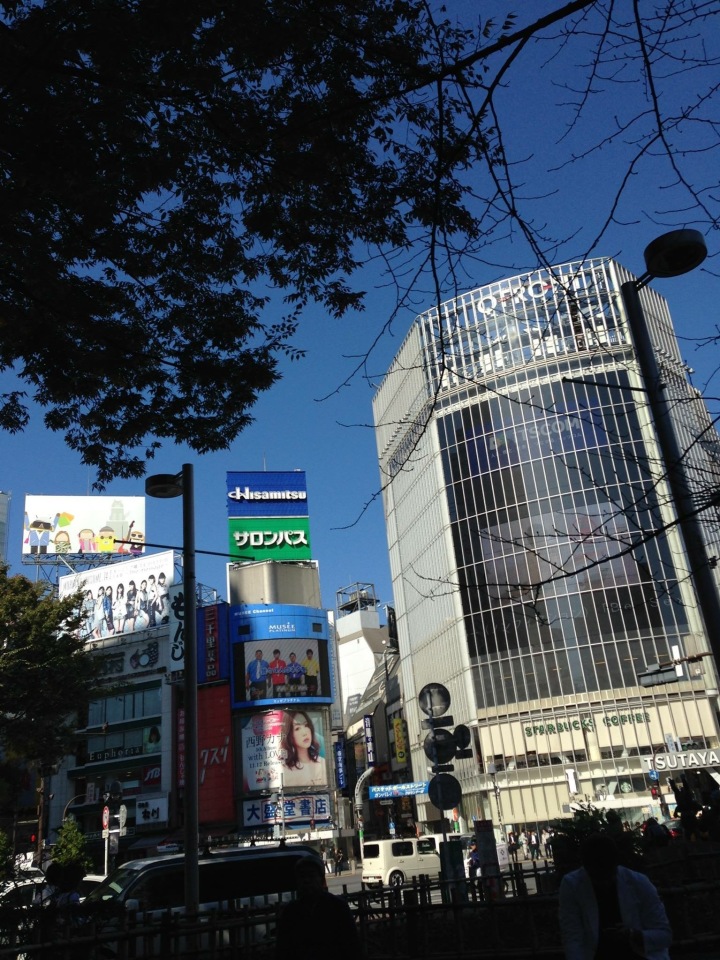 Shibuya's a Place for Small kids? Why not?
My first encounter with bringing a small kid to Shibuya wasn't a fantastic one. It was years ago when I visited with my then baby, as a tourist. Back then, I made the wrong move by choosing Shibuya to try and buy some diapers…. I mean, Shibuya is a big commercial center with lots of shops right? I am sure somewhere in the hundreds of pharmacies and supermarkets I can definitely find diapers right? I had never been that WRONG. Turned out, shopkeepers were staring at us strange, saying something to the point of "there are just no babies in Shibuya." Fast forward a few years. This time, we have actually moved to Tokyo and now I have to live life with another baby, in a location close to Shibuya. There are countless occasions where I have to venture into Shibuya, with baby to run errands and meet people. Then I discovered, actually, there are pockets of heaven for smaller kids and mums here in Shibuya. Here I am going to share with you my findings.Getting thereWith the relocation of the Tokyoko line underground, you get a new station (or part of). That means you also get elevators that comply with the needs of 2020. The JR stations are equipped with elevators, big or small. The Keio lines stop at Mark's City which has pretty efficient elevators too. The Denentoshi and Hanzomon lines exits to a passageway leading to the 109 building, which has an elevator to the ground floor and above. Actually the greater Shibuya station will connect somehow to the Tokyu building, which has multiple elevators for the convenience of shoppers. So go ahead and bring your strollers, you won't have to worry about carrying your stroller colony up and down stairs again.ShoppingUrgently need something for your baby or toddler? There are actually a few good places to find kid supplies.Tokyu Department Store Honten (Near Bunkamura)There is a sizable Children's department on the 5th(?) floor, whether you need clothes, toys, shoes, strollers, accessories, they have a comprehensive selection. MujiTop floor of that big Muji on Koen Dori has a kids department with clothes, shoes, toys and school supplies for smaller kids.Gap/H&MBoth these giants have a kids department in their Shibuya outlets.Eating/ChangingOk, I have lumped eating and changing together because for those of us in the know, these two things go hand in hand for smaller kids.It is actually not difficult at all to find feeding and changing rooms in Shibuya. Here are some really good ones I have used.Chikamichi Lounge This fantastic baby's lounge is found in the underground shopping alley between the Hanzomon/Denentoshi line exit and the 109 building. This relatively new, spacious and comfortable lounge is a piece of paradise for tired mothers who need space to change their babies in piece, to sit down and take a breather or let the baby take a quick but quiet nap!HikarieIn Basement 3 of the Hikarie building, there is a really nice feeding/changing room. Not only is the place clean and spacious, it is also equipped with a microwave, hot water dispenser, baby chairs and nice pipe in music that magically soothes little kids. In the same space, there are also changing tables as well as a secluded feeding room for those who need privacy.Tokyu Department Store HontenOn the same level as the Kids department, there is a pretty comfortable space where you can heat up your kids meals, feed them and also change them. Nothing too fancy but comfortable and welcoming.MujiTogether in the kids department, there is a nice and spacious changing room with sofa seats on the side for feeding toddlers and curtained feeding rooms for babies.PlayingMujiIn the same space as the kids department, they have this awesome wooden playroom with toys that can satisfy the curiosity of kids 5 years old and below. If I am not wrong, they also hold classes that you can sign your kids up for a little bit of learning and fun.Pekids Bouldering Studio Rock climbing labs for kids 3 years old and above on meiji dori towards Jinggu mae is a fantastic place for those kids with so much energy they need to scale walls. There are also certified instructors there to make sure your kids are not endangering themselves.Yoyogi ParkIf you don't mind venturing a little outside the main streets, there is a huge park where your kids can run, play and shout to their hearts content.So my fellow mothers, fear Shibuya not! Go ahead and bring your little kids there, they will enjoy the place as much as you do! Maybe just try to avoid buying diapers, just in case! ><
mica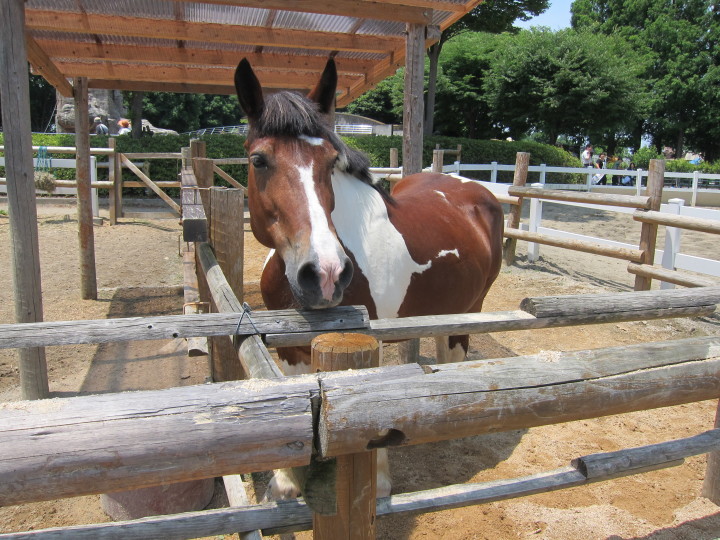 Tobu Zoo in Saitama
Yesterday I´ve visited the Tobu Zoo which is close to the Station "Tobudobutsukoen" in Saitama. There is also a small waterpark (but only open in summer), a small amusement park and a big place for professional horse riding.I really love that zoo. The size is perfect even for small kids and the areas for each animal are very big and clean. For me it is the best zoo around Tokyo because of the big space for the animals. Also it is never crowded even at the weekend. But the highlight for me, are always to visit the big white tigers, who were born there in 2015. I´ve never seen white tigers before especially not so close. It is really a great experience.There are also some special events like pony ridding, small animal petting (Rabbit, birds, guinea pig). As a big rabbit lover like me, I always use the chance to pet small rabbits there. Also they have some shows with elephants, hippo and sea lion.If you love firefly or just want to have a romantic date you can join the firefly show (only for a few people). The show is inside a small dark building, where you can see millions of fireflies flying around. It is really amazing to see so many fireflies.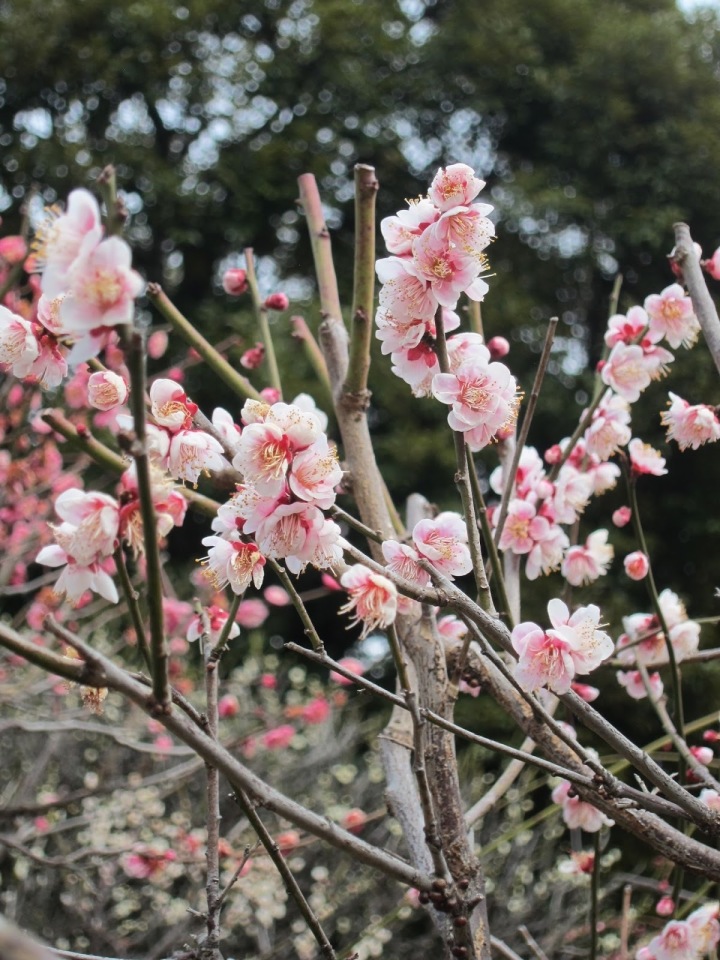 Plumfestival at the Kameido Teniinsha Shrine
It´s getting warmer and warmer in Tokyo. The winter is over soon and the spring is just knocking on the door. That means it is time for the plumtrees to bloom. Every year from the beginning of February the plumtrees in Tokyo start to bloom. The Kameido Tenjinsha Shrine northeast of Tokyo celebrates every year the plum festival. You can find a big variety of plumtrees in many different colors. If the trees are fully bloom you can smell their sweetness everywhere.Also the shrine has a small park with a pond and red japanese style bridges. It is very nice to walk around and enjoy the flowers there. I recommend to go there doing the week. Especially during the plum festival it can get very crowded. At the weekend they will also sell typical festivalfood around the park.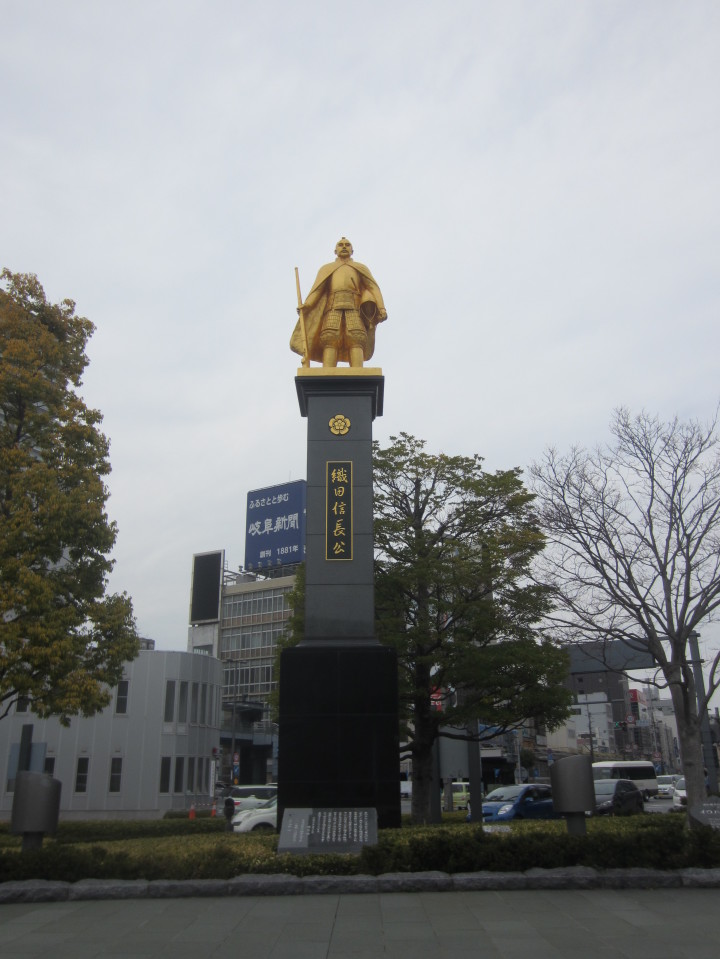 Gifu's Golden Oda Nobunaga Statue
Some of you might know that the great warlord who conquered and united Japan originated from Gifu Prefecture. More accurately, Gifu city is exactly where he established himself and his ambition. For that, Gifu city is very proud of being the home of arguably the most historical figure of Japan, and signs of Oda Nobunaga can be seen everywhere in the city.One of the most prominent appearances of Oda Nobunaga is his golden statue that stands right outside of the Gifu JR station. In the center of the station square, it stands tall, holding his helmet and his signature rifle. A huge part of his victory in war came from his trades with western businessmen and installment of western firearms in the army.That figure is what you will see the moment you step out from the station. The great Oda Nobunaga welcomes you to explore his hometown and discover the history of Japan's sengoku era.And now, I live here.-----------------------------------------Follow for more everyday magic I encounter in Japan!
Jackson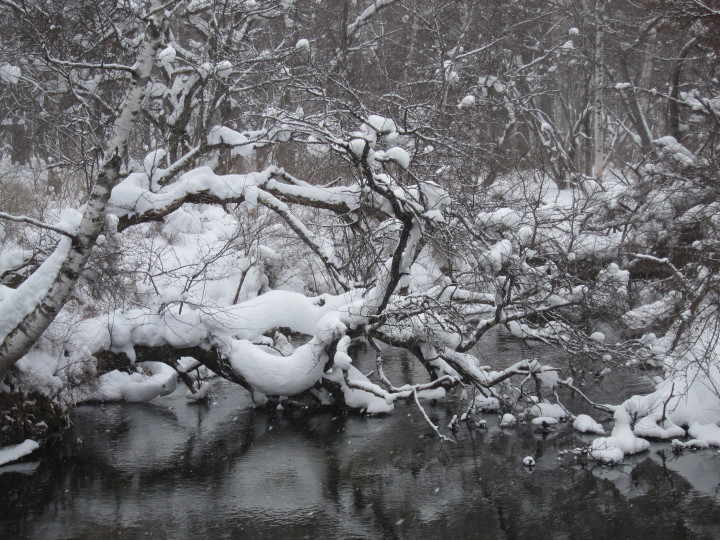 Snowland Nikko
It´s winterseason in Japan! I love winter. I love snow. Living in Tokyo where snow is very rare, gives me a tough time during the cold month. That´s why I like to go to the north to enjoy snow in the mountains. For people who just want to walk in the snow or build a snowman without going to a ski-slope I can absolute recommend to go to Nikko. I´ve been there yesterday for snow hiking. My hiking started at Akanuma where the Senjogahara marshland starts. My goal was the Yudaki waterfall around 7 km away. Usually it takes 2 h but with all the snow it took me 3 h to walk that way.I´ve just walked with my normal hiking shoes but I totally recommend to use snowshoes. You can rent them at Akanuma or Senjogahara. The walk in the snow was really great and I enjoyed it very much. The snow was amazing high (around 80 cm), so it is kind of dangerous but on the normal walkway the snow is not that high so that you can walk easily. You can also book a guided tour with snow shoes through the marshland.After 3 h I arrived at the Yudaki waterfall, which is 70 meters tall. It was amazing big, the biggest one I´ve seen in my life. I was really impressed. On the way back we just used the Bus close to the waterfall to go back to Nikko Station.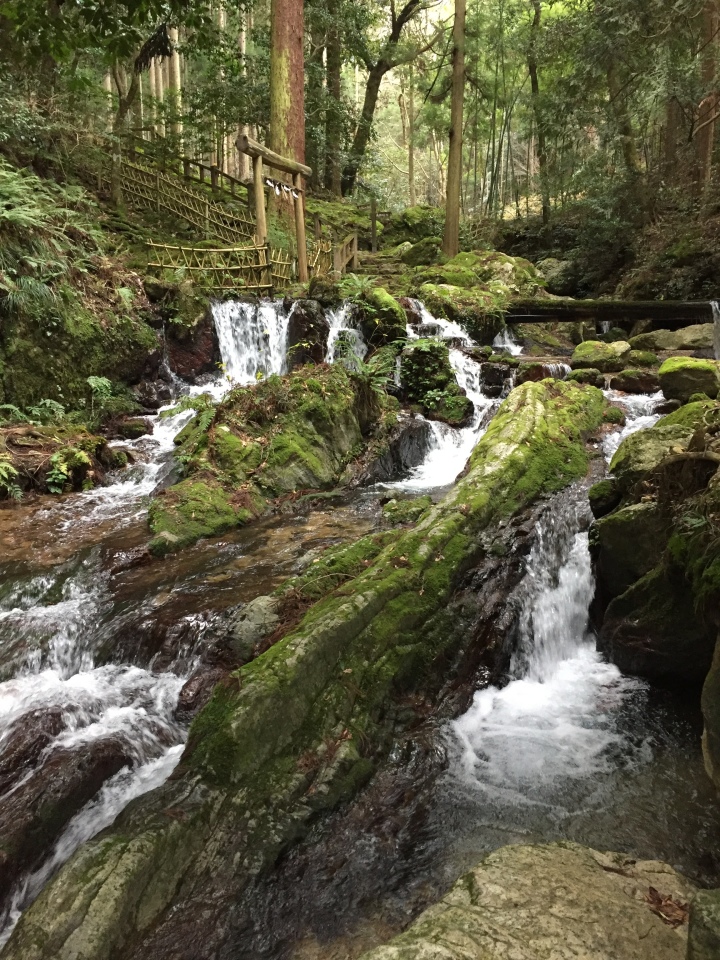 Uriwari waterfall in Fukui
Fukui is one of the most unknown prefectures in Japan. Even it is not far away from Kyoto or Gifu prefecture, many people never heard of that area. During my journey to the biggest lake in Japan, Lake Biwa, I decided to make a small stop in Wakasaka (Fukui), to visit a small waterfall there.From Tsuruga, one of the biggest city in Fukui, I just took the Obama line to go to the station "Kaminaka" in Wakasaka. It took around one hour in a very cute small local train through the mountains of that area. The station itself is really countryside, no shops or even a kombini, just local houses. I walked around 15 minuts from the station to a small park with a teahouse and a few shrines. At the end of the park was a small forest, where you could find a small waterfall.The waterfall was very beautiful and had a mysterious atmosphere. Especially I was totally alone there and I could only hear the sound of the water and the birds around me. I felt a little bit like I´m in the anime of "Nausicaä". Just right next to the waterfall was a small house for resting. It was lunchtime, that´s why I used the chance to make a small picnic alone in the forest. I was very surprised to find this amazing place in that area, especially I´ve never heard of it before. The way to go there is very long, but if you have a little bit leftover time it is a very nice spot to visit.