Aug 14, 2018
Gallery - Miyazaki, Aoshima summer trip
---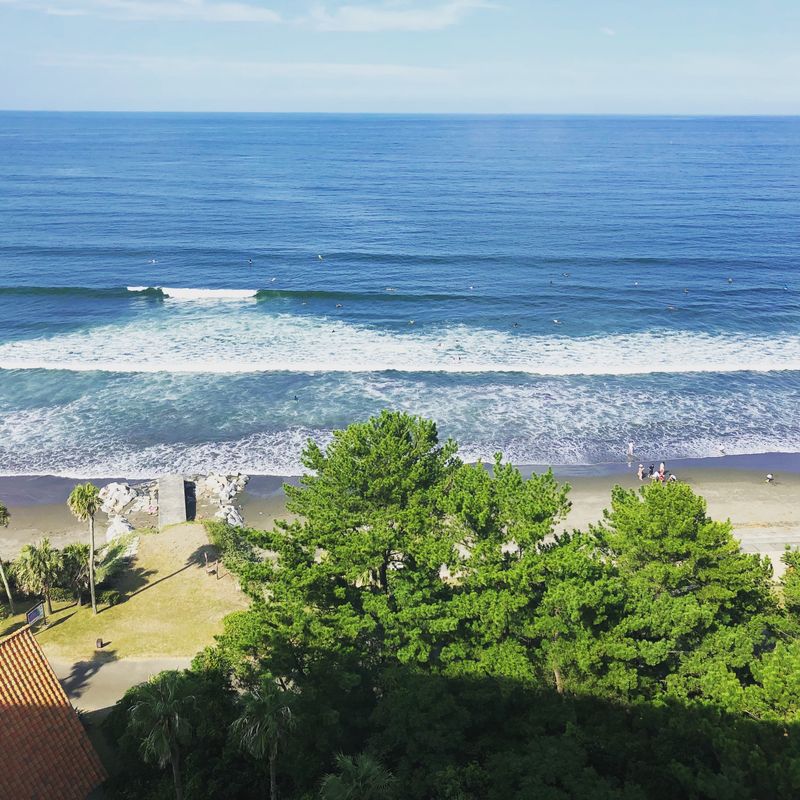 Typhoon Shanshan did its best to dampen our summer surf trip to Miyazaki, Kyushu over the last few days. The 13th typhoon of the year (Has there really been 13?) had news outlets screaming about the end of days as the lumbering giant inched its way towards Tokyo and our Thursday morning flight from Haneda.
Normally I wouldn't have been too concerned -- these things tend to pass over in an hour or two -- but Shanshan, as safety helmeted typhoon watchers warned, was moving at cycling pace. No, hang on, it's now assumed a jogging pace. Either way, when it finally inched over Tokyo, forecasters had it set to set up shop over the capital for a few hours in order to dump its wet load.
Build up to Kyushu here we come summer 2018 then was spent largely planning alternative routes to Miyazaki -- a shinkansen to Osaka for a flight out from Itami, -- frantically charting Shanshan's (lack of) progress, and questioning the wisdom of taking the cheapest hotel room plan that couldn't be cancelled, all at the same time as getting ready for a work presentation the day before an increasingly unlikely looking departure.
The irony of all this, was that the weather in Miyazaki was looking perfect with some typhoon swell on the way to bring in the surf … should we be able to get there … which by the title of this post you will know that, ultimately, we did.
In fact, Shanshan turned out to be a bit of a damp squib resulting in but an hour delay of the flight. Although it did effectively wipe out the joy of vacation anticipation.
Miyazaki, southeastern Kyushu -- default setting for Japanese grandparents' honeymoons, host to off-season training camps for baseball teams, and warmish water surfing resource.
Day 1
Miyazaki Bougainvillea Airport has toilet signs that evoke images of surfing and tropical beaches. It's a touch that already has me wanting to relocate here and one that has the surf juices flowing as we pick up the rental.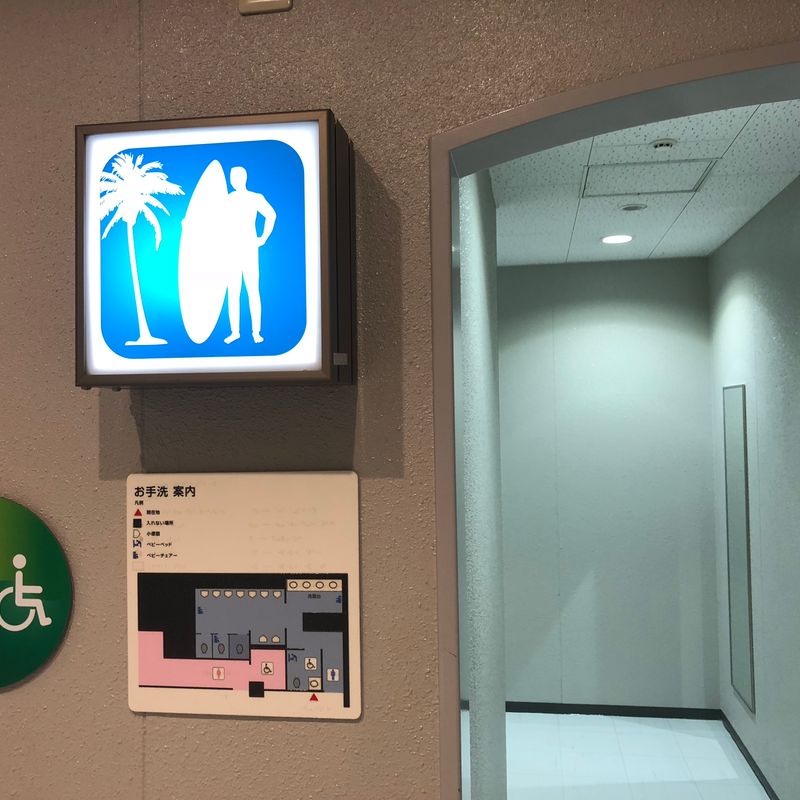 We're here as a couple though, and the Japanese partner doesn't surf. So, in full clarity, this is a surf trip for me, and a sightseeing one for her.
First up then, a spot of garden strolling.
The British Garden sits hidden among the evergreens of the Kokusai Kaihin Entrance Plaza, a sliver of green sandwiched between the ocean and the suburbs north of downtown Miyazaki city.
The garden is centered around a charming, but fake, whitewash cottage and was designed by "garden designer" Robin Williams for the National Urban Greeny Fair which Miyazaki hosted in 1997. "Garden designer" because we're not talking here about the late Hollywood funny man, although Williams has been described by some media as "a rock star in the garden design world."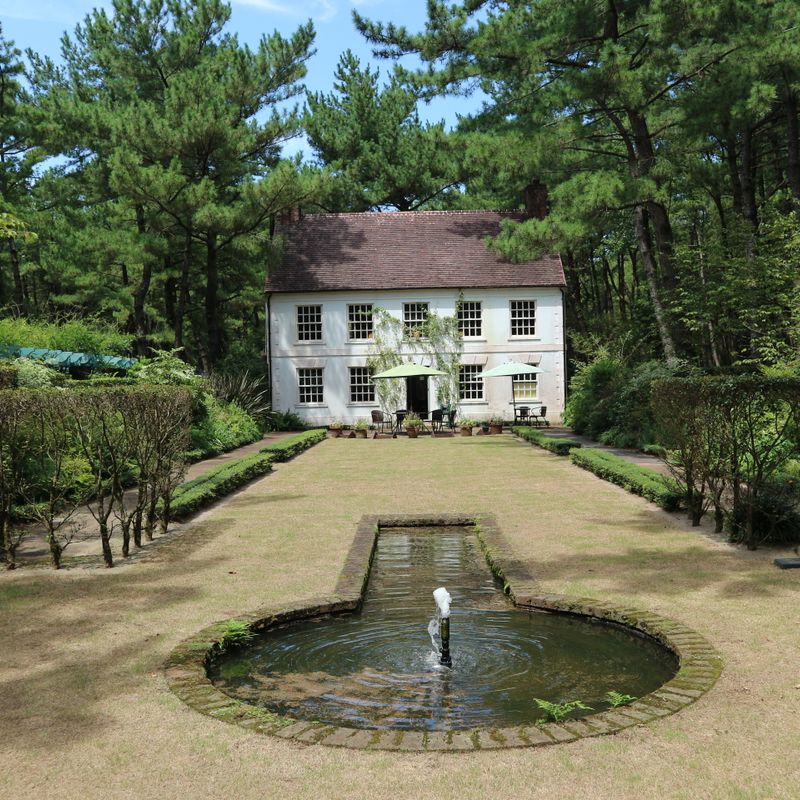 There's little that is rock n roll about the British Garden in Miyazaki though. But it is a charmer and almost brings a little moisture to the eyes of this British expat in Japan, which is odd because in the searing summer heat the prominent garden lawn is looking a bit dry. Still, it makes for a nice enough view as we take shelter under a parasol for some toasted sandwiches and Sanpellegrino fizzy pop. And we're the only people here save for the gardner and cafe staff.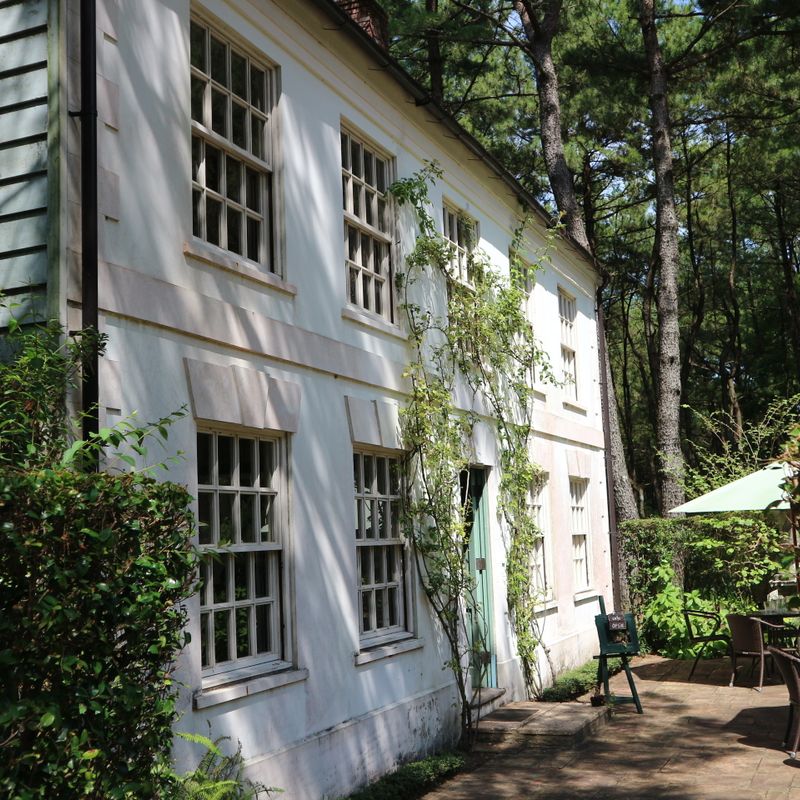 Enough of this British twee though, this is supposed to be a surf trip and it doesn't serve the surf credentials well to be preening by some flower beds (although they are delightful).
The hotel is in the town of Aoshima, around 10 km south of Miyazaki city and something of a surf center in Miyazaki (one of a few).
It's a one-road sort of town really and as the rental rolls in an unwanted and abandoned pachinko parlor tells us that, thankfully, this town's priorities lie elsewhere. In fact, board-wielding foot traffic and parking lots full of surf wagons (Japanese modern boxy ones) indicate priority No. 1 for many people here -- surfing.
We're staying at the ANA Holiday Inn Resort Miyazaki. I know, not very surf bum, but when you've got the busy (read "tenuous") career going on in Tokyo, skipping out of town on a jolly is only something you can do for four nights before eyebrows start raising. If they haven't already. Might as well make the most of the limited time then.
Depending on your tastes the Holiday Inn might seem like a bit of a concrete lump but it comes with the benefit of nearly all rooms having an ocean view. Plus (and I didn't know this until check in), it is right in front of the beach and one of the main surf breaks in the area.
We crack open the curtains of our ninth floor room and gawp down at the surf. After the miserable, mucky grays of Shanshan stained Tokyo, the view of resplendent blue ocean, fun waves, palm trees, sand (albeit the volcanic off-black variety) and sunshine is almost too much to take. In a sad state of the modern human condition, I instantly snap a photo and text it to everyone I know. (See top image -- with Instagram filtering!)
From a 6:00 am, board-bearing, suitcase-hauling, typhoon hangover Tokyo commute (during which the Tozai Line was still crowded despite companies telling people not to come in in the morning) for a flight we didn't know was going to get off the ground, to now being up to my chest in warm, fun, and frequent surf set to a backdrop of rich greens (and the Holiday Inn) … well, it must be karma of a kind.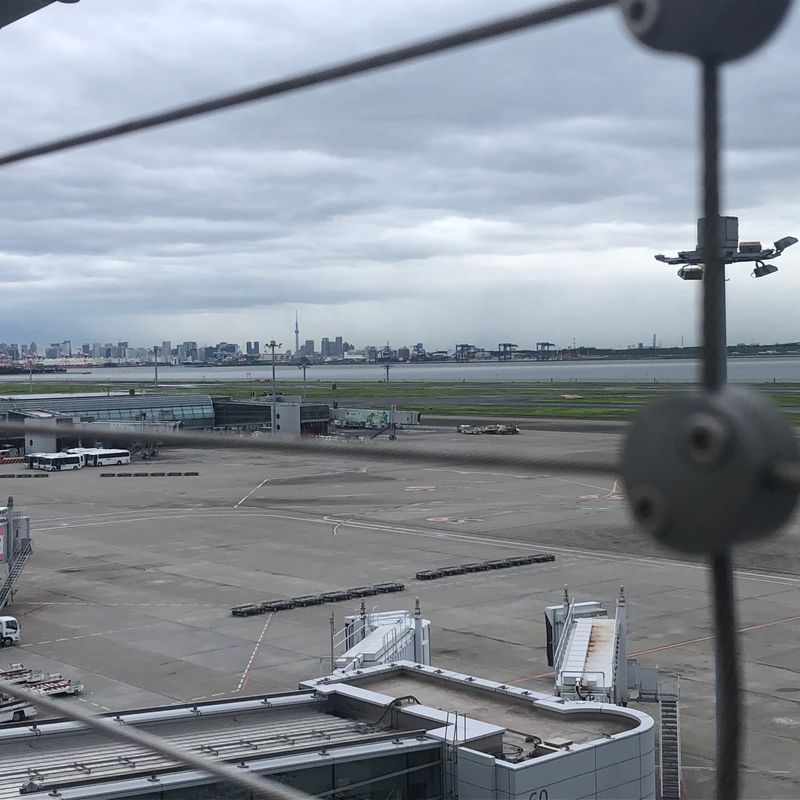 (From the observation deck of Haneda Airport's domestic terminal the morning after Shanshan)
After surfing a month's worth of lefts and rights in a single session I'm sitting sunburned and salty in an izakaya on Aoshima's main drag. It's a Thursday night and Obon doesn't kick off until the weekend so the place is half empty, save for the signed pictures of Yomiuri Giants pinned to the walls.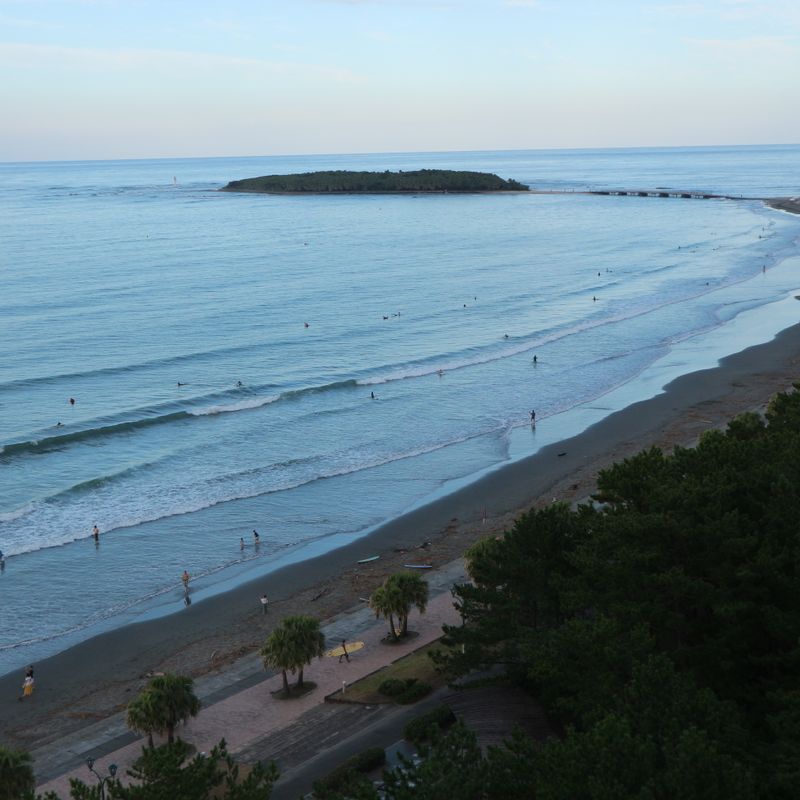 (From the hotel room - dusk surfing in Aoshima)
The partner opts for some sashimi, I go with the chicken nanban, a regional specialty, the creamy tartar sauce and sour salad dressing of which make for a sharp contrast. Not the only one experienced today.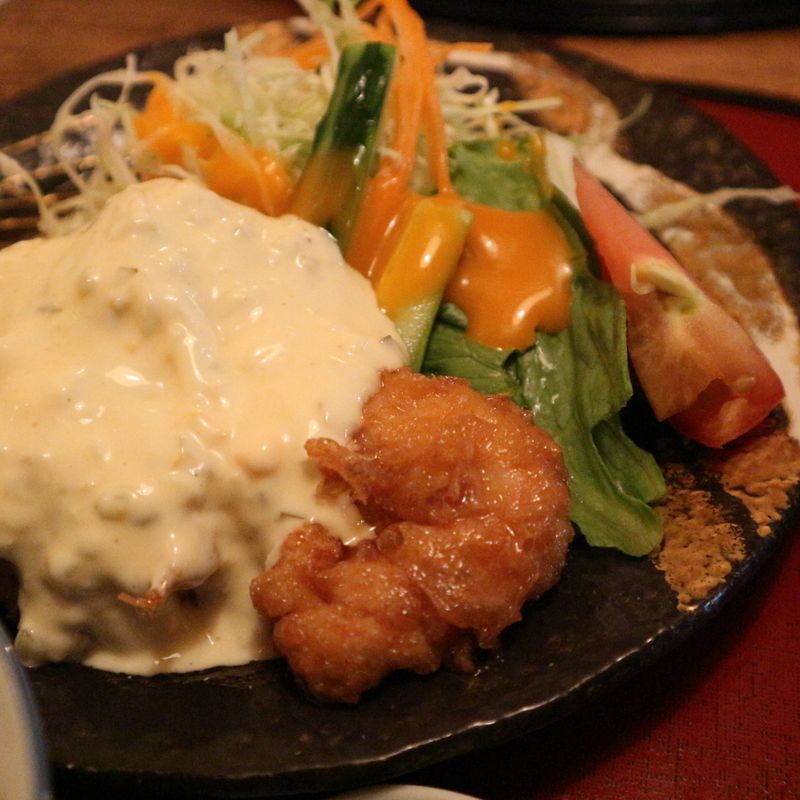 Trip Notes
The British Garden is free to enter but a little hard to find given that it's supposed to be one of the few sightseeing spots within Miyazaki the city. You'll really need a car to get here. The cottage has never served as an actual cottage, to the best of my knowledge. Rather it has a small cafe with a limited menu of tea, coffee, soft drinks, cake and toasted sandwiches. Think around 500 yen for individual items. Around 1,000 yen for sets. The few tables set outside make for the best atmosphere. Give it 20 mins to have a walk around if you're not stopping for food.
The drive from Miyazaki to Aoshima is straight forward enough. We took the Aoshima Bypass (Route 220) which was smooth going throughout our time in the region. The journey time from the airport to Aoshima is around 15 mins. Heading to / from downtown Miyazaki the traffic sometimes gets clogged up just south of the Oyodo River but it's nothing to be alarmed about and soon clears up.
Arrival at an airport like Miyazaki Bougainvillea Airport is always going to be hassle-free. We had pre-booked our rent-a-car with Budget. All the rental companies pick up at a spot just across the road from arrivals. Most of the offices are about 2 mins drive from the airport. It took only about 10 mins for Budget to set us up with our motor. (I think they had a lot of customers to get through!)
Surf seems to be fairly consistent at the break in front of the ANA Holiday Inn Resort Miyazaki. I didn't sense any local vibes and the line up was relaxed enough, although many surfers will take off when they want to take off, regardless of who else is around. Make sure to look left and right!
During the summer it's light enough to surf until around 6 pm (?) but the size seems to reduce throughout the day. At Aoshima breaks are shared between longboards and shortboards so if you're on the latter you may have to play second fiddle to the former but in my experience the were plenty of waves to go around.
The ANA Holiday Inn Resort Miyazaki is very accommodating of surfers with outdoor showers, board storage near the lobby, and no one batting an eye at soaking wet surfers riding the elevators with their boards.
---
2 Comments
Despite not being a surfer, this place looks amazing! I grew up not far from the ocean so being in the mountains these days is a contrast. Definitely miss the smell of saltwater in the air - I'll have to live vicariously through these pictures!

@genkidesu It's certainly a nice place, surfer or not. I will say though that the sun in these parts seems to be really strong compared to Tokyo (during summer) to the point that sightseeing can soon get quite uncomfortable. Anyway, I've become proper enamoured with Aoshima. I think I'd like to move here / there! If that happens I'll be asking you, @genkidesuka and others on here about living a more rural kind of life!