Jan 1, 2016
Yesterday, I wrote about lucky bags and shared the places you could buy them today, January 1st. This article shares places that offer them from tomorrow the 2nd of January. Snippets from yesterday's article explaining fukubukuro.
Lucky bags are a very popular New Year's tradition. ...福 fuku means luck and 袋 bukuro is a bag... It reminds me of a lucky dip in Ireland. ..some lucky bags are more famous than others. Shibuya 109 may possibly be the most famous. ...Meanwhile in Saitama...well, hmmm, not sure we have anything to the level of Shibuya 109, but there are some good ones. ...Be warned a lot of these lucky bags sell out within a day.
Please see the full article here: http://insaitama.com/new-years-day-in-saitama-lucky-bags/
TAKASHIMAYA, Omiya
Takashimaya close on New Year's day and open for business on the 2nd each year. They have a huge range of lucky bags, but they are only available on January 2nd. Also, it is quite common for them to sell out of certain popular ones. You can find details of the contents of their lucky bags IN ENGLISH on their website. Takashimaya is a one minute walk from Omiya Station.
URL: http://www.takashimaya.co.jp/store/special/fukubukuro/en.html


MARUI, Omiya
Marui also closes on January 1st and opens on the 2nd from 10am. They have lucky bags of popular brand goods. They will also have a separate sale to the lucky bags. Marui is right beside Omiya Station. Other branches of Marui in Saitama that have fukubukuro are:
MARUI, Shiki
SOKA MARUI, Soka
All three share the same website:
URL: http://www.0101.co.jp/index.html


LUMINE, Omiya
Lumine is another of the big department stores that closes on January 1st, opening on the 2nd with sales and fukubukuro. They have a number of different type of lucky bags on different floors, some with mens clothes, others with women clothes, some with beauty products, others with cosmetics. You can view their full catalogue for the 2016 lucky bags here: http://lumine.webcatalog.jp/fukubukuro/omiya/#page=1
URL: http://www.lumine.ne.jp/omiya/topics/topics_details.php?article_no=2436
Go on, treat yourself to one!! They're usually great value for money and a bit of craic too. If there are any really good lucky bags you know of, please do share the information in the comments below. :-)
Whatever you do this New Year, make it a good one. HAPPY NEW YEAR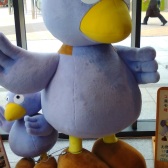 Level 8 LocalGuide with Google. Blogging about life in Japan as an Irish WAHM to 4 kids on insaitama.com.
---