Sep 6, 2018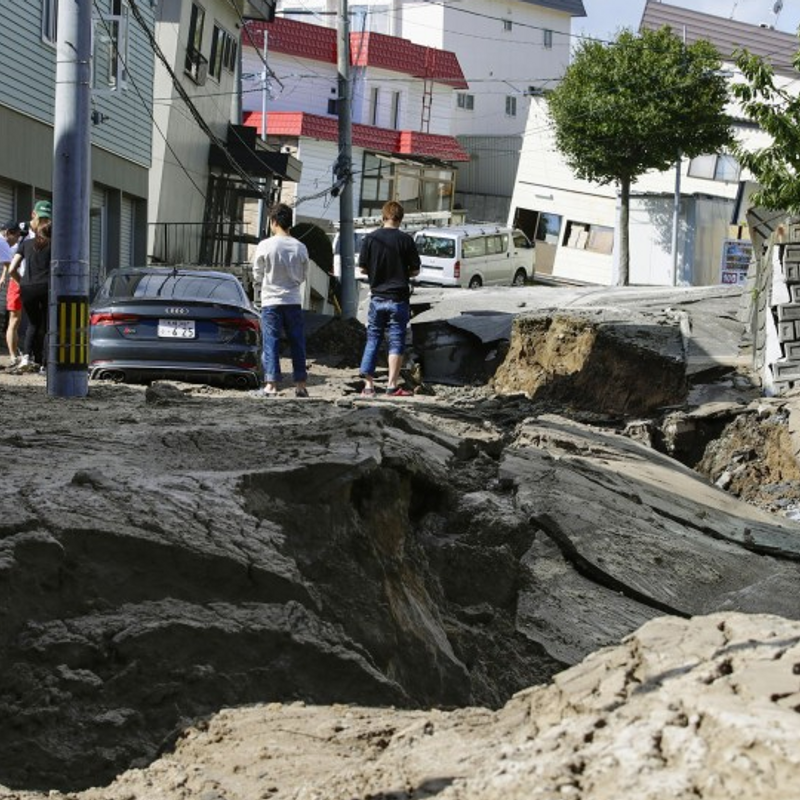 TOKYO - At least nine people died and about 300 people were injured after an earthquake with a magnitude of 6.7 rocked Japan's northernmost main island of Hokkaido early Thursday, destroying houses, cutting off roads and causing massive multiple landslides that buried parts of towns and left many mountains nearly bare.
The 3:08 a.m. quake also cut power supplies to all 2.95 million homes and a nuclear power plant in the prefecture while grounding flights and disrupting train services, authorities and other sources said. Power later returned in some areas.
About 30 people were missing and some 1,900 people were taking shelter at evacuation centers set up at more than 400 locations, according to police, rescuers and local authorities.
The government said the Self-Defense Forces are dispatching 25,000 personnel for relief operations.
The temblor, which occurred in southern Hokkaido at a depth of about 37 kilometers, registered the highest reading of 7 on the Japanese seismic intensity scale in Atsuma and upper 6 in Abira, both southeast of Sapporo. No tsunami warning was issued.
Smaller aftershocks continued and the Japan Meteorological Agency warned that earthquakes with a similar intensity could continue in the area for about a week.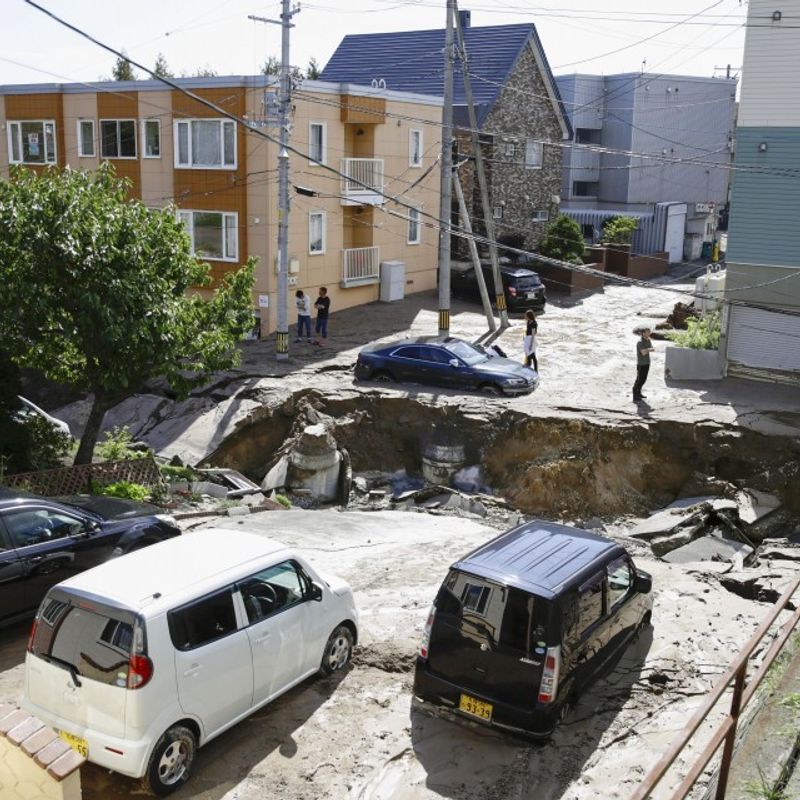 (A collapsed road in Sapporo)

A quake with an intensity of 7 was observed in 2016 in Kumamoto Prefecture, southwestern Japan as well as in March 2011 when a magnitude-9.0 megaquake devastated northeastern Japan.
The quake is the latest in a series of natural disasters that have rattled Japan this year and came just days after a fierce typhoon hit western Japan and forced the shutdown of Kansai International Airport, one of the country's key gateways.
The quake-prone country also saw an M6.1 quake that rocked Osaka Prefecture in June, which left five dead and over 370 injured.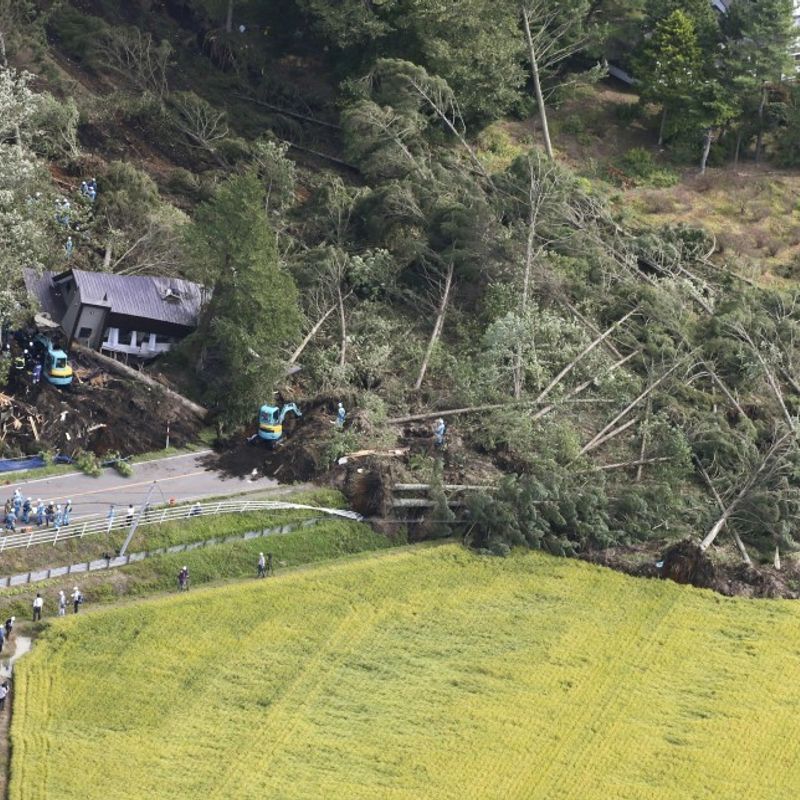 (Landslide in Atsuma)
In the Hokkaido quake, more than 20 houses were flattened in Atsuma and Abira after mountain slopes collapsed over them across wide areas, leaving vegetation only on the mountain ridges. In neighboring Mukawa, a man in his 80s was crushed by a chest that toppled on him, local police reported.
Massive landslides altered the landscape of some mountain ranges in the quake-hit area.
The idled Tomari nuclear power plant temporarily lost an external power source, forcing its operator Hokkaido Electric Power Co. to cool a spent fuel pool at its Nos. 1 to 3 reactors by an emergency power supply system, regulators said.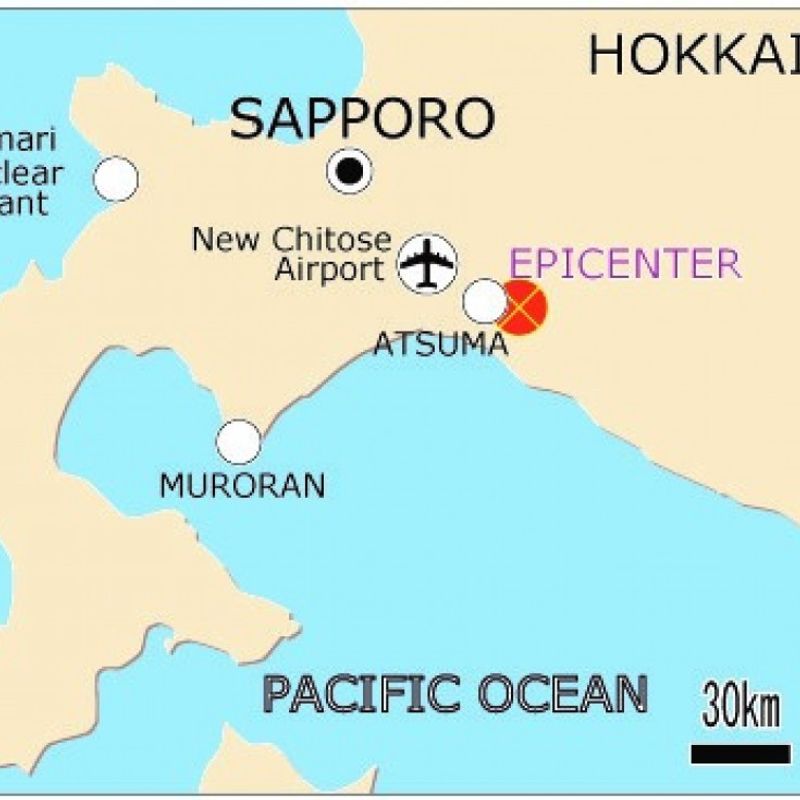 No abnormality has been detected in radiation levels around the plant, the Nuclear Regulation Authority said. Meanwhile, Tohoku Electric Power Co. confirmed no problems at the Higashidori nuclear power plant in Aomori Prefecture south of Hokkaido.
The power cut was caused after the Tomatoatsuma thermal power plant, which produces nearly half of the prefecture's electricity, stopped. An imbalance in power supply and demand has destabilized power-supply frequency, forcing other thermal power plants to come to an emergency halt, according to the plant's operator.
The blackout, the largest since the 1995 Great Hanshin Earthquake caused one affecting some 2.6 million households, also affected around 80 hospitals, telephone service and television broadcasting in Hokkaido.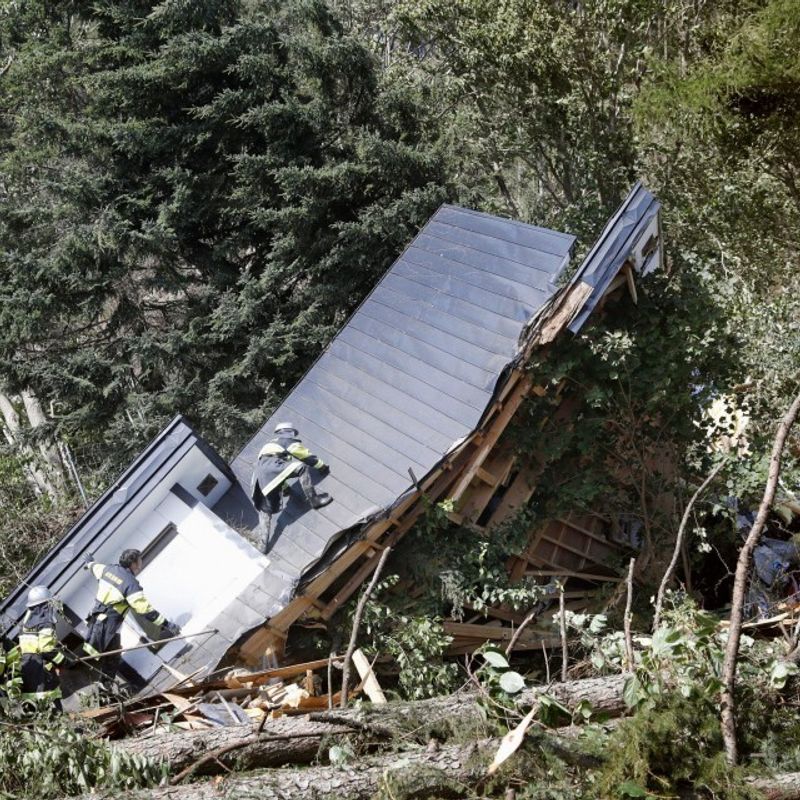 (Rescuers search for survivors at a collapsed house in Atsuma)
Hokkaido Electric said it would take at least a week for it to be able to provide power to all of its service areas.
Following the quake, a fire broke out at a petrochemical complex in Muroran and was later extinguished by firefighters.
Hokkaido has experienced a number of strong earthquakes in its history, including an M8.0 quake in 2003 with a quake intensity of lower 6 and an M8.2 quake with an intensity of 6 in 1994.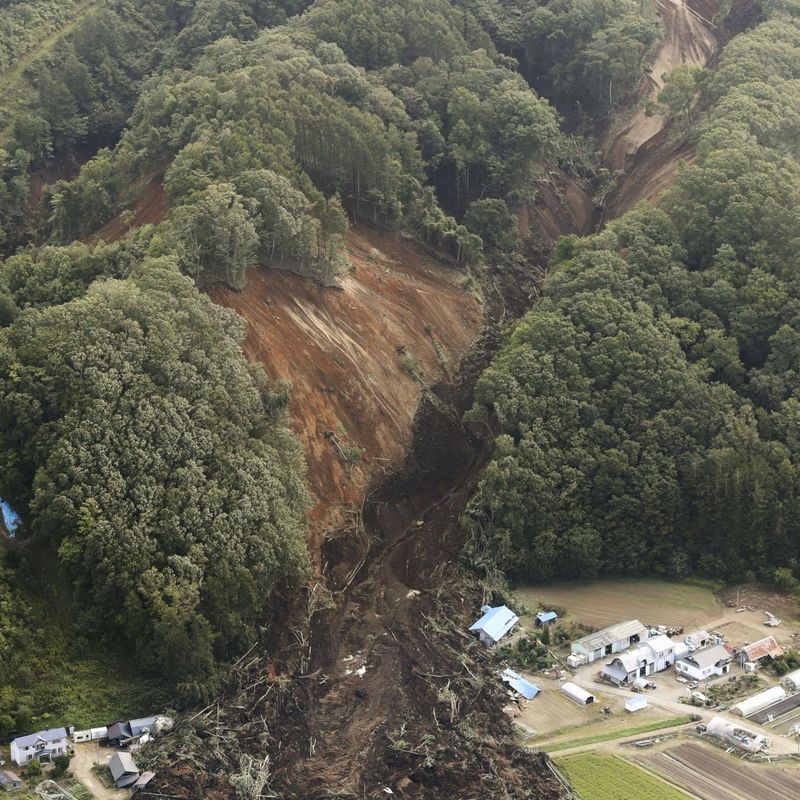 "It messed up my entire house. I've never experienced an earthquake like this," an 87-year-old man in Atsuma said.
New Chitose Airport, the main gateway to Hokkaido, is closed throughout the day after part of its terminal building ceiling collapsed, as well as due to a water leak and the power outage, the transport ministry said.
More than 200 flights were canceled, affecting over 40,000 passengers, and the airport's operator said it does not yet know when it can reopen as it is unclear when power can be restored. Hakodate and Asahikawa airports are operating.
All train services, including bullet train operations, in Hokkaido are suspended, operators said.
More than 1,300 public elementary, junior high and high schools decided to close for the day, according to the education ministry and the Sapporo government.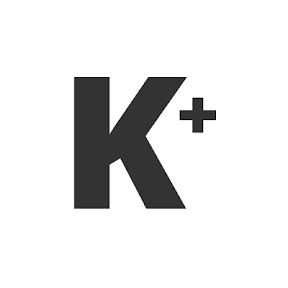 Kyodo News Plus is an online publication delivering the latest news from Japan. Kyodo News Plus collaborates with City-Cost to bring those stories related to lifestyle and culture to foreigners resident in Japan. For the latest news updates visit the official site at https://english.kyodonews.net
---