Apr 28, 2018
TOKYO - Japanese Prime Minister Shinzo Abe on Friday hailed the outcome of the inter-Korean summit and the leaders' pledge to achieve a nuclear-free Korean Peninsula.
"I welcome (the outcome) as the earnest discussion on denuclearization and other issues was a move toward the comprehensive resolution of various challenges surrounding North Korea," Abe told reporters at his office.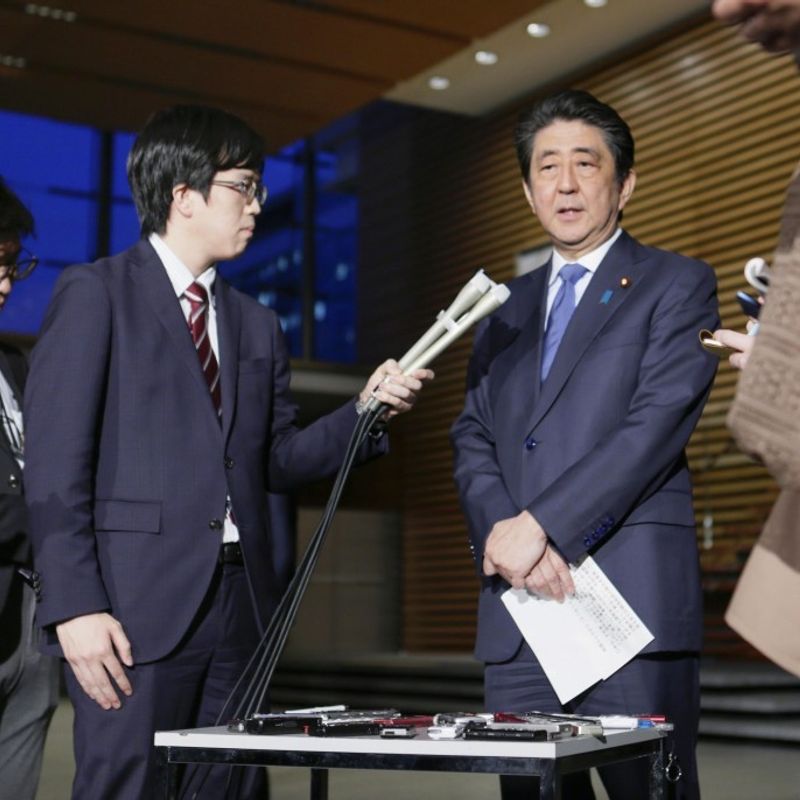 The prime minister said he will be briefed directly by the South Korean leader on the outcome very soon.
"I'm going to hear about (the summit) directly from President Moon Jae In by phone, and I want to ask him about the specific details, including his take on it," Abe said.
According to a diplomatic source, Moon is likely to call Abe as soon as Saturday. Abe moved his initially planned departure to the Middle East from Saturday to Sunday to make sure he can take Moon's call, the source said.
Japanese Foreign Minister Taro Kono is also expected to visit South Korea in early May to meet with his counterpart Kang Kyung Wha and be briefed by the South Korean side on the results of the summit, according to a government source.
It is unclear whether Moon and North Korean leader Kim Jong Un discussed the issue of Japanese nationals abducted by Pyongyang decades ago, as they did not touch on it in their joint statement or press conference.
Abe's government views resolving the abduction issue as a priority. In a phone conversation earlier this week, Abe asked Moon to raise the issue during the summit with Kim.
The Japanese government officially recognizes 17 people as having been kidnapped by the North in the 1970s and 1980s. Five of them were returned in 2002, but North Korea insists eight have died and the other four never entered its territory.
Abe recently agreed with U.S. President Donald Trump to maintain "maximum pressure" on North Korea until it addresses concerns about its nuclear weapons and missile development programs in a "complete, verifiable and irreversible" way. Trump is also expected to hold a summit with Kim by early June.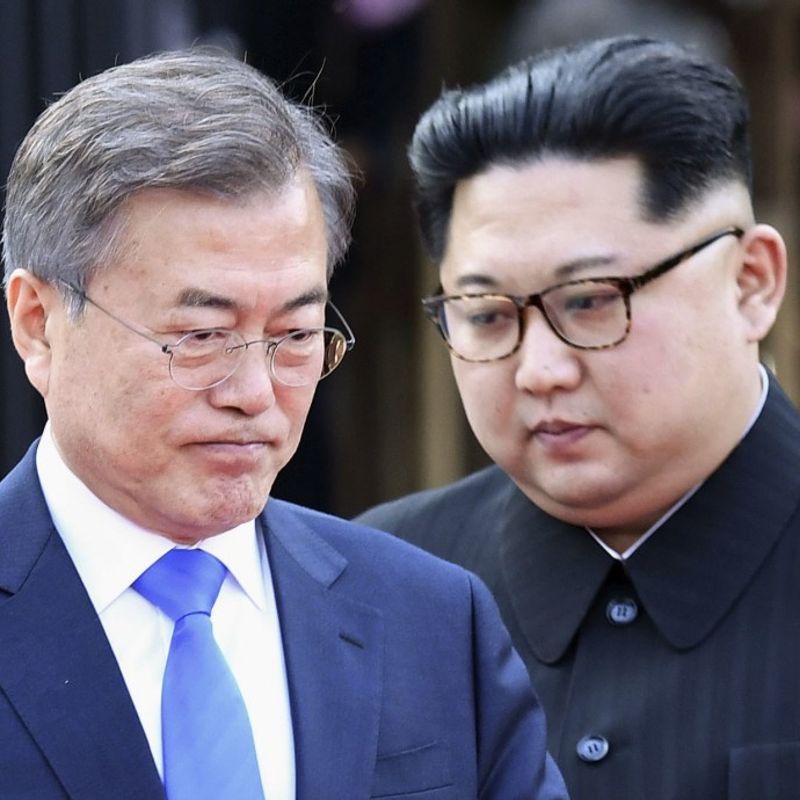 (Korea Summit Press Pool)

There are no apparently no plans right now to arrange summit talks between Abe and Kim.
Abe brushed off concerns that Japan has become isolated amid the diplomatic developments related to North Korea, saying Tokyo will closely coordinate with Washington and Seoul on policy toward Pyongyang.
On the abduction issue, he said in a parliament committee session Thursday that "while cooperation with the United States and South Korea is important, in the end we must resolve it (ourselves)."
After the summit, Kono released a statement saying there is no change to Japan's position that it will seek to normalize diplomatic relations with North Korea based on a joint declaration signed in Pyongyang in 2002 by then Prime Minister Junichiro Koizumi and Kim's father Kim Jong Il.
Kono said this would mean "comprehensively resolving the abduction, nuclear and missile (issues) and settling our unfortunate past." The unfortunate past mentioned in the declaration is understood to refer to Japan's colonial rule of the Korean peninsula.
Later, before departing from Tokyo's Narita airport on a trip to Jordan, Kono hinted at the possibility of resuming stalled negotiations with North Korea on the abduction issue.
"Japan's thoughts have been communicated to North Korea. I think there will be all sorts of movements from here on," Kono told reporters.
Defense Minister Itsunori Onodera stressed the need for "drawing concrete steps" by Pyongyang to resolve the abduction, nuclear and missile issues.
@Kyodo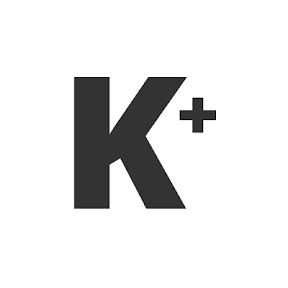 Kyodo News Plus is an online publication delivering the latest news from Japan. Kyodo News Plus collaborates with City-Cost to bring those stories related to lifestyle and culture to foreigners resident in Japan. For the latest news updates visit the official site at https://english.kyodonews.net
---