Jul 15, 2018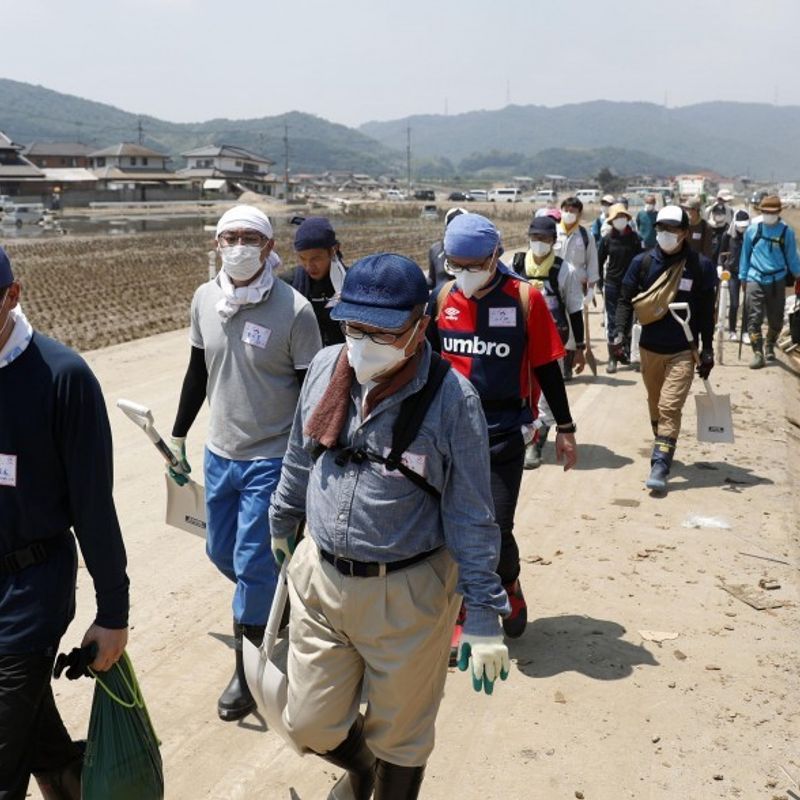 OSAKA - Thousands of volunteers rushed to western Japan regions ravaged by the worst rain disaster in decades on Saturday, the first day of a three-day weekend, as residents braved the scorching heat to remove mud and debris.
The highest temperatures for the year in some areas in the hardest-hit prefectures of Okayama, Hiroshima and Ehime made relief efforts more challenging. More than 130 people in the three prefectures were taken to hospitals for suspected heat exhaustion, of which one elderly woman died, according to local authorities.
The death toll from the past week's torrential rains stood at 209 as of Saturday, the National Police Agency said. A Kyodo News tally shows 27 people are still unaccounted for.
Prefectural governments in the three prefectures expect some 18,000 volunteers from across the country to help flood victims in their cleanup efforts during the three-day weekend through Monday.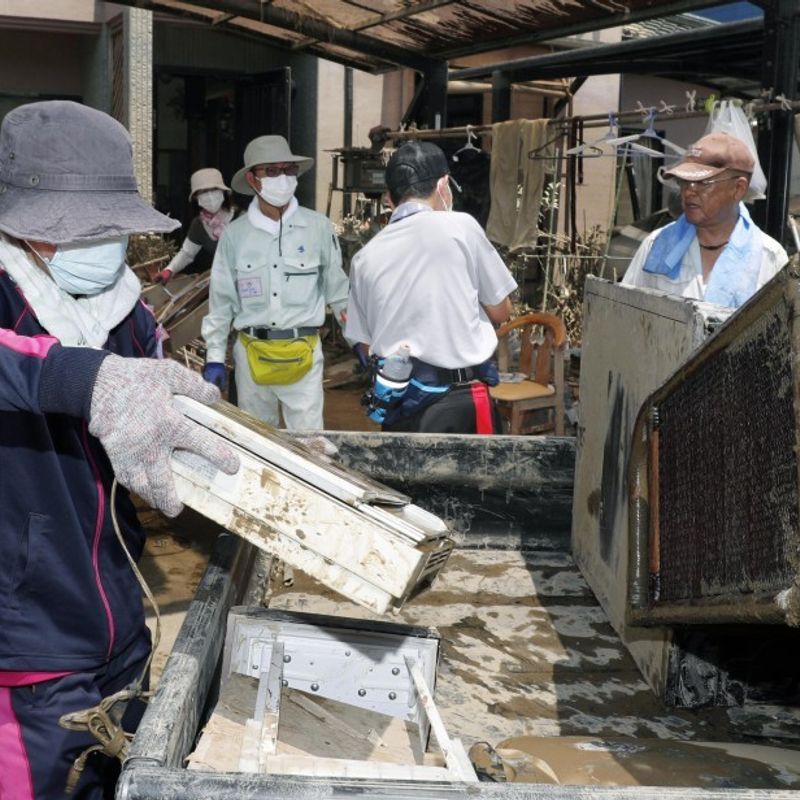 About 40 volunteer management centers have been set up in those three prefectures, according to the Japan National Council of Social Welfare.
"I've wanted to offer my help. I'll do my job but under this scorching heat, I'll take utmost care of my physical condition," said Yasuharu Wakisaka, a 40-year-old social welfare worker who came from Shiga, near Osaka.
As the mercury rose to 34.9 C, the highest this year, in Kurashiki, Okayama, volunteers gave out shaved ice to children battling the heat in a shelter where around 300 people have been evacuated.
Nationwide, over 160 homes were destroyed and about 700 suffered structural damage among more than 25,600 that were flooded in 31 of the country's 47 prefectures, the internal affairs ministry said. As of Friday afternoon, 5,800 people were still unable to return to their homes, it said.
Many local governments, while continuing work to restore transportation infrastructure, have struggled to secure enough food and accommodation in their preparations to receive disaster volunteers.
The city of Kurashiki only accepted volunteers from among its own residents initially, although their activities had to be suspended at one point due to heavy traffic congestion caused by transport network disruption.
The city has secured a large parking area in a coastal area and began accepting volunteers from outside the city Saturday.
The Hiroshima government has secured thousands of shovels and carts for volunteers to use.
"Local officials are too busy with relief operations such as managing evacuation shelters to join recovery efforts. We want to get as much help as possible," said one prefectural government official.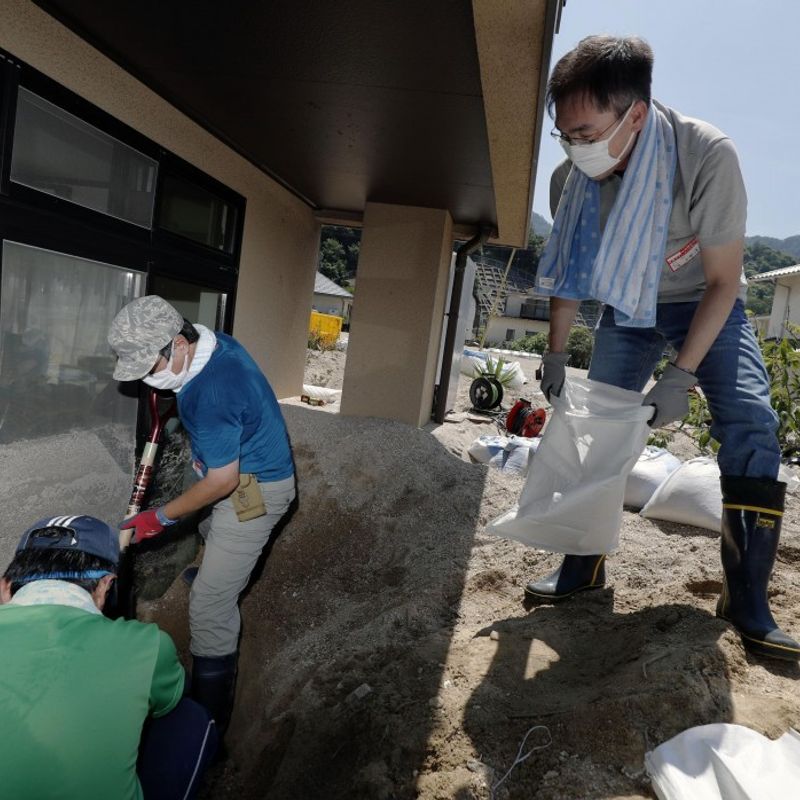 Manpower shortages have kept progress slow in cleaning up flooded houses.
"It takes at least four adults to lift a wet tatami mat. We're facing endless work," said Shinichiro Okabe, a 66-year-old Kurashiki resident taking part in relief work.
Madoka Maekawa, 28, volunteered with her husband to help residents in the city of Uwajima, Ehime, where she is originally from after seeing the area's devastation on TV.
"It hurts me to see the scene which no longer looks like what I know it to be. Homes of my friends here also suffered damage so I want to give whatever help I can," said Maekawa, who now lives in the neighboring Kagawa Prefecture.
Yutaka Akutsu, a 44-year-old who works near Tokyo, said he came to Kurashiki with six of his colleagues. His family's home in Fukushima suffered tsunami damage following the massive quake in 2011, he said.
"Volunteers helped my family out (in 2011) so I wanted to give back in some way," he said.
Prime Minister Shinzo Abe canceled his trip to Hiroshima planned for Sunday, his office said. He has pain in his right hip joint and his doctor told him reduce movement in it as much as possible for a few days, according to a source with knowledge of the situation.
@Kyodo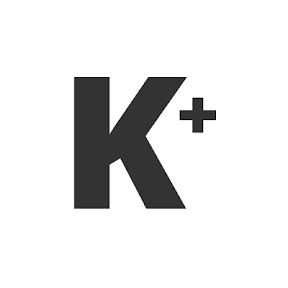 Kyodo News Plus is an online publication delivering the latest news from Japan. Kyodo News Plus collaborates with City-Cost to bring those stories related to lifestyle and culture to foreigners resident in Japan. For the latest news updates visit the official site at https://english.kyodonews.net
---