Jul 6, 2018
TOKYO - AUM Shinrikyo cult founder Shoko Asahara, who was convicted of numerous murders including the 1995 sarin gas attack on the Tokyo subway system, was executed Friday along with several followers, sources close to the matter said.
Asahara, 63, whose real name was Chizuo Matsumoto, was sentenced to death for masterminding the subway attack and other acts that resulted in the deaths of 29 people. He was among 13 people placed on death row in connection with the string of crimes perpetrated by the doomsday cult.
Police are set to increase vigilance toward the cult's successor organization, Aleph, following the executions ordered by Justice Minister Yoko Kamikawa, the sources said.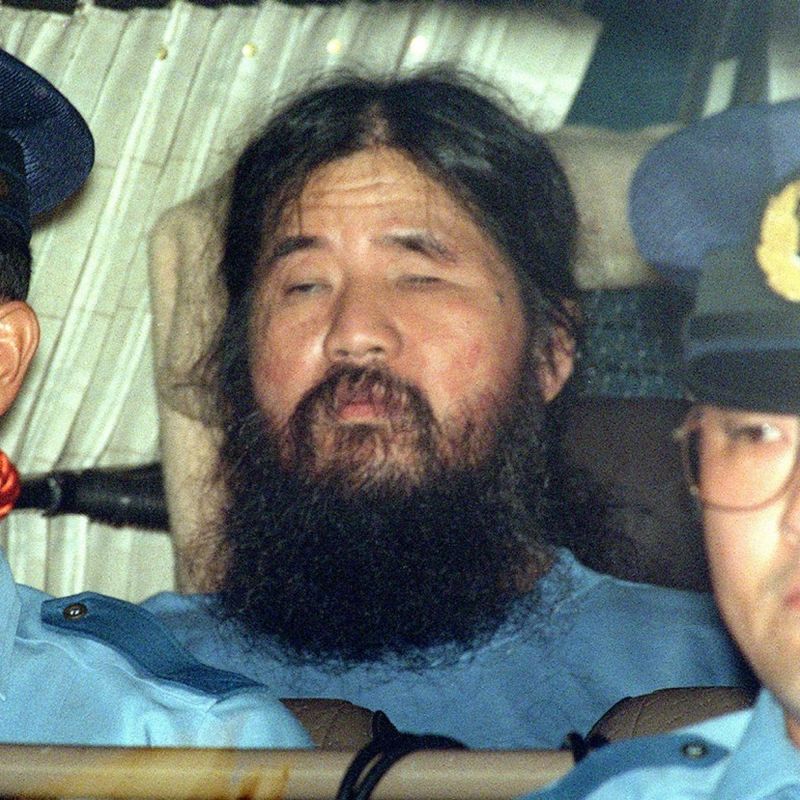 (File photo taken in 1995 shows Asahara in a vehicle at the Tokyo Metropolitan Police Department)

Asahara was arrested in May 1995, just under two months after the March 20 subway attack, which claimed the lives of 13 people and left more than 6,200 others injured.
In a February 2004 ruling, the Tokyo District Court found Asahara guilty of all 13 charges and sentenced him to death, saying, "We cannot help saying that the motivation and purpose of the crimes were too outrageous and ridiculous, as he tried to control Japan in the name of salvation."
------
The following are brief descriptions of three major criminal cases involving the AUM Shinrikyo doomsday cult.
Tokyo subway sarin gas attack
Under instructions from AUM leader Shoko Asahara, 15 senior members conspired to take plastic bags containing sarin liquid onto five Tokyo subway trains and release the poison by puncturing the bags with umbrellas, vaporizing the nerve agent, during the morning rush hour on March 20, 1995.
The attack, one of Japan's worst terrorism incidents, killed 13 people and injured over 6,200.
Matsumoto sarin attack
Under instructions from Asahara, several AUM members released sarin gas from a vehicle mounted with a spraying device at a parking lot in a residential district of the city of Matsumoto, Nagano Prefecture, central Japan, on the night of June 27, 1994.
The attack killed eight people and injured more than 100.
Lawyer Sakamoto murder
Under instructions from Asahara, six AUM members strangled 33-year-old lawyer Tsutsumi Sakamoto, who had been helping parents seeking to free their children from the cult's control, as well as his 29-year-old wife Satoko and their 1-year-old son Tatsuhiko, after sneaking into the family's home in Yokohama, near Tokyo, in the early hours of Nov. 4, 1989.
------
Asahara was also convicted of masterminding a June 1994 sarin gas attack in Matsumoto, Nagano Prefecture, which killed eight people and injured more than 100.
He was also convicted of the murders of lawyer Tsutsumi Sakamoto, who had been helping parents seeking to free their children of the cult's control, and his wife and their 1-year-old son in November 1989. The death sentence against him was finalized in 2006.
After his arrest and the start of his trial in April 1996, Asahara began exhibiting baffling behavior in the courtroom and detention facilities, often remaining silent or just mumbling.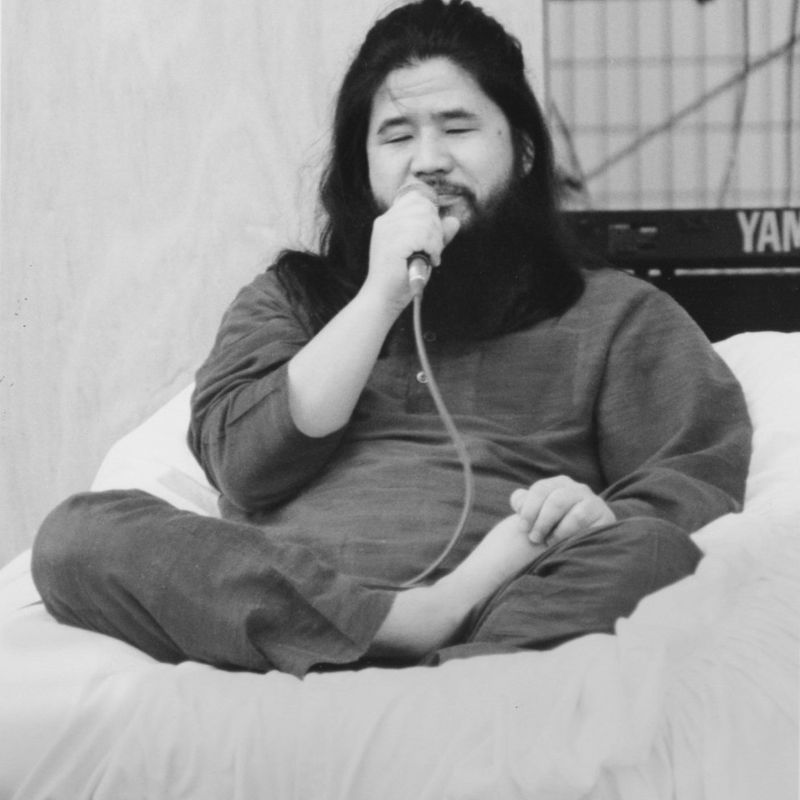 (Asahara, in this file photo taken in October 1990, preaches to believers at Yoyogi Park in Tokyo)
His execution came as a slew of trials involving AUM members came to an end after more than 20 years with the Supreme Court's decision on Jan. 18 to reject an appeal against a life sentence filed by Katsuya Takahashi, the last former member on trial.
Japan forgoes executing death row inmates if an accomplice is still on trial. Around 190 people were indicted for crimes involving AUM Shinrikyo, and Asahara's first trial alone took seven years and 10 months to complete at the Tokyo District Court.
AUM evolved from a yoga school established by Asahara in 1984. It renamed itself to Aleph in 2000 and two splinter groups have been formed, including one established by high-profile former member Fumihiro Joyu.
The Public Security Intelligence Agency has continued to monitor the groups, believing they were still under the influence of Asahara. The followers of the three groups total about 1,650 in Japan and about 460 in Russia, while the groups hold more than 1 billion yen ($9 million) in assets, according to the agency.
Asahara told his followers he is the incarnation of Shiva, the Hindu god of destruction and regeneration, and urged them to entrust themselves and their assets to Shiva and himself for life, according to prosecutors who indicted him.
After he and 24 other AUM members unsuccessfully ran in the House of Representatives election in 1990 in an attempt to take over the state, he started planning mass murders of members of the public in revenge, according to the prosecutors.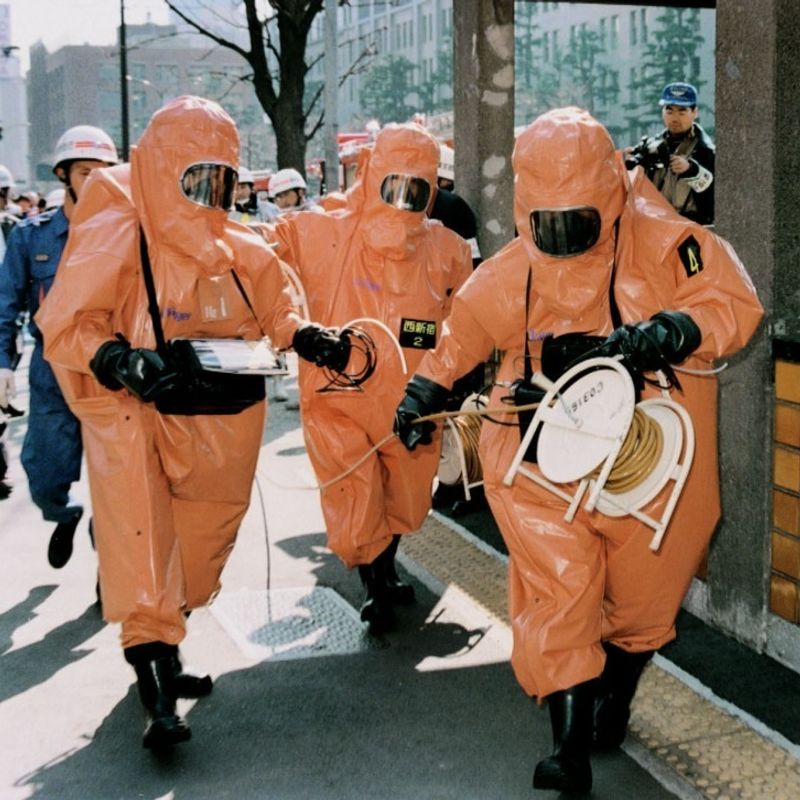 (A squad from the Tokyo Fire Department in this file photo taken on March 20, 1995, work near Kasumigaseki Station in Tokyo, after the sarin gas attack)
@Kyodo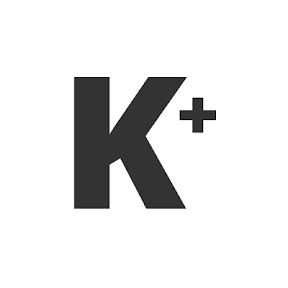 Kyodo News Plus is an online publication delivering the latest news from Japan. Kyodo News Plus collaborates with City-Cost to bring those stories related to lifestyle and culture to foreigners resident in Japan. For the latest news updates visit the official site at https://english.kyodonews.net
---