Jan 17, 2018
KOBE - The western Japan city of Kobe and neighboring areas on Wednesday marked the 23rd anniversary of the magnitude 7.3 earthquake that claimed the lives of 6,434 people, with many vowing to pass on the lessons learned from the disaster to future generations.
Survivors and residents braved the rain to observe a moment of silence at 5:46 a.m., the moment on Jan. 17, 1995, when the Great Hanshin Earthquake struck the port city west of Osaka, devastating the area.
At a memorial event held at a Kobe park, citizens lit some 7,000 bamboo lanterns arranged to spell out the date of the disaster along with the Chinese character meaning "passing on," representing the wish of the city's residents that victims are not forgotten.
On behalf of survivors, Toshio Sai, a 76-year-old second-generation Korean resident in Japan, said he wants to "overcome his grief while building a comfortable town to live in" for the sake of his 20-year-old son who was killed in the quake.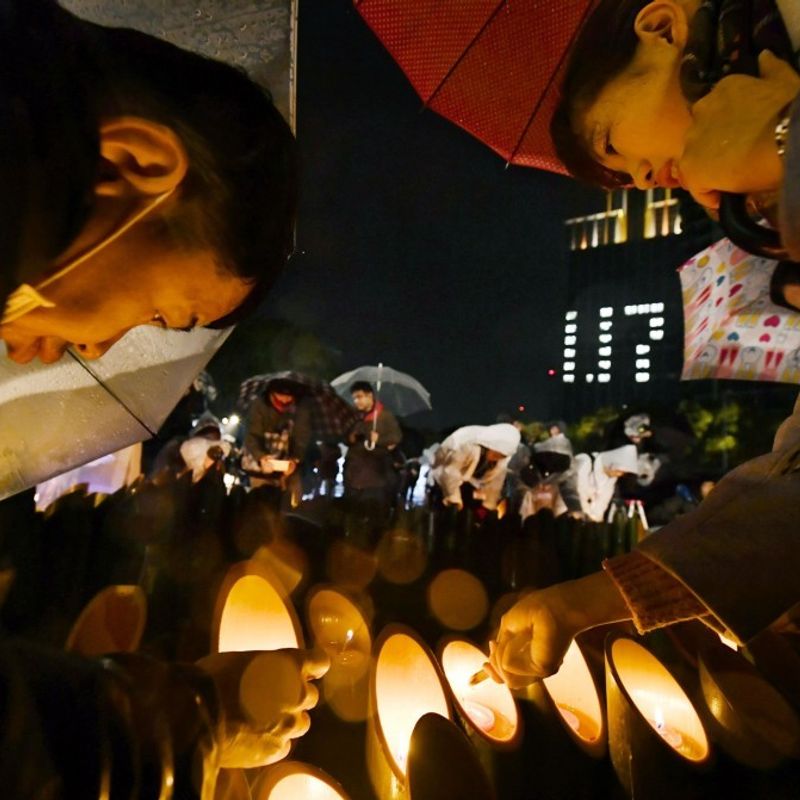 With an increasing number of Kobe residents not having experienced the disaster, the city faces difficulty in sharing the lessons learned and keeping memories alive.
But handing down experiences to the younger generation is considered crucial as Japan has seen a slew of devastating earthquakes, volcanic eruptions and typhoons in recent years and is even bracing for an anticipated Nankai Trough megaquake.
Satoe Hirashima, a 38-year-old Kobe resident who lost a 4-year-old relative in the quake, said, "I still recall his friendly smile. I want to talk not just about the number of victims but keep talking about (such memories) as the evidence that they lived."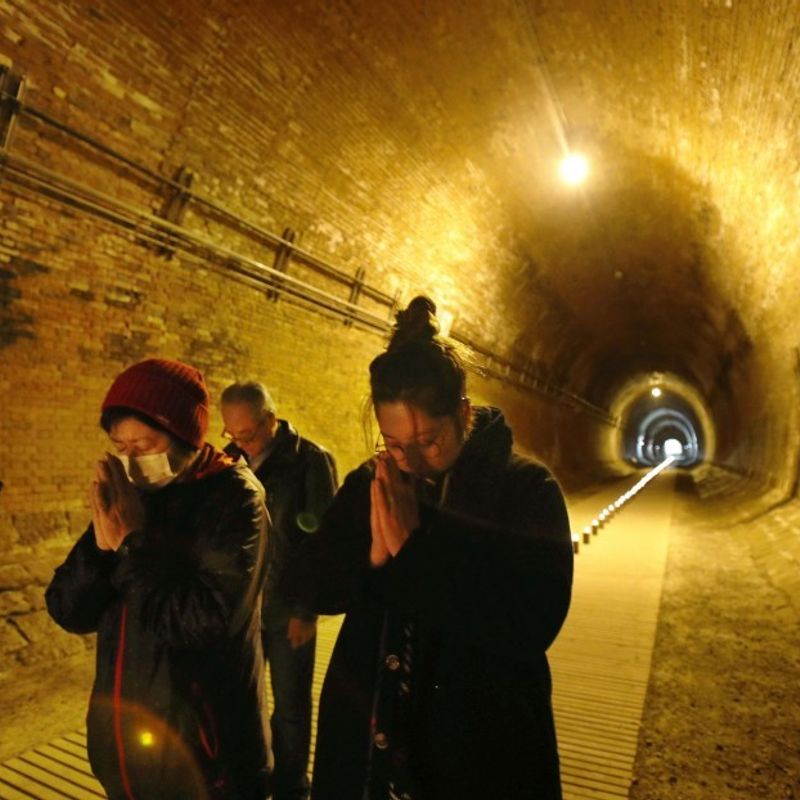 Among the participants of the memorial event who was born after the disaster, Reo Yamamoto, 18, said, "As an increasing number of people have not directly experienced the quake, I think it is our responsibility to listen to the accounts of survivors and pass them on to the next generation."
Yamamoto, a third-year high school student, plans to study disaster prevention at university from this spring.
Pledging to build a disaster resilient city, Kobe Mayor Kizo Hisamoto said, "We will continue to remember support offered to us and keep contributing to disaster prevention and reduction."
In a spirit of solidarity, survivors of a 2011 deadly earthquake and tsunami that hit northeastern and eastern Japan regions also offered silent prayers elsewhere in Japan.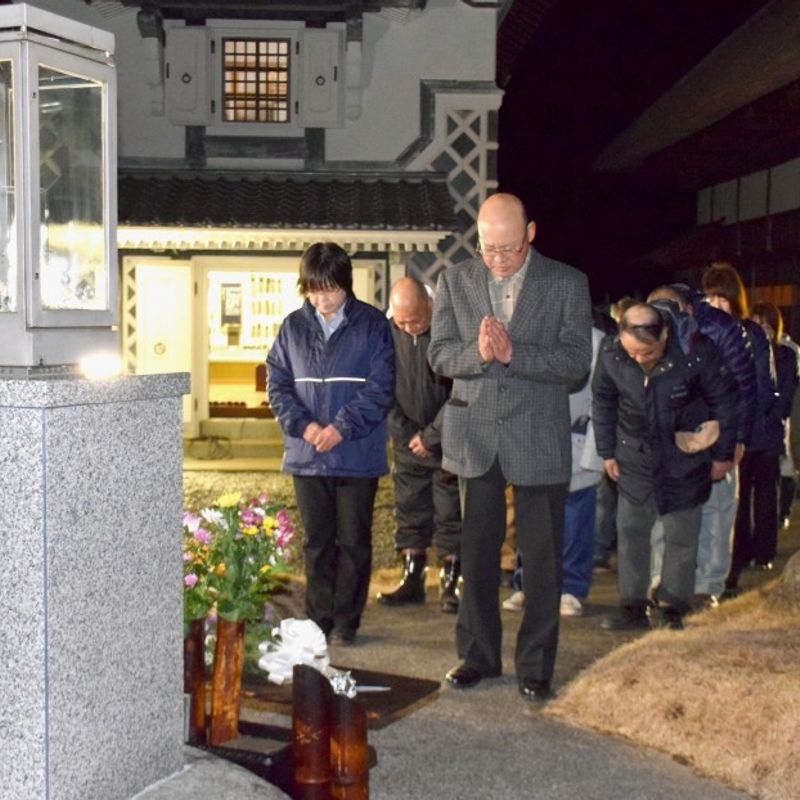 Some of them joined a memorial ceremony for the 1995 quake held at a park in the city of Nishinomiya in Hyogo Prefecture along with more than 100 local participants.
Kosei Yamada, a 13-year-old junior high school student who was forced to leave his apartment as a result of the 2011 tsunami, said, "A disaster saddens many people. I do not want to see it happen again."
Fumio Minematsu, a 69-year-old resident of Nishinomiya who lost his nephew, a fourth-grade elementary school student 23 years ago, wiped away his tears in front of a cenotaph in the park commemorating more than 1,000 victims of the 1995 quake.
"(My nephew) was a cute and lively boy who loved soccer. I just wonder how he would have grown up if he were alive," Minematsu said.
In addition to the 6,434 killed, the early morning quake left some 43,000 others injured and damaged 640,000 buildings. As many as 310,000 people took refuge at emergency shelters.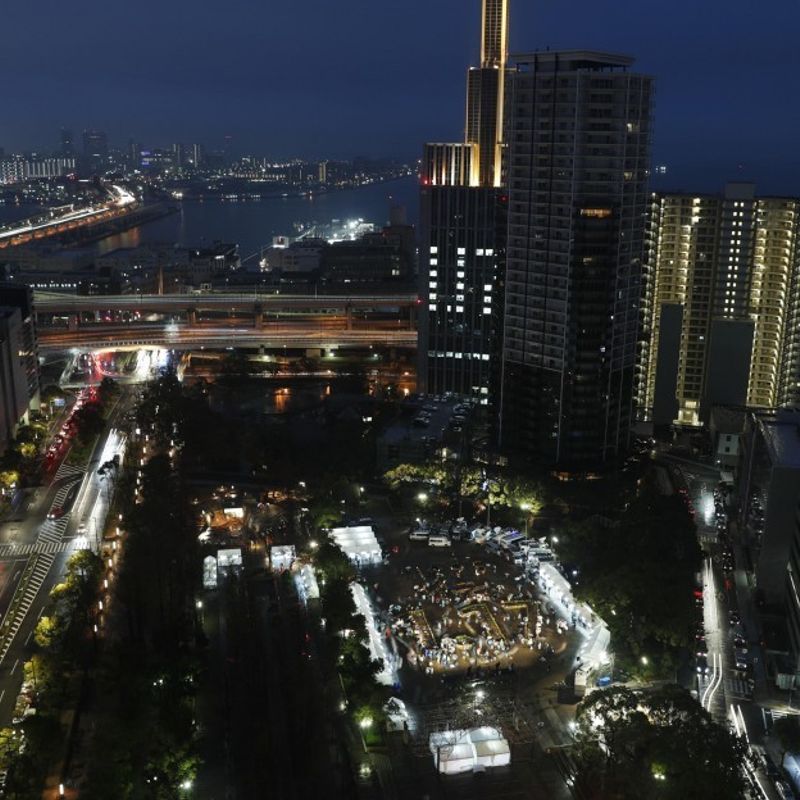 © KYODO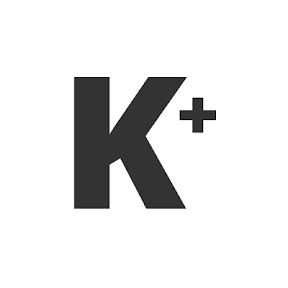 Kyodo News Plus is an online publication delivering the latest news from Japan. Kyodo News Plus collaborates with City-Cost to bring those stories related to lifestyle and culture to foreigners resident in Japan. For the latest news updates visit the official site at https://english.kyodonews.net
---