Sep 5, 2018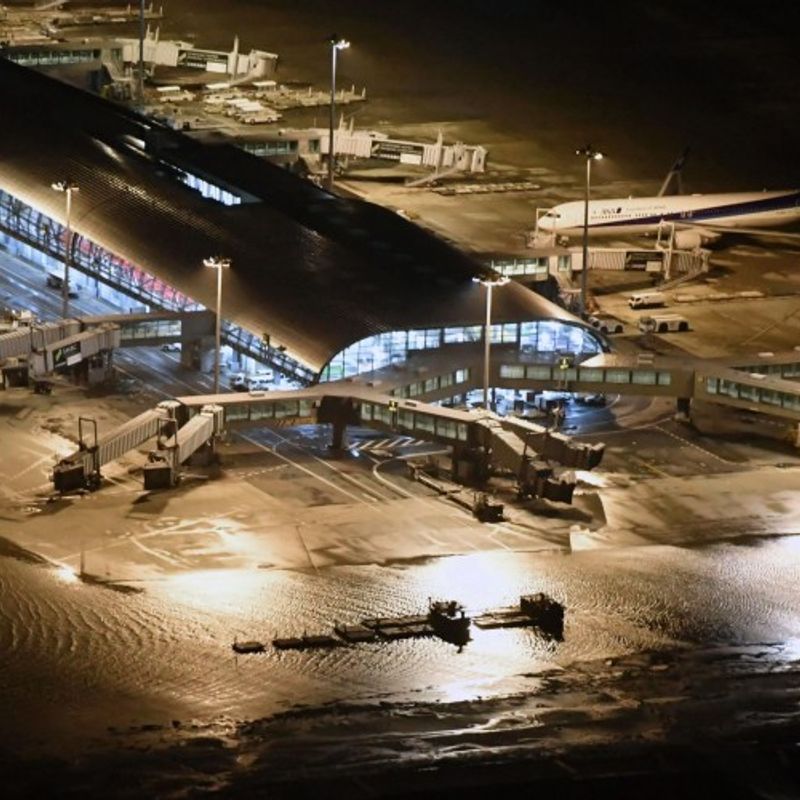 OSAKA - About 5,000 people stranded at Kansai International Airport due to a powerful typhoon that caused a tanker to smash into a bridge linking the transport hub to the mainland were being transferred Wednesday to nearby Kobe airport aboard high-speed boats.
Some 3,000 passengers and 2,000 staff were waiting to be transported away from the closed airport. A number of passengers who were successfully relocated complained that Kansai airport was under-prepared for such a disaster.
They said air-conditioning did not function and an insufficient number of blankets were provided for their overnight stay at the facility.
"We could not use vending machines that were supposed to work at a time of a disaster, or Wi-Fi," said 51-year-old Hideko Senoo, who was planning to fly to India with her family.
Kansai airport, one of the biggest in Japan, remained closed and over 200 flights were canceled for Wednesday, affecting over 30,000 people.
One of its two runways and the basement floor of a terminal building were flooded a day earlier due to strong winds and high waves from Typhoon Jebi.
A decision is yet to be made about when the airport will reopen, according to its operator.
An airline source said the airport will remain closed on Thursday, but the government set up a taskforce at the prime minister's office aimed at quickly getting it back up and running.
Three high-speed boats linking Kansai and Kobe airports across Osaka Bay carried stranded people every 15 to 20 minutes, with each boat accommodating 110 people at a time.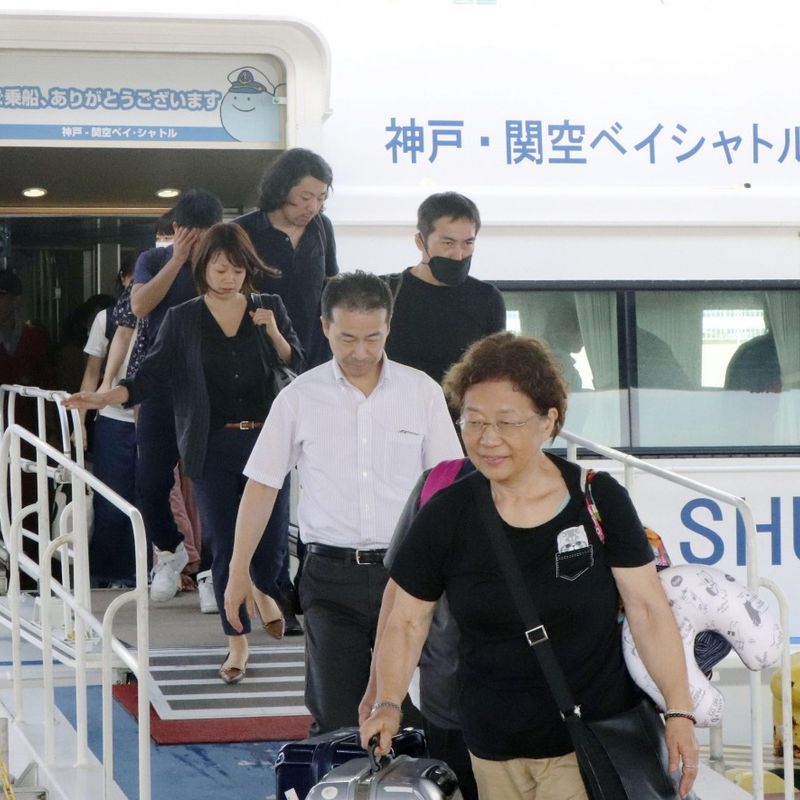 Miki Yamada, 25, who arrived at Kobe airport around 6:50 a.m. on the first boat said she was planning to leave for Thailand with her friend but was forced to spend the night at an airport cafe.

"I was worried as I could not get information," she said.
On Tuesday afternoon, the 2,591-ton Houn Maru, which had been anchored in Osaka Bay, was swept into the approximately 3,700-meter-long bridge, the airport's only land connection to the mainland. The airport sits on a manmade island in the bay.
The tanker was towed by a tugboat some 400 meters away from the bridge around 3 a.m. Wednesday, revealing the severed road on the southern half of the bridge.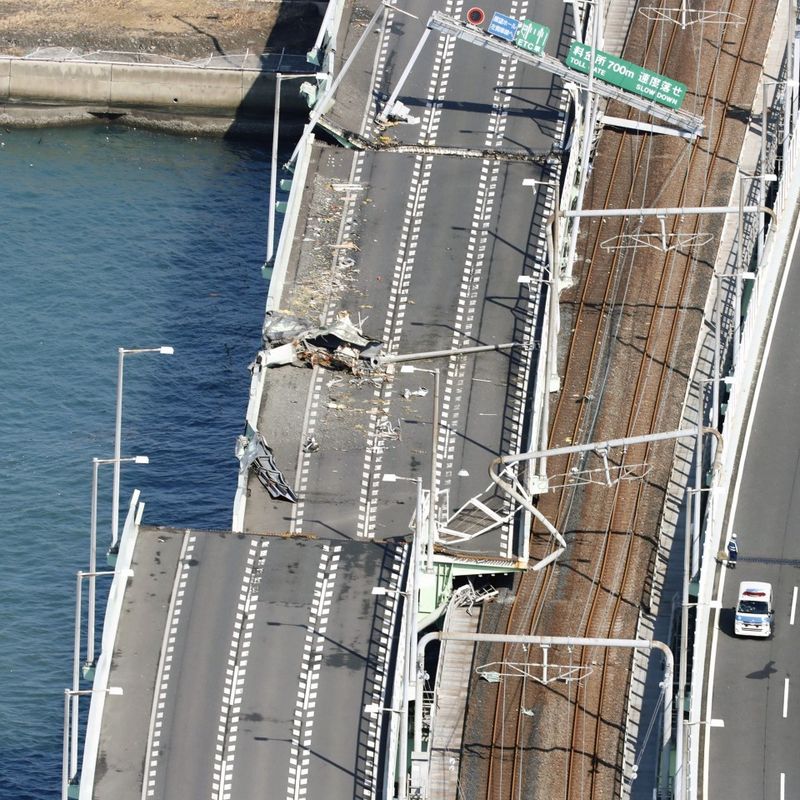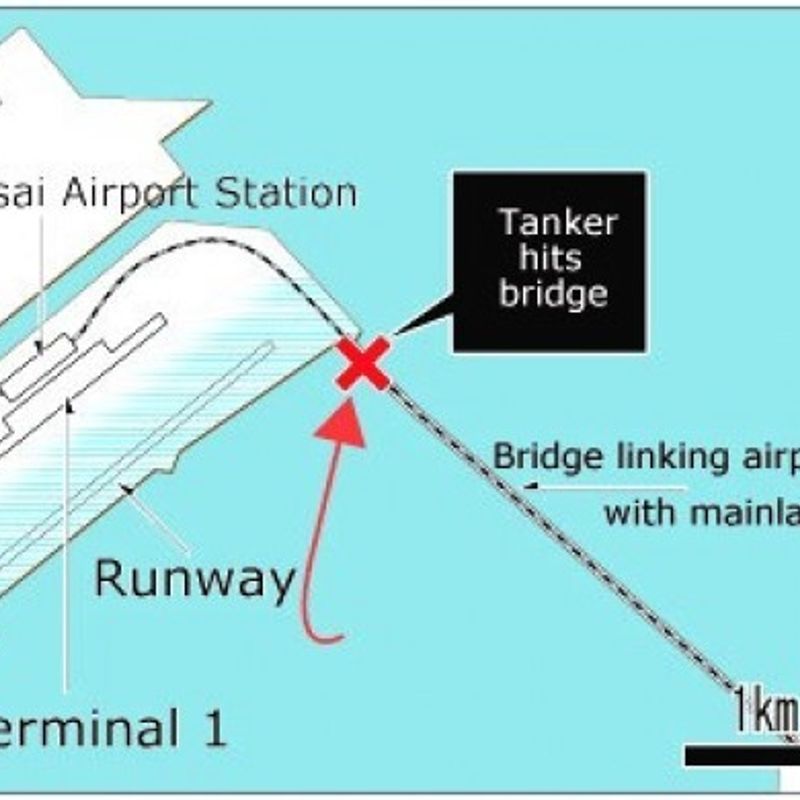 Those stranded at the airport building Tuesday, part of which suffered a power outage, were given dry biscuits, water and blankets and stayed overnight in the facility, with the operator also making available a conference room at an adjacent hotel.
Some people who were not provided blankets had to sleep on newspapers spread on the floor, witnesses said.
The Kansai airport operator said the stranded people may also be transported by bus to the mainland using lanes not damaged by the ship's collision with the bridge.
Prime Minister Shinzo Abe said in a Facebook post Wednesday that 25 buses had arrived at Kansai airport to transport the stranded passengers.
He also revealed that a power outage affecting 1.2 million households in the Kinki and Shikoku regions had been resolved.
The government's Japan Transport Safety Board is set to dispatch three investigators to Kansai airport on Wednesday to probe the tanker collision and interview its crew.
About 160 elementary school pupils have also been stranded since Tuesday in a facility where they were staying while on a school trip in Kyoto, near Osaka, after fallen trees blocked surrounding roads, local officials said.
Of the pupils, two -- a girl and a boy -- fell ill and were taken to a hospital by helicopter on Wednesday morning, according to officials from the Kyoto city board of education.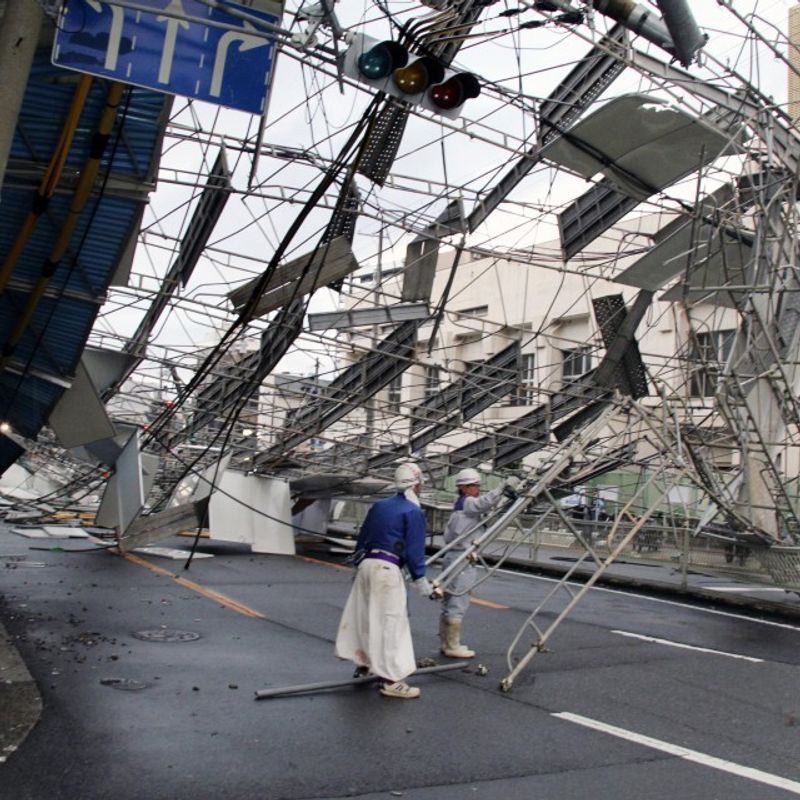 While the sky cleared, many businesses were forced to deal with the aftermath of the catastrophic typhoon.
USJ Co. said Wednesday it will keep Universal Studios Japan in Osaka closed for a second day, the first time it has been closed for two consecutive days since it opened in 2001, as it needs to clean up and repair damage caused by strong winds. It plans to open on Thursday, it said.
The typhoon, the first since 1993 to make landfall on Japan's main islands when categorized as "very strong" by the weather agency, left 11 people dead and more than 200 injured after ripping through western Japan.
The season's 21st typhoon weakened to an extratropical cyclone near Sakhalin in Russia's Far East at around 9 a.m. Wednesday, according to the Japan Meteorological Agency.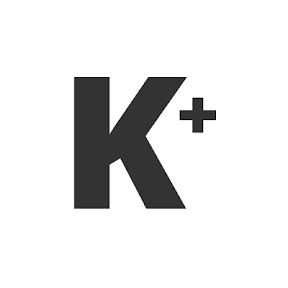 Kyodo News Plus is an online publication delivering the latest news from Japan. Kyodo News Plus collaborates with City-Cost to bring those stories related to lifestyle and culture to foreigners resident in Japan. For the latest news updates visit the official site at https://english.kyodonews.net
---