Oct 4, 2018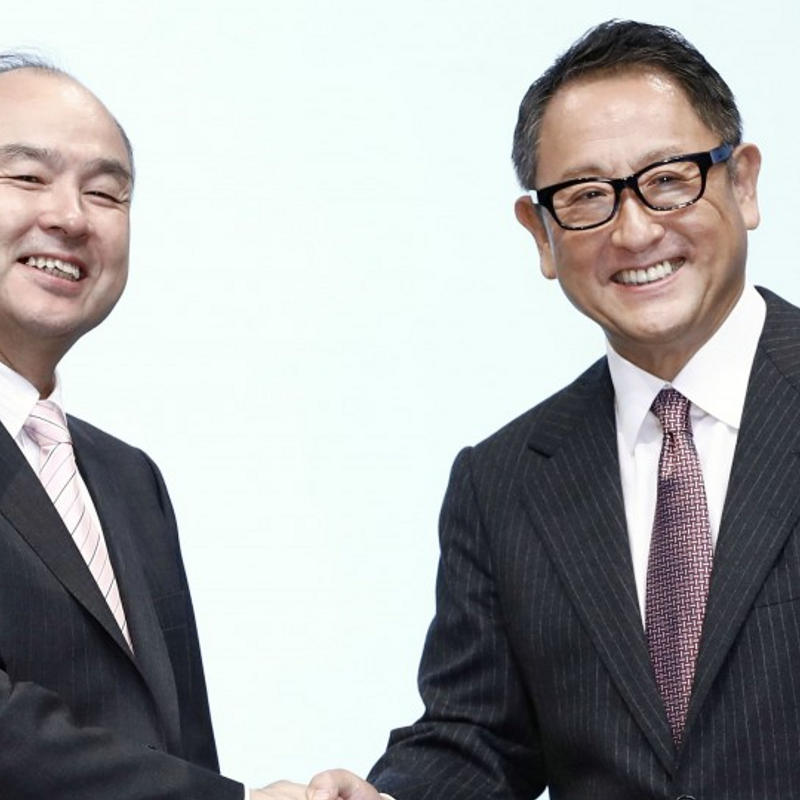 TOKYO - Toyota Motor Corp. and SoftBank Corp. said Thursday they have tied up to develop services using self-drive vehicles and other advanced automotive technologies, the latest example of a carmaker joining hands with an IT firm in the fast-evolving auto industry.
Under the strategic partnership, the two Japanese groups will set up a joint venture by next March that will aim to offer sometime before 2025 services such as meal delivery via autonomous vehicles.
SoftBank will own a 50.25 percent stake and Toyota a 49.75 percent stake in the venture named Monet Technologies Corp., which will be capitalized initially at 2 billion yen ($17.5 million), increasing to 10 billion yen in the future, they said.
"The tie-up between Toyota, the world's leading mobility company, and SoftBank, which is focused on artificial intelligence that will redefine all industries including auto, will lead to an unprecedented mobility of the new era," SoftBank Group Chief Executive Officer Masayoshi Son said at a joint news conference with Toyota President Akio Toyoda in Tokyo.
"Monet is only the first stage. I am hoping that the collaboration will further expand and deepen into the second, third stages," Son said.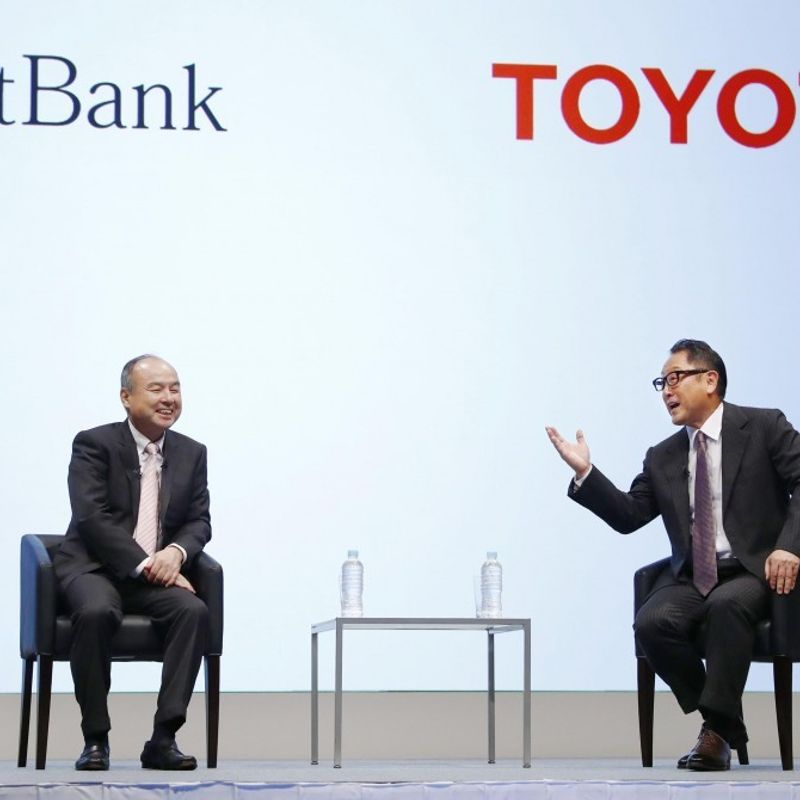 SoftBank is stepping up investment in mobility companies across the global such as ride-sharing operators Uber Technologies Inc., Didi Chuxing Technology Co. of China, Ola of India and Grab Taxi Holdings Pte Ltd. of Singapore. Softbank has also said it will invest $2.25 billion in General Motors Co.'s autonomous vehicle unit Cruise.
Toyota, meanwhile, is strengthening efforts to ally with IT companies outside the auto industry such as Uber.
As the auto industry faces a dramatic shift in demand from owning cars to sharing them, the partnership between the auto and technology giants is part of a wave of cross-industry alliances -- including ones involving such IT giants as Apple Inc. and Google LLC -- in developing autonomous driving technology.
Honda Motor Co. said Wednesday it will invest $2.75 billion in a project with GM and its Cruise unit to develop an autonomous vehicle. The same day the alliance formed by Renault SA, Nissan Motor Co. and Mitsubishi Motors Corp. said it is exploring a tie-up with Daimler AG of Germany in developing self-driving technologies.
"It is indispensable to ally with other companies...In such circumstances, tie-up with SoftBank holds an important key," Toyoda said. "The time has come when automakers cannot alone make self-driving vehicles."
Toyota and SoftBank plan to roll out the autonomous vehicle service using e-Palette, Toyota's box-shaped, battery-powered vehicle with no driver seat, by the second half of the 2020s.
They are considering services ranging from meal delivery to onboard medical examinations while transporting passengers to hospitals, the companies said.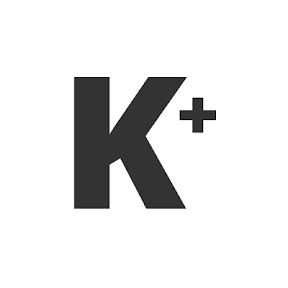 Kyodo News Plus is an online publication delivering the latest news from Japan. Kyodo News Plus collaborates with City-Cost to bring those stories related to lifestyle and culture to foreigners resident in Japan. For the latest news updates visit the official site at https://english.kyodonews.net
---