Jan 10, 2017
The end of the year is apparently the biggest holiday of the year in Japan. People compare it to the western Christmas, as people go and visit their families and friends, drink, have fun and sing "ashita ga aru".
I have had some varied experiences when it comes to New Years in Japan.
My first time in Japan, I was in university, I was in a strange country and ready for anything. So naturally I decided to go clubbing.
I am not now, nor have I ever been the clubbing type of person, and I have no idea why I decided to go. The alcohol was expensive, the music was loud and I was an hour away from anywhere called home.
Despite everything seemingly working against me, I actually had a pretty good time. I got mildly drunk, danced until I got self-conscious and had some deep, meaningless conversations with friends I don`t talk to when I am sober. All in all quite a successful night.
I guess one of my biggest culture shocks happened that night too. After the countdown (big screen in the dance-hall and everybody dancing), we went outside to get a bit of fresh air. Right next door, there was another bar or club, but they had this big, wooden bowl and a cartoon-sized hammer just whacking a blob of mochi in the middle of the corridor. I was gaping in awe of this sight. I had never seen anything like this before in my life. So these mochi-people, seeing this foreigner wide-eyed stare, offered the hammer to me and for the first time in my life, I whacked mochi with all my might. And let me tell you, it was wonderful. I have GOT to get me one of these bowls!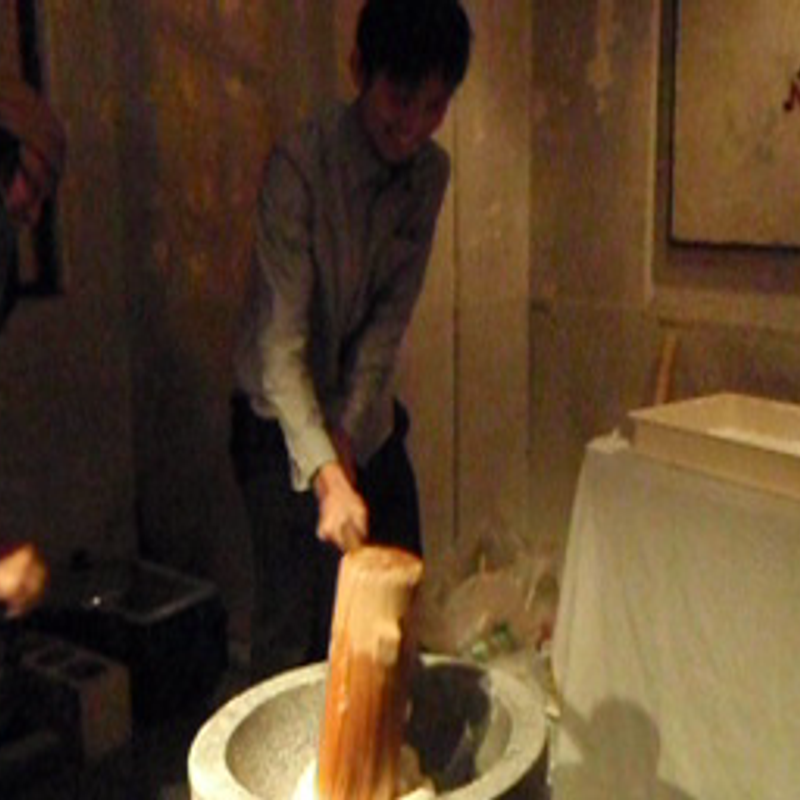 2015-2016 was pretty interesting too. There I was with my partner in Osaka. We decided to go to Osaka Castle to witness the countdown light show. We went walking to the park and I thanked multiple deities that someone invented "Kairo", the self-heating bags that you can keep in your pocket or glue to your clothes to keep warm. It was freezing cold, and it did not help that we had to stand outside, waiting for the countdown to begin. So we wait and wait and wait. Finally people start to count down. 5, 4, 3, 2, 1, Yay! Nothing… The normal lights of the castle turn on and life continues as if nothing had happened. No light show, no nothing. It. Was. Cancelled.
Oh well, we went to the shrine next to the castle and did the whole "first visit to a shrine of the year" thing. There were people playing drums there and another group of people were giving out free hot soup. You know the feeling when you are really thirsty and finally get to drink a glass of water and it tastes like honey from the heavens? That is exactly what the soup tasted like. We were freezing by that time, so a hot cup of tonkatsu soup was just the right thing to kick start the body back from hibernation and get our good feeling back.
We thought about waiting to see the first sunrise of the year. We thought about it for exactly one second before running inside to warm up.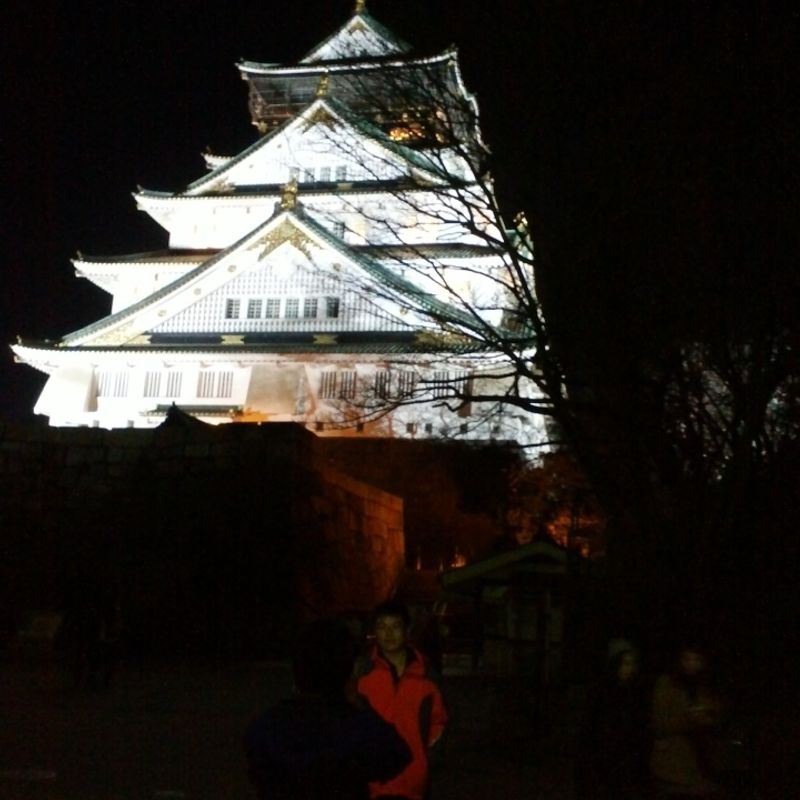 This New Year`s eve was a little different.
One major difference is that, due to some … family matters … we cannot really celebrate.
In Japanese tradition, when a family member passes, you are encouraged not to celebrate anything for a few months afterwards (even up to a year). That means, no shrines, temples, weddings, and no major celebrations.
In light of these new circumstances, and looking back at our failures in the last seconds of 2015 what with Osaka Castle not lighting up and all, we did not make the same mistakes again. We refused to be fooled by cancellations and promises of lights when there are none. This time, we acted like the middle-aged couple we aren`t and stayed home. No going out in the freezing cold. No standing in line for 45 minutes to pray for luck and wealth to Toyotomi Hideyoshi, and a definite no to all crowded areas.
It was bliss! We stayed home all night watching endless comedy shows on TV and ate cakes. (That doesn`t count as celebrations, right?) Doing that, we managed to relax, save money (since we didn`t take any expensive trips) AND hopefully we gained some holiday weight.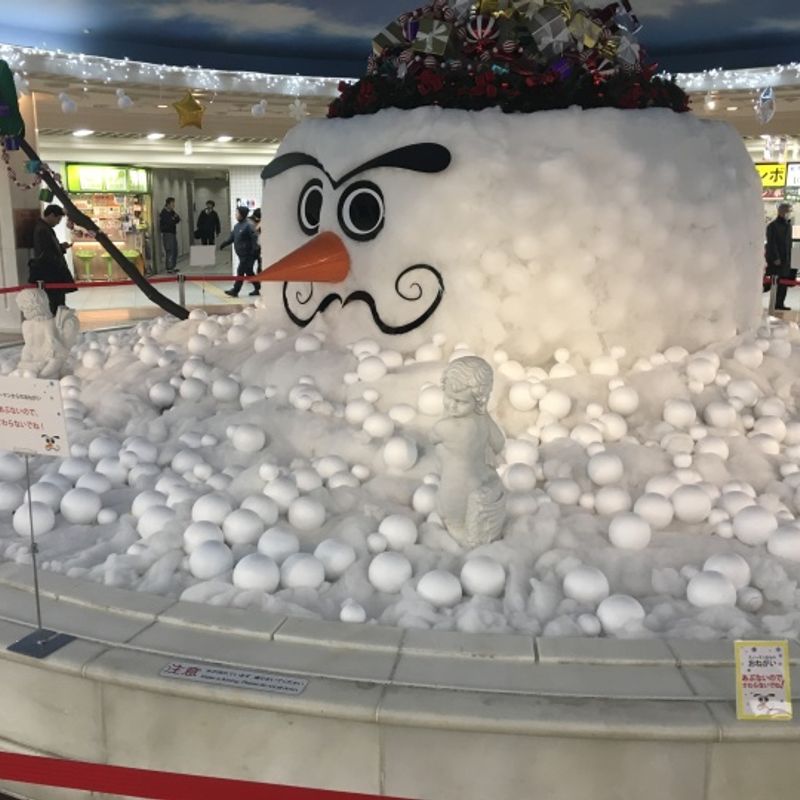 Who knows what next year will bring. There are plenty of events and shows in between Christmas and New Year`s eve. Light shows, concerts, dinners with distant family members whose name you conveniently fail to mention because you have no idea what it is. The possibilities are endless. Whatever will happen, one thing will be guaranteed. It will be interesting. It wouldn`t be Japan without a little bit of surprise.
---
3 Comments
Nothing at all wrong with staying on of a New Year's Eve. Maybe one of the best options!! Plus you get to watch that TV program where the challenge is not to laugh. Can't remember the name.

@DaveJpn You mean Gaki no Tsukai? It's a must!

@Kasajizo That's the one. I think at New Year they have a bit called 'waracha ikenai', or something like that.