Nov 24, 2016
Jigoku Meguri (Roughly called hells of Beppu) of beppu are center attraction point in Oita and attracts domestic as well as international visitors, all year around. These are basically hot-springs for viewing rather than bathing in it. You can find many natural hot spring(Onsen) in the city.Basically 6 hells are located in the same place known as Kannawa district and remaining 2 are in Shibaseki district which are 20 minutes away(2 Miles in distance) from each other.I have been there from Matsuyama and entered in the city through ferry on Oita port. As compared to Matsuyama or Tokyo city is not having enough local train network to move around city, so we preferred to take rental car and did one trip around the city.
Transport Note: Local train network is not strong but public buses are quite good and frequent. If you do not have driving license then do not hesitate to go ahead with public transport. You can book tour too via tourist information centre at Beppu station.
Types of hell
1-Sea Hell (海地獄 ⇔ Umi Jigoku): This one is my favourite and is completely blue like ocean which make its name sea hell. This is my personal recommendation, you must visit this among all hells. There is a big pond near by entrance and have many lotuses with are of specific type namely Victoria. Victoria leaves are big enough to hold weight of small kid(You can see picture board with kids sitting on leaf). Do not forget to have look around greenhouse which has multiple variety of lotuses and orchids.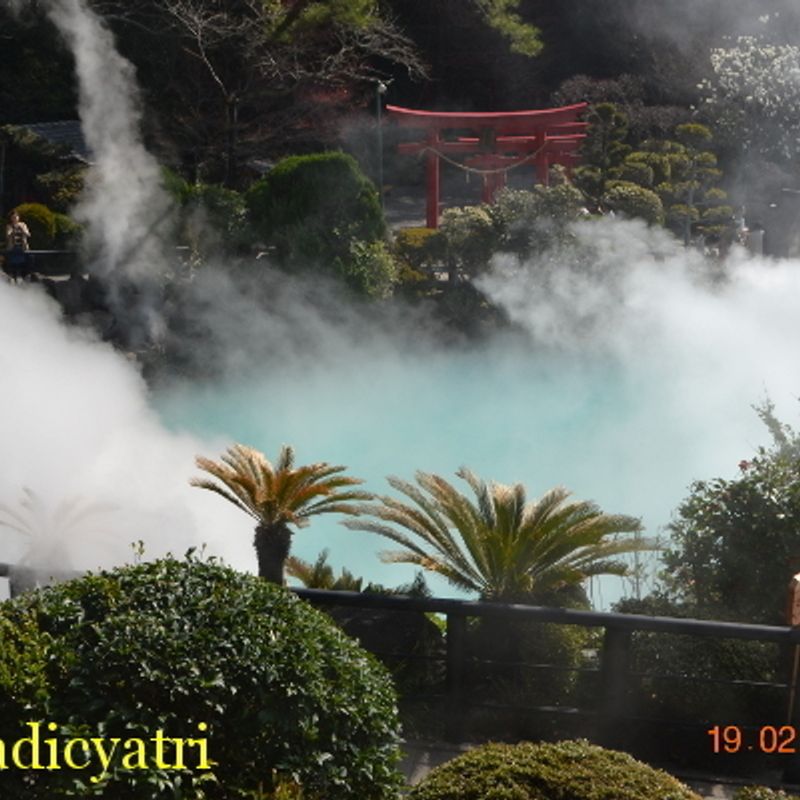 2-Shaven Head Hell (鬼石坊主地獄 ⇔ Oniishibozu Jigoku): This name originated from the grey mud bubbles in pond which looks like head of a monk. If you are tired and want to give an extra time to this hell you can sit around the place and enjoy footbath next to it.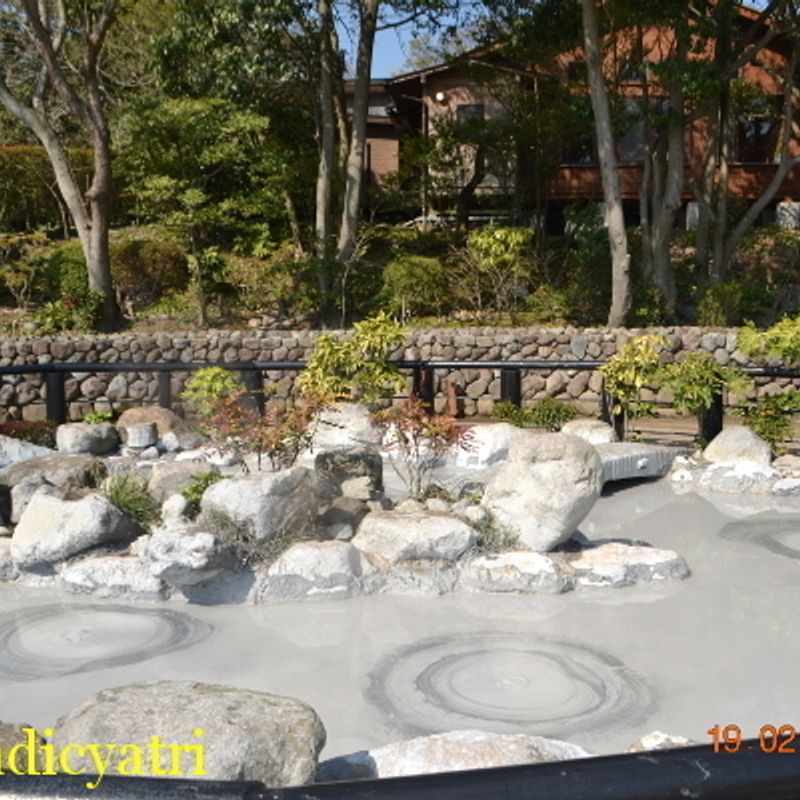 3-Cooking Pot Hell (かまど地獄 ⇔ Kamado Jigoku): This hell is easy to identify with red color demon mascot on top. There are several smaller boiling ponds scattered here and there and again if you have time then enjoy footbath with eating onsen tamago(boiled egg direct from onsen water).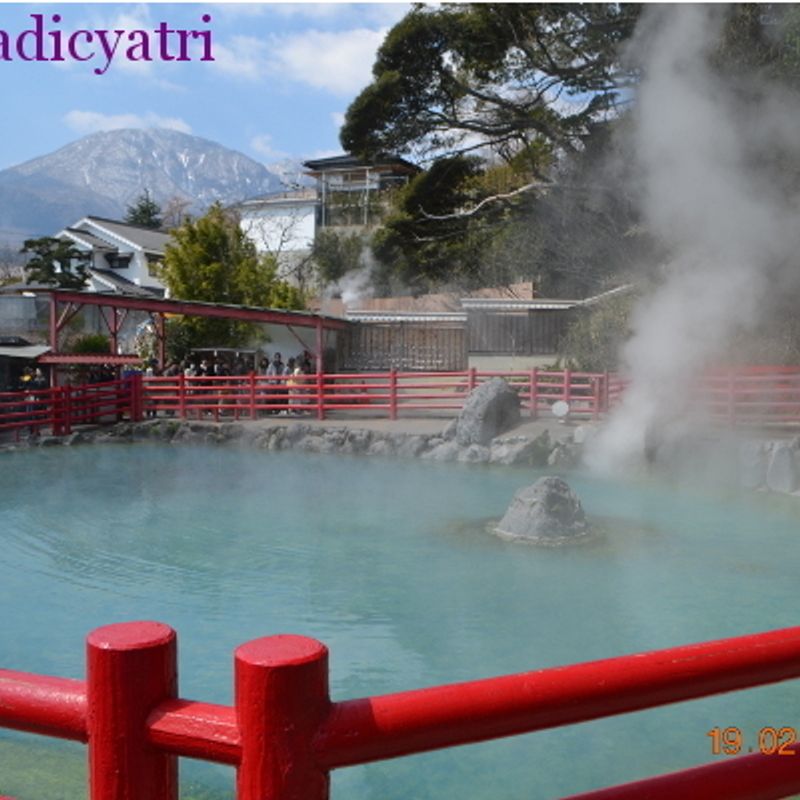 4- Demon Mountain Hell(鬼山地獄 ⇔ Oniyama Jigoku: Place is well known as crocodile hell.It is home of many crocodiles and alligators.What I heard from the instructor is that temperature of this hell (Normal hot water) is perfect for their breeding conditions.This hell is bit scary due to giant crocodiles.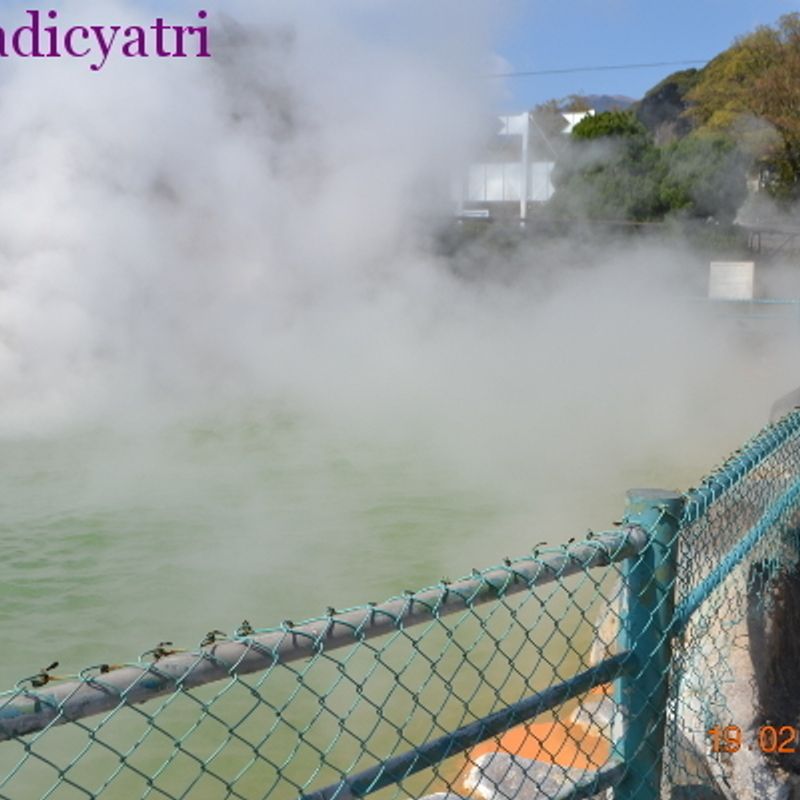 5- Mountain Hell (山地獄 ⇔ Yama Jigoku): This is situated in hill and you may pass this hell as I personally feel it is less attractive than others, but if you love animals this is the place for you to enjoy small Zoo next to hell.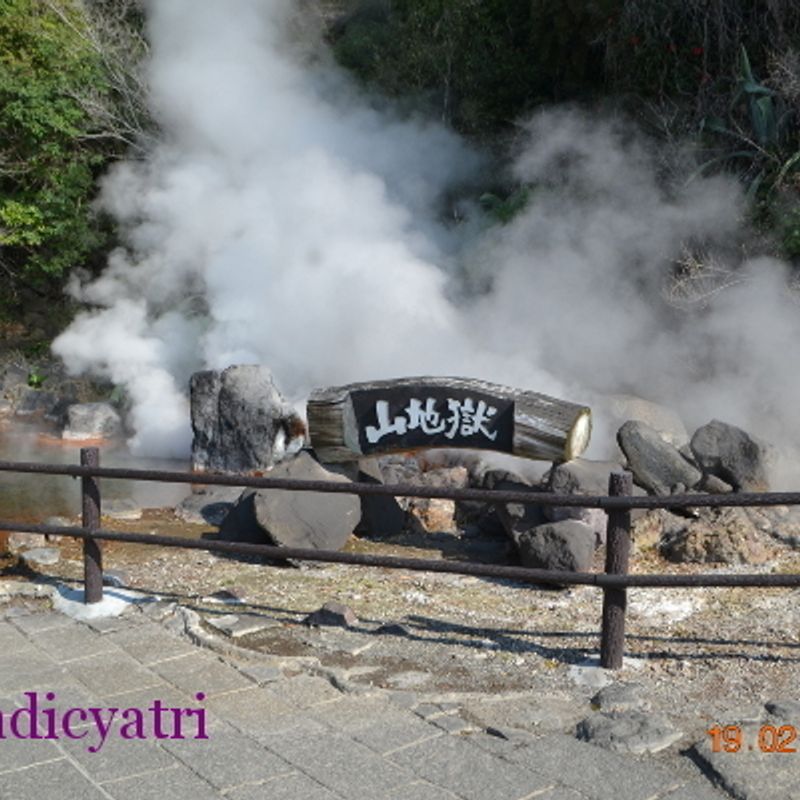 6- White Pond Hell (白池地獄 ⇔ Shirake Jigoku): Its names symbolizes white but it's a kind of pale blue(or somewhere milky too) water pond with rocks in the middle of it. You can enjoy a little garden which is along the hell pond.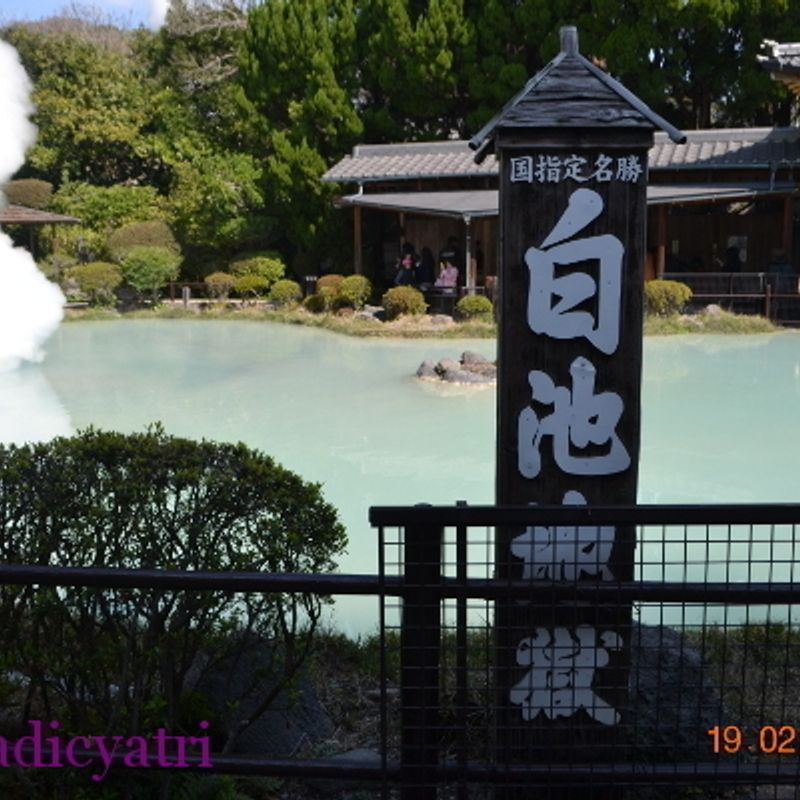 7-Blood Pond Hell (血の池地獄 ⇔ Chinoike Jigoku": This hell is located 2 miles away from above hells. Its name resemble the color of water and its complete dark red. The way I recommended you "Sea hell", I will recommend this one too and it's worth to take bus ride or do self driving(15 minutes). At the exist of hell there is one souvenir shop where you can enjoy shopping for your beloved ones and buy something to make remember this place.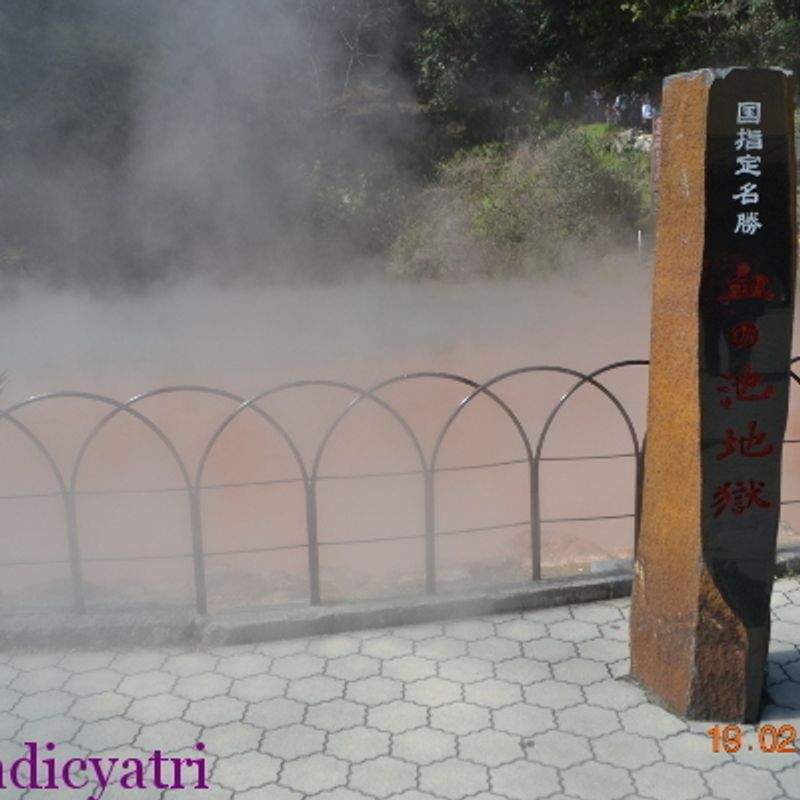 8-. Waterspout Hell (龍巻地獄 ⇔ Tatsumaki Jigoku): The last hell of your visit and it's next to "Blood pond" hell. This hell has a geyser which erupts in every 30 minutes to the height around 50 meters.There is a place where you can sit with other people and wait for it show in every 30 minutes, so mind timing to visit this hell(Show and wait timings are written at the entrance).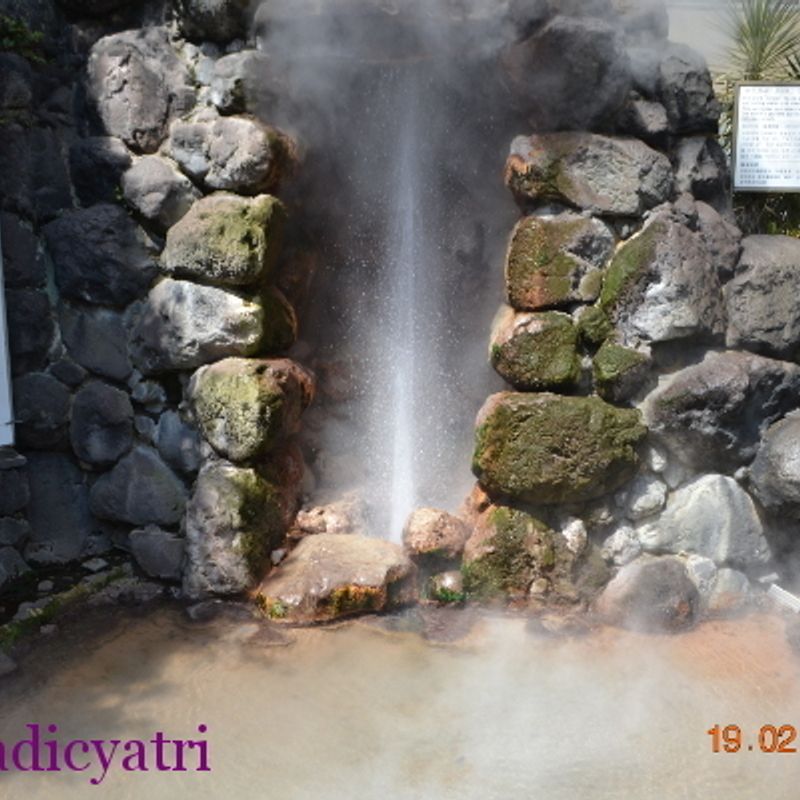 Transport from Tokyo: You can use LCC Jet Star to Oita airport or you can use shinkansen upto hakata followed by local train to JR Beppu.
Official website: For more detail information you can visit official website of Jigoku Meguri
Fee and business hours: Each hell you can enjoy with the amount of 400¥ and if you are willing to visit all the hells then you can buy full package around 2000¥. All the hells are operating throughout the week from 08:00 to 17:00.
I had wonderful time in Oita and hope others will have same experience too, city is very beautiful and surrounded by multiple attraction around the city.
Do not forget to visit me at @nomadicyatri
Special Note: Do not forget to visit Beppu beach sand bath, Lake shidaka ko and Beppu ropeway to surumi mountain to have panoramic view of the city.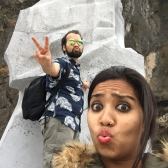 Myself a nomadic soul exploring the globe with my dream of letting my foot mark on every place on earth.Most of the posts are about travel and life in Japan. Stay tune on every Saturday for upcoming post :) and don't forget to catch me on my website :P https://cookievagabond.com
---
8 Comments
I like the look of these. 'Shaven Head Hell' stands out particularly. Would you recommend the full 2000 yen package?

@DaveJpn If you have enough time with moving mildly, Then I recommend 2000¥ package else just 3~4 are more then sufficient :)

You might be interested in this: Oita "Jigoku steaming Festival" in Tokyo Tower - this weekend I think. https://www.tokyotower.co.jp/event/attraction-event/oita-festival/index.html

@SalarymanJim Cool Thanks for sharing the information, will go today or tomorrow :)

@nomadicyatri No problem. Hope it's good.

@nomadicyatri Got it. Cheers.

I am looking forward to visit this place. Amazing

@kcsantosh Please please do visit its work to see :)