Oct 9, 2017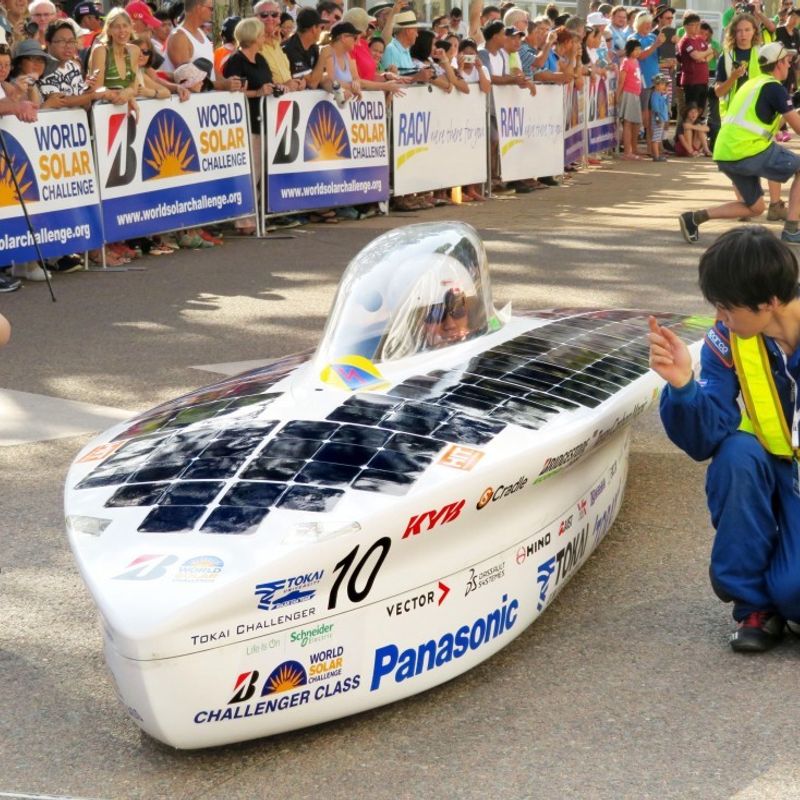 DARWIN, Australia - Four Japanese teams were among 38 solar cars that set out Sunday from the northern Australian city of Darwin on a 3,000-kilometer endurance race through the center of continent.
Teams from 19 countries and regions have entered this year's World Solar Challenge, vying to be first across the finish line in the southern city of Adelaide.
They departed Darwin in order of their performance in time trials held Saturday, with Nagoya Institute of Technology's car, "Horizon 17," the second to take off behind Belgian entrant "Punch Two."
Nagoya Institute of Technology team director Hiroki Tanaka told Kyodo News they have made a variety of design changes to this year's racer and hope to improve on their previous performance in 2015, when they placed 16th.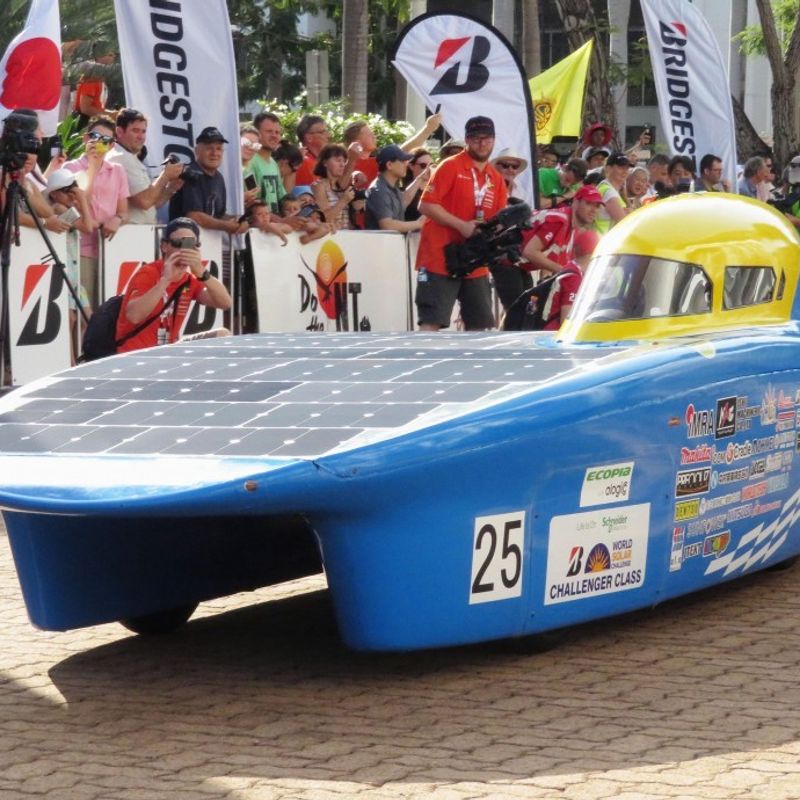 "Compared to our previous cars, we've taken aerodynamics and energy loss into consideration (this year), and I really believe we can do well," 20-year-old Tanaka said.
The second Japanese team to depart Darwin was Tokai University's "Tokai Challenger" car.
The Tokyo-area university is one of this year's favorites, having won the World Solar Challenge in 2009 and 2011.
Team general manager Hideki Kimura showed Kyodo News the communication satellite imagery they will be using to track the car, as well as weather patterns, in real time in order to predict conditions for the race.
"We can see that towards Alice Springs (in central Australia) there is a lot of cloud cover," Kimura, a 53-year-old professor, said, suggesting the team may have to change their plans to accommodate suboptimal conditions.
World Solar Challenge event director Chris Selwood said the number of considerations each team must take into account make for a challenging competition.
"'Race' is such a nasty, short word for something so complex," Selwood, 69, told Kyodo News.
"Strategy is key because the main goal for teams is to manage their energy efficiency...I don't expect more than 10-15 percent of teams to finish the challenge on their own power."
Now in its 30th year, the World Solar Challenge has become one of the world's leading trials for innovations in solar technology, with talent scouts from companies like Tesla, NASA and Google keeping a close eye on teams.
One design that is sure to catch the attention of onlookers is that of Tokyo-based Kogakuin University's car, "Wing."
The team's director Hiroto Hamane, a 44-year-old associate professor, told Kyodo News the car's unusual design has been inspired by nature, with the shape of the specially-designed, curved solar panels mimicking the flow of air as it passes over the vehicle.
"With this car, we can actually say 'we didn't design this, nature designed this'," Hamane said.
But not all teams had access to state-of-the-art machinery to build their cars.
Both Nagoya Institute of Technology and Hiroshima-based Goko High School are proudly driving their handmade vehicles.
The Nagoya students built their car through the university's solar car club, shaving down the vehicle's carbon fiber body by hand to save on production costs.
"It was difficult to create something that will be competing on a world stage with no lab space, no time, no money, and relying on our own skills, [but] this year we have many more sponsors than in previous years, so I'm very grateful for their support," Tanaka said.
Racers are expected to reach the finish line in the South Australian capital of Adelaide from Thursday.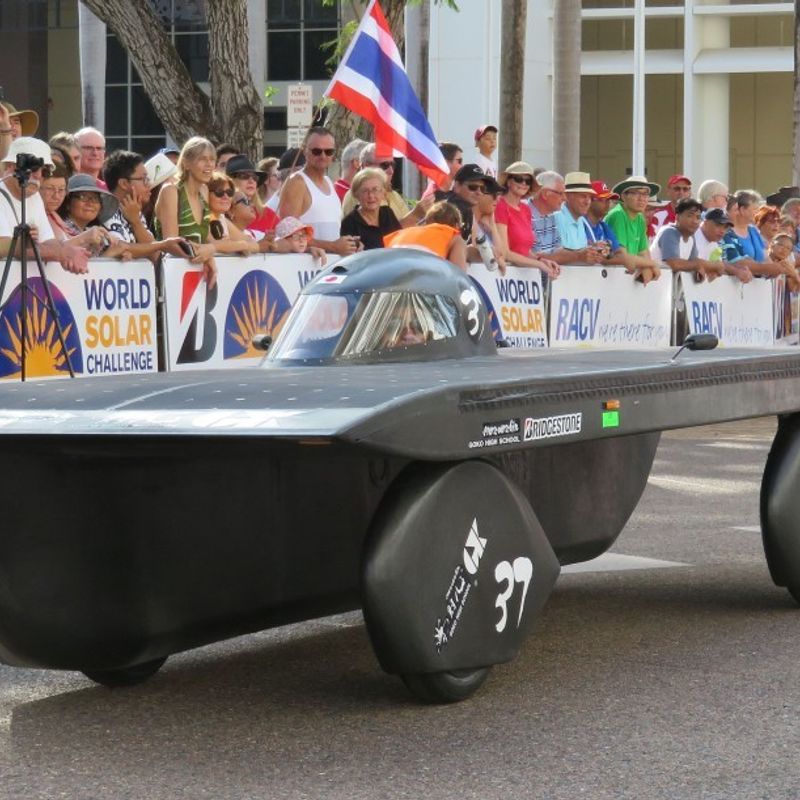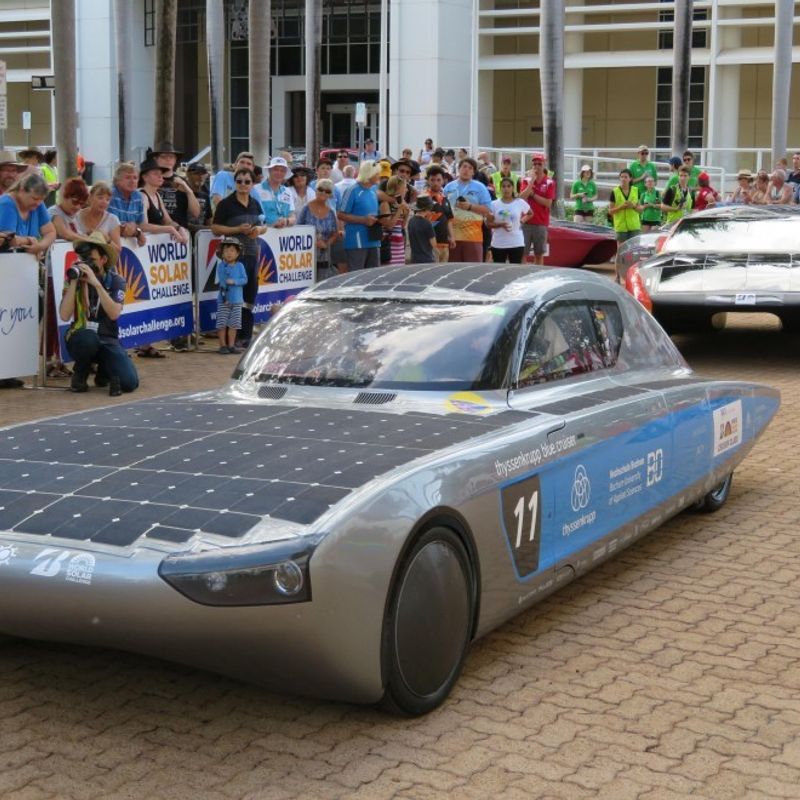 © KYODO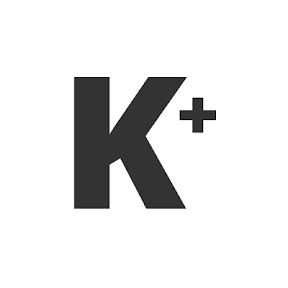 Kyodo News Plus is an online publication delivering the latest news from Japan. Kyodo News Plus collaborates with City-Cost to bring those stories related to lifestyle and culture to foreigners resident in Japan. For the latest news updates visit the official site at https://english.kyodonews.net
---